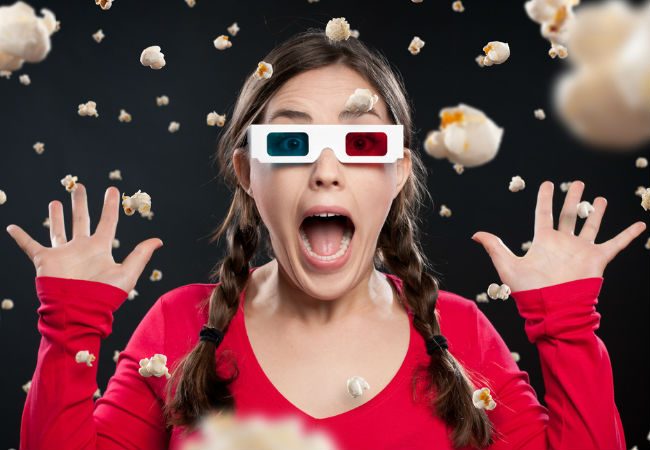 San Diego Comic Con is big, REALLY BIG.
The just-concluded massive pop culture-a-thon is the must-be place to see and hear all the latest news and trailers about your favourite TV shows and soon to be favourite TV shows, and movies coming down the pipe.
Given its gignatuan size and scale, there is an almost endless torrent of trailers coming our way over the four or so days of the event; I have chosen the three that really excited me or made me laugh or both. (OK there is no both; if you laugh at Picard or Snowpiercer, there may be something wrong with you.)
So for your viewing pleasure, watch the SDCC trailer for Star Trek: Picard, Snowpiercer and Family Guy and if you'r hankering for a full run down of all the TV trailers released at the event, head to TVLine, which includes trailers for, among others, Batwoman, and The Flash season 6.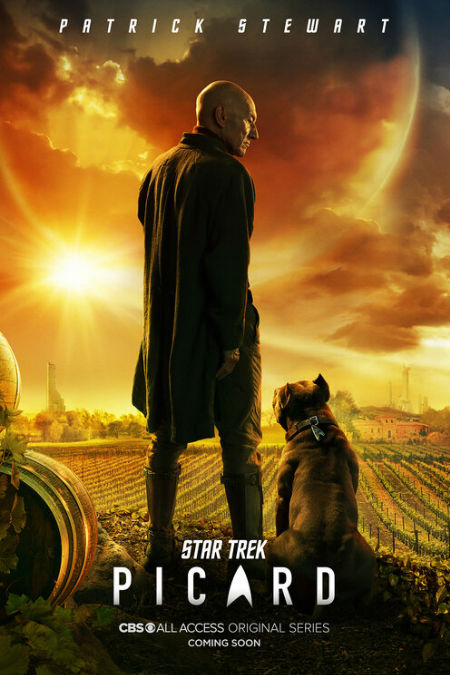 SNAPSHOT
Star Trek: Picard will tell the next story of Picard's life, taking place after Star Trek: Next Generation. Plot details are being kept under wraps, but Star Trek: Discovery creator Alex Kurtzman revealed in March that it will be "a very different show from Discovery." He also mentioned that the series will be a "very thoughtful, psychological portrait in a lot of ways… Things have changed for [Picard] and changed him in some ways, and yet he is so deeply and fundamentally still Picard."

The cast also includes Santiago Cabrera (Big Little Lies), Michelle Hurd (Blindspot), Evan Evagora (Fantasy Island), Alison Pill (The Newsroom), Harry Treadaway (Mr. Mercedes, Penny Dreadful), and Isa Briones (American Crime Story: Versace).

The SDCC panel confirmed the return of some Star Trek: The Next Generation cast members for the series as well with the return of Brent Spiner as Data, Jonathan Del Arco as Hugh the Borg, and Star Trek: Voyager's Jeri Ryan as Seven of Nine. The panel also confirmed that Marina Sirtis will return as Commander Deanna Troi along with Jonathan Frakes as Riker The series will premiere in early 2020. (synopsis (c) Coming Soon)

Picard is due to premiere early 2020 on Amazon Prime.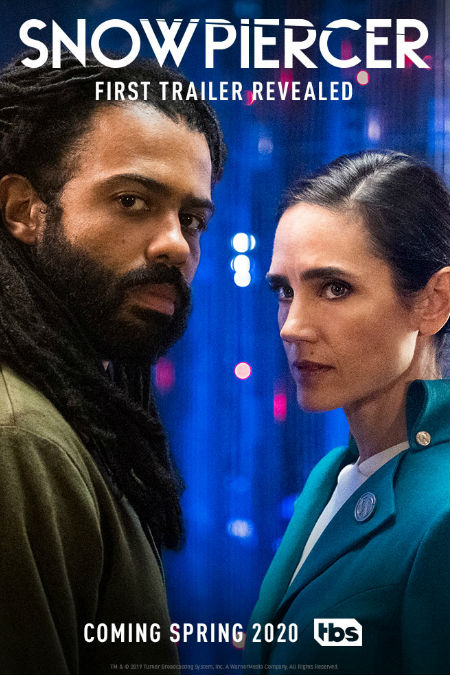 SNAPSHOT
TNT's new Snowpiercer series will return fans of Bong Joon-ho's 2013 film to the desolate future where the Earth has become a nearly-uninhabitable tundra and much of the human population has been relegated to a perpetually-moving locomotive.

While the film starred Chris Evans, Tilda Swinton, John Hurt and Ed Harris, the series will star Jennifer Connelly (Labyrinth, Hulk), Daveed Diggs (Blindspotting, Hamilton) and Mickey Sumner (Frances Ha, American Made). They will be joined by Susan Park, Benjamin Haigh, Sasha Frolova, Katie McGuinness, Sam Otto, Alison Wright, Annalise Basso, Sheila Vand, Roberto Urbina, Lena Hall and Rowan Blanchard.

Doctor Strange director Scott Derrickson is set to co-direct the first episode of Snowpiercer with James Hawes, who previously worked on TNT's The Alienist with Wonder Woman director Patty Jenkins. The first was written by Graeme Manson (Orphan Black), who will also served as executive producer and showrunner. (synopsis (c) Coming Soon)

Snowpiercer is schedule to premiere northern spring 2020.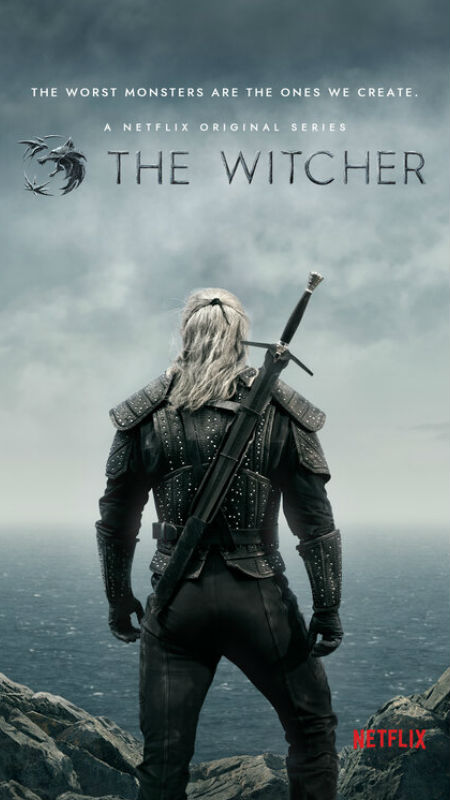 SNAPSHOT
The show centers around a mutated witcher (monster hunter) named Geralt of Rivia (Henry Cavill) who finds that the humans in his world can be far more threatening than the terrifyingly dangerous creatures he hunts, as people have offensive intent, rather than defensive nature on guiding their decisions. Along the way, he encounters a powerful sorceress and a young princess who join him on his increasingly dangerous path. (synopsis (c) Laughing Squid)

No premiere date has been set for The Witcher.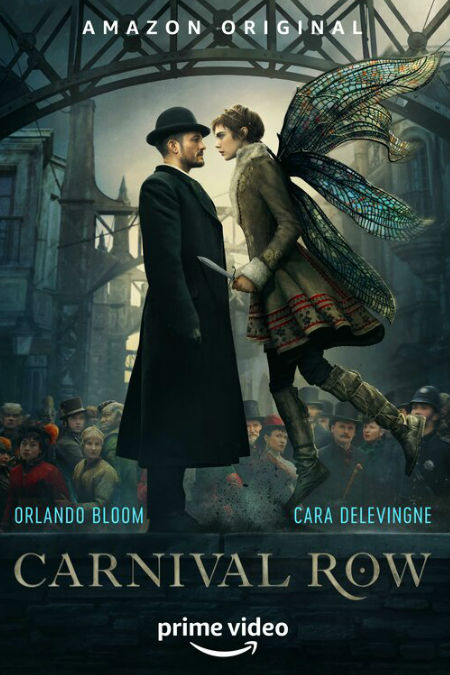 SNAPSHOT
Carnival Row is a fantasy-noir set in a neo-Victorian city called Burgue. Mythical creatures fleeing their war-torn homeland have gathered in the city, and tensions are simmering between citizens and the growing immigrant population. The growing population of supernatural beings struggles to coexist with humans — forbidden to live, love, or fly with freedom.

Delevingne (Valerian and the City of a Thousand Planets) plays a faerie refugee named Vignette Stonemoss, a refugee who flees to Burgue, where she must deal with human prejudice and long-harbored secrets. Bloom (Pirates of the Caribbean and Lord of the Rings franchises) plays Rycroft Philostrate, a human detective who rekindles a dangerous affair with Vignette while investigating a string of murders that threatens to upend an uneasy peace.

Carnival Row also stars David Gyasi as Argeus, a mysteriously wealthy faun who defies the social order by moving into a human neighborhood; Karla Crome as Tourmaline, a faerie poet who was driven from her war-torn homeland; Indira Varma as Piety Breakspear, matriarch of a powerful family that rules the city of The Burgue; and Tamzin Merchant as Imogen Spurnose, who sees in Argeus a chance to turn around her aristocratic family's fading fortunes. (synopsis (c) Coming Soon)

Carnival Row premieres 30 August 2019.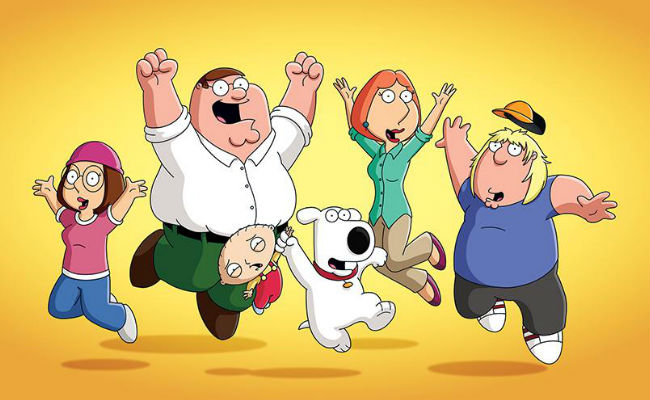 SNAPSHOT
Peter shares the couch with legendary chuckleheads Beavis & Butt-head, and that cartoon mash-up features guest vocals from none other than B&B creator Mike Judge, as well as a questionable updo hairstyle for Peter. Meanwhile, Meg finds true love on the high seas, only to have it cruelly and most graphically taken away from her when her new boyfriend is beheaded. But Meg is determined to make this relationship work, so she stitches his head back on, only to watch it fall one floor down. Chris is determined to get that head back to her, but that does not go well. More than once. More than twice. More than four times, actually.


Speaking of monstrous stitched-on creations, Peter goes through a mad-scientist phase and works with cat brains and baby bodies. (When asked, "Are you…making people?" Peter responds with a frightening laugh, "He'll be flattered you called him that!") And speaking of cats, Peter ventures into Quagmire's house, where Quahog's go-to perv is now living with 73 cats and offering refreshments like water with cat hair in it, lemonade with cat hair in it, cat hair ginger ale, cat hair ice tea. Watch the video to see too many cats, as well as what happened to Meg when she ran away to Japan. (synopsis (c) Yahoo Entertainment)

Family Guy season 18 premieres Sunday 29 September on Fox.