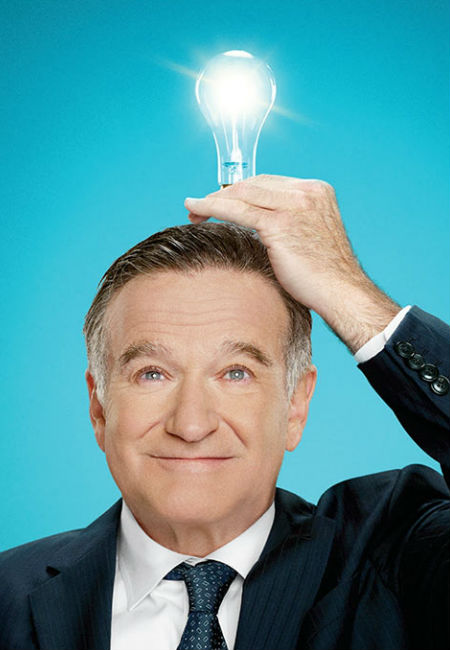 I know it isn't fashionable to say in some quarters but I really like The Crazy Ones.
Nay, LOVE it.
It's one of my favourite shows of the new fall season on US TV, full to the brim with whippet smart writing, finely tuned comic performances and a situation (always an important of a "situation comedy" but amazing how many shows get it wrong) ripe for all sorts of crazy, over the top storytelling.
And of course it has the irrepressible Robin Williams, one of the comedy greats, in the lead as Simon Roberts, ad man extraordinaire.
All of which means that it is very, very funny.
It may not be perfect but it is very, very good with plenty of room to grow into perfect as the seasons progress, which I am fairly sure they will.
There's so much to like about this clever show but I have narrowed the list down to five things I love most about it …
1. THE RELATIONSHIP BETWEEN FATHER AND DAUGHTER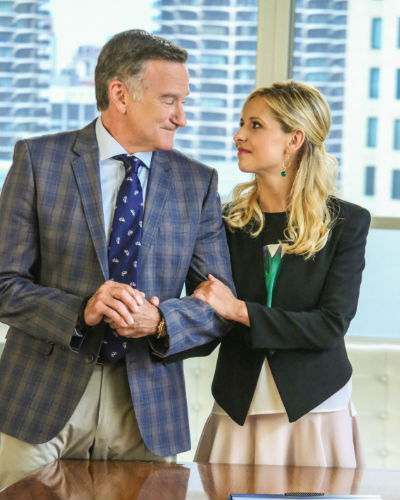 Sure it's an unconventional relationship in some ways, with Simon Roberts more invested in his career than his daughter Sydney in his younger days but now he's older and somewhat wiser – let's face it he can't be too wise all the time or he simply won't be that funny – and as close to her as you could want.
Too close in fact at times.
In "She's So European", Sydney discovers that her exotic BFF, client Helena who swishes around the world taking lovers and new friends like the rest of us pick up groceries in a supermarket, has taken her father as one of her new coterie of sexual partners, and discovers rather more than she'd like to about his peccadilloes.
Of course she won't admit that at first, wanting to give the impression she's cool colleague just as much as a traditional daughter but the "ICK" factor defeats her and she has to admit she just wants a father who keeps his sex life secret from her, like normal parents do.
She talks a big game about being a hip, modern daughter but in the end gets jealous when her dad spends too much bro' time with his favourite employee and protege (see next point) and regretful that he didn't teach her to drive along with not observing many of the rites of passage that fathers and daughters normally navigate together.
It's warm, it's sweet, it's ridiculously uncomfortable at times but it's clear that they love each other, and Robin Williams and Sarah Michelle Gellar do a superb job of balancing the relationship between goofily funny, tender and sweet (go easy on the corny thank you) and damn near awkward.
2. THE RELATIONSHIP BETWEEN BOSS AND PROTEGE/SURROGATE SON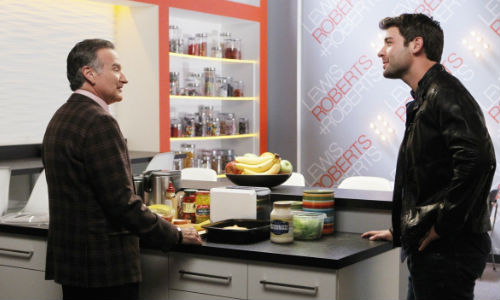 This isn't a friendship, or a traditional boss-employee relationship – it's a full-on, no holds-barred bromance.
Sion Roberts is a god in the ad world and Zach Cropper, office stud, who somehow manages to be utterly self-involved and yet charming and sweet all at the same time (thanks to James Wolks' deft comic touch and clever scripting by the legendary David E. Kelley), is more than happy to worship at his boss's altar 24/7.
He is, for all intents and purposes, besotted with his boss – his talent, his lifestyle, his insane joie de vivre  and does his best to emulate it in his won way.
He's also the one that Simon riffs with more often, and their routines as southern ladies and Simon's willingness to call Zach on his lifestyle choices, in an entirely humourous way of possible ("Who here has slept with Zach?" he asks in a meeting where they're trying to save the McDonalds account "A show of hands please.") are often the source of some of the funniest scenes.
They verbally and often physically bounce off each other in that joyously anarchic way that two simpatico souls do, and while it would be exhausting to be them, it's a ton of fun watching them in action.
May the bromance never end boys!
3. THE SUPPORTING PLAYERS GET THEIR SHARE OF THE LIMELIGHT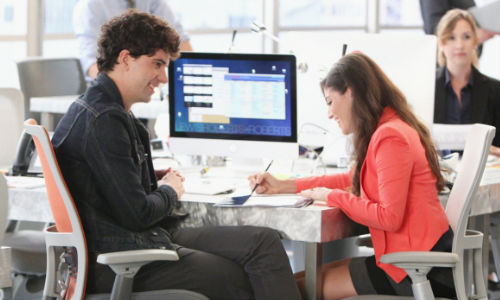 After watching the pilot that didn't quite feel like a pilot and plunged you straight into the workings of Lewis Roberts & Roberts ad firm, I wondered if the two major minor characters, artistic director Andrew (Hamish Linklater) and um, what does she do exactly Lauren Slotsky (Amanda Setton) would any real screen time.
But as the series has progressed, we've seen Andrew revealed as a sensitive soul (possibly too sensitive at times), a man who wishes he was as close to Simon as office Lothario Zach is and someone who craves love so much he's willing to give up his integrity or sense of self to get it.
He's not a spectacular character but he's not meant to be, the sweet and awkward yin to Zach's brash yang, and he has the whole self-depractory schtick down pat.
Lauren, thank the TV sitcom-writing gods – remember we're talking David E. Kelley who has a knack for writing characters that are odd but loveable – has been given some quirks (try hair sniffing before a big client meeting to calm down: Simon does and weirdly it works) but not so many that she comes across as the crazy cat lady of the office.
In fact it's Lauren who often manages to come up with a cut-through idea when Simon and Zach are lost to the hilarious, out of control improv and Sydney is steering like a steer into headlights at creative oblivion, and save the day.
Dumb might be a funny angle for cheap, short term laughs but Kelley doesn't go that route investing Lauren with some substance and yes, funny, amusingly offbeat quirks.
4. THE CRAZY CLIENTS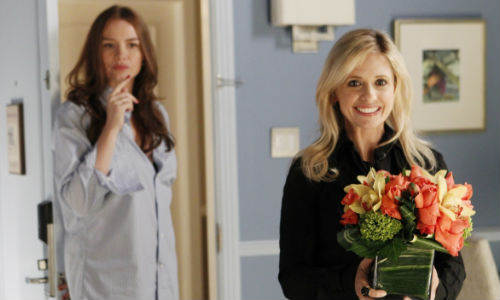 One of the great things about the situation that underpins this sitcom is that there's a revolving door of serious and not-so-serious clients coming through the doors.
It is the stuff that fuels a show like this, giving its characters who are stuck there so to speak the chance to riff, bounce and verbally dance off other one episode characters.
The clients are always portrayed as the ones in control but more often than not too as needy, or far too close – see Helena (above) who sleeps with Simon and Zach, though not together since this is CBS after all all the while playing BFFs with Sydney – to the ad gurus who promote their businesses to the world.
It's that balance of insanely out there and hard-edged businessperson that works, ensuring that the clients aren't so focused on the job they're  a snooze but so not off the wall you wonder how they get dressed in the morning, let alone found and sustain a multi-million dollar business.
5. THE JUDICIOUS — USE OF IMPROV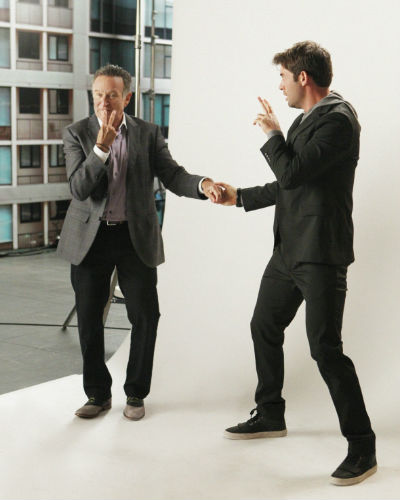 I will admit it.
Robin Williams is an acquired taste, with people either loving or loathing his manic comic energy, but in The Crazy Ones, he manages to unleash his whatever comes to mind persona while still largely staying within David E Kelleys's snappily-written scripts.
Don't believe it?
How about hearing from David E Kelley himself who assured the world, in an interview with Australia's Sydney Morning Herald, that Robin Williams largely speaks the words he writes:
"He says my words pretty perfectly, and then he uses his. He very much likes the box. He manages the box, and then we give him a few takes where he gets to break out of it. The architecture of the script is mainly the script, but you've got ad-libbing."
 And Williams, contrary to expectations like the set up too, happy not to be the sole focus of the show.
'They're kind of focusing on me, but it's a wonderful ensemble which makes it a lot better for me."
It's true – you get the feeling it's not so much a runaway comic train as a carefully corralled but still free spirited soul at work.
When Williams does ad-lib, it's riotously, gloriously clever, funny and silly in the best ways possible all at once, providing some of the best laughs of an episode.
Robin Williams still has it, if you like it, and he's all the better for being allowed to be himself within a tightly-constructed script that gives him room to move.
* I'd love to know what you like about the show  – What works? What doesn't?