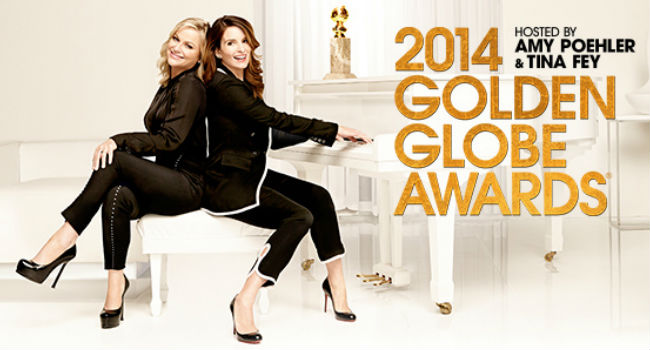 I love the Golden Globe Awards.
They are ballsy, brassy and fun, the Sydney to the Oscar's Melbourne – that only makes sense if you live in Australia but trust me Sydney and Melbourne are the Golden Globe Awards and the Oscars respectively in spirit – and a great way to kick off the annual crowded awards season in Hollywood.
Throw in an open bar, food and a more relaxed atmosphere than at other awards shows and pretty much anything can happen … and does!
Why this year we have Jacqueline Bissett's very odd speech, Jared Leto's stylish hair bun (not to mention his much deserved win for Dallas Buyers Club), Tina Fey's hilarious intro gag for Leonardo Di Caprio, and Amy Poehler making out with a surprised Bono.
We also discovered that Jennifer Lawrence, who snuck up beautifully on Taylor Swift on the red carpet, is really Amy Poehler, Emma Thompson can drink and still present like a trooper (of course she can because she's awesome!), Tina Fey has an adult son Randy (looking suspiciously like Amy Poehler in reverse drag but that could just be me) who partnered Sosie Bacon (daughter of Kevin Bacon and Kyra Sedgwick), and Melissa McCarthy thinks she Matt Damon whenever she suffers a head injury.
So I've decided, in the vein of the more loosey goosey vibe of the Golden Globes Awards, awarded each year by the rather opaque organisation known as the Hollywood Foreign Press Association, to simply list the five things I loved most about this year's awards, which may or may have anything to do with who got the awards themselves.
But also could … you'll have to read on to find out.
You can check goldenglobes.com to find out who got the gongs.
AMY POEHLER WINS BEST ACTRESS IN A TV SERIES, MUSICAL OR COMEDY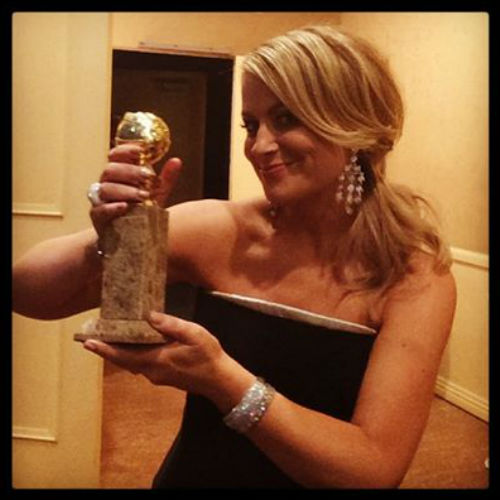 Parks and Recreation, one of the smartest, funniest, and most engaging shows on network TV may not have won Best TV Series, Musical or Comedy but the woman who gave it life and continues to fuel its comic brilliance (along with a supremely talented cast), Amy Poehler, finally got a Golden Globe after three years of consecutive nominations.
And the delightful part was that she looked genuinely, absolutely shocked to have won.
Of course that could have all been staged but there was something about the way she stammered, rushed to think of everyone to thank and seemed genuinely blowed away by the honour that was a whole lot of joyous fun to watch.
And insanely, richly deserved.
Plus, as she said in the closing remarks for the show which she hosted with the equally impressive Tina Fey, "I got to make out with Bono!"
On his lap no less!
At sight gags went, it would have been hilarious even if she hadn't won, but given her victory, it made for the mother of all visual punchlines.
ANDY SAMBERG WINS BEST ACTOR IN A TV SERIES, MUSICAL OR COMEDY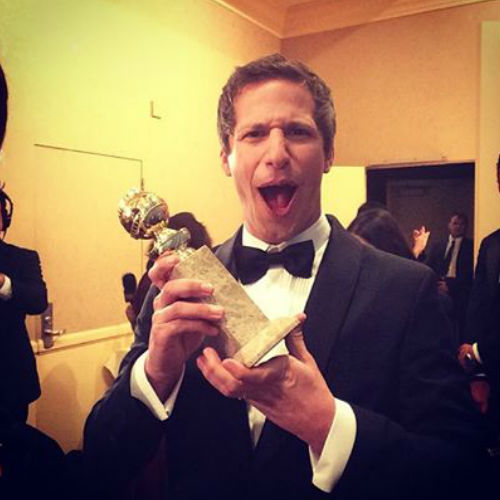 While I am huge fan of both Jason Bateman (Arrested Development) and Jim Parsons (The Big Bang Theory) who were also nominated in the Best Actor in a TV Series, Musical or Comedy category, and I have only seen one episode of Brooklyn Nine Nine thus far (too much else competing for my attention alas), I doubt anyone could begrudge Andy Samberg his Golden Globe.
Clearly he didn't expect to win and when you're in a competitive field that includes the aforementioned gentlemen and Don Cheadle (House of Cards) and the awesome Michael J. Fox (The Michael J. Fox Show), resigning yourself to not winning may be the only sane and sensible approach to take.
It's not that he didn't stand a chance of winning or didn't deserve it of course as his time on Saturday Night Live, and sundry appearances on talk show like The Ellen Show proved he is a very funny guy.
But clearly he expected that one of the more established talents around him would take this particular award so his surprise and delight when his name was announced was adorable.
Yes, puppy dog happy, grinning from ear to ear adorable.
And it made for one of those wonderful moments that lift an awards show, any awards show, above the production line of giving out gongs and inject it with real humanity and warmth.
ALFONSO CUARON ACCEPTING BEST DIRECTOR – MOTION PICTURE FOR GRAVITY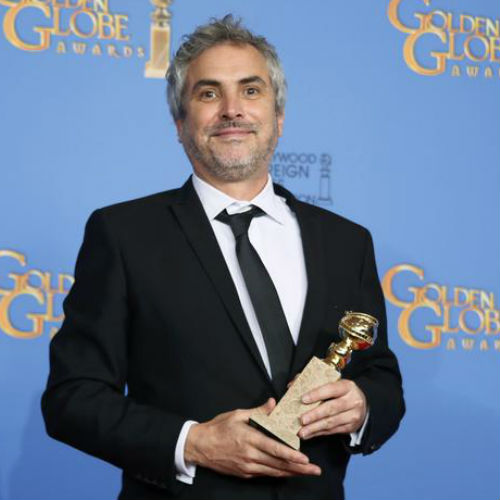 Gravity was without a doubt one of the best, if not the best movie, released in 2013, a year in which a great many very good films hit theatres.
So I was beyond delighted – it's somewhere between yes delighted and near ecstatic when Alfonso Cuaron won an award for the film, which managed to combine a stellar story, breathtaking cinematography and impressive acting into a gripping tale of survival in space.
Sadly Sandra Bullock was not given the award for Best Actress – Motion Picture, losing out the excellent Amy Adams for her standout role in American Hustle, but Cuaron's well deserved delight at winning almost made up for that loss.
His speech also featured one of the funniest non-Fey and Poehler lines of the night: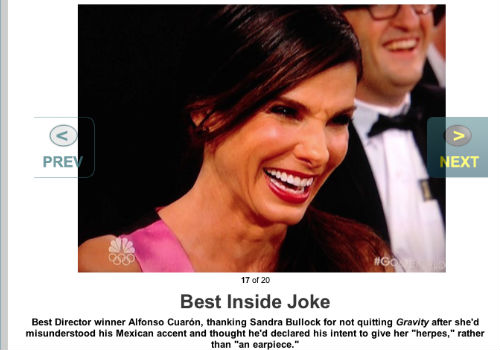 DIANE KEATON'S ACCEPTANCE OF WOODY ALLEN'S CECIL B DEMILLE AWARD
Right so Woody Allen was awarded this year's Cecil B. DeMille Award and didn't turn up to accept it.
Not such a big surprise right since he is famously shy and awards show averse.
So his good friend and one time creative muse, Diane Keaton, who starred in a number of his films including most famously Annie Hall, stepped up to accept the award looking fabulous in a tailored tux that suited the actress down to the ground.
While her speech was as heartfelt as you'd expect:
"I think it's safe to say that Woody Allen is an anomaly. He's made 74 movies in 48 years. He's directed them, he's starred in them, he's produced them and of course, he's written them. He's written all of them, every one."

"The feature, for me anyway, that sets Woody's writing apart are the voices of four decades of unforgettable female characters," she said. "179 of the world's most captivating actresses have appeared in Woody's films. And the reason is that they wanted to. Woody's women can't be compartmentalized… They're the hallmark of Woody's work."
Keaton's speech elicited almost no response from the crowd of A-list stars who spent the entire time listening dutifully but without much emotion or interest, feigned or otherwise.
I'm not sure if it's because Woody Allen is a somewhat controversial figure in Hollywood, despite his creative brilliance – certainly neither estranged son Ronan Farrow or Mia Farrow were none too pleased about the honour bestowed on Allen – but there was little in the way of claps, or cheers … or anything.
Nonetheless as a huge fan of Diane Keaton, I enjoyed the tribute if only to hear the actress somewhat oddly but delightfully sing the Girl Scouts song "Make New Friends (But Keep the Old)", an eccentric tribute to the man she considers a close and valued friend.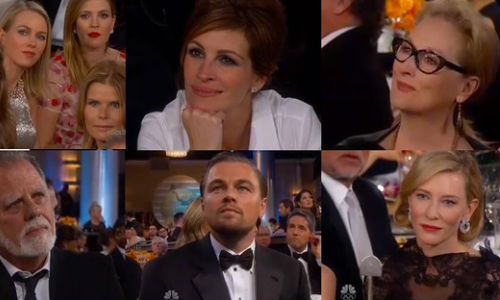 TINA FEY AND AMY POEHLER HOSTING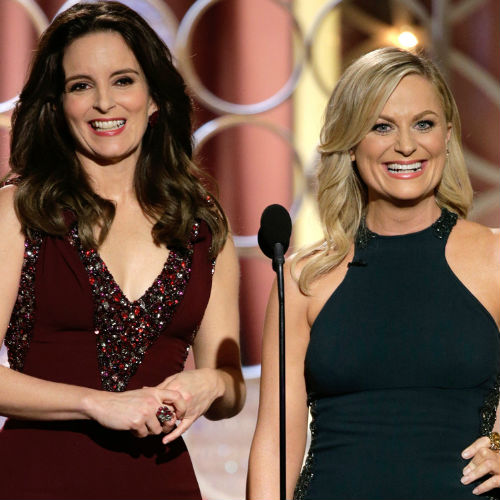 Last but by no means even remotely least. Tina Fey and Amy Poehler, who presented last year's Golden Globes Awards and are back again next year too, knocked it right out of the park once again with a series of inspired, hilarious gags that affectionately mocked the array of stars around them.
Beginning with the opening monologue, they made jokes about everyone and everything from the films and TV shows in the nicest possible, but absolutely funniest way.
Here's a sample of some of their best zingers:
"We are so happy to be back, we are hosting the Golden Globes for our second time, because this is Hollywood, where if something kinda works they'll just keep doing it until everybody hates it" (Tina)
Meryl Streep, "so great in August: Osage County, proving that there are still great parts in Hollywood for Meryl Streeps over 60." (Amy)
"And now, like a supermodel's vagina, let's give a warm welcome to Leonardo DiCaprio." (Tina)
"Her … takes place in the not-so-distant future, which is perfect because so does Joaquin Phoenix." (Tina)
"Interesting trivia – the original title for American Hustle was 'explosion at the wig factory.'" (Tina)
"If I wanted to see Jonah Hill masturbate at a pool party, I'd go to one of Jonah Hill's pool parties." (Amy)
"[Gravity is] the story of how George Clooney would rather float away into space and die than spend one more minute with a woman his own age."
Which got this reaction from the assembled stars: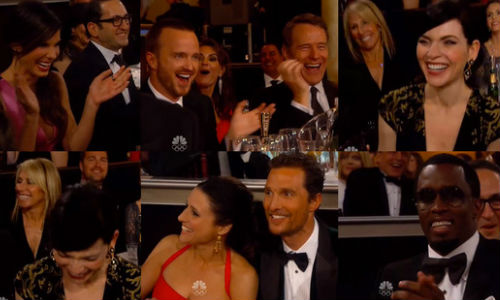 And here's their very funny opening monologue which proved once again that Amy Poehler and Tina Fey should be hosting everything.
Yes everything.
* And you can check everyone else's favourite Golden Globes moments at hypable, tvline, and cinemablend.
Oh and E! got into a little bit, OK a LOT of hot water when one of its air head Fun Facts noted that "Michael J. Fox was diagnosed with Parkinson's in 1991," and "Robert Redford was stricken with polio as a child".
Oh yeah, too much fun for just one day.
Or possibly NOT, E!
Of course the entire internet stepped in to point out just how tacky and insensitive this all was, the gaffe became a meme in no time flat, and yes E! did the only gracious thing they could do and apologised.