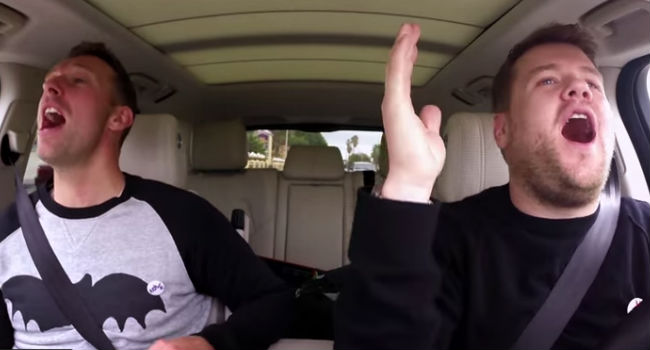 James Corden is a thoroughly lovely, engaging guy.
Which is a very good thing indeed since as the host of The Late, Late Show on CBS, which airs at 12.35am when many people are not at their most awake – the viewers, not the participants who tape the show at a far more civilised time, thank you – he has to be, wrangling celebrity guests and all manner of viral-wanna-be segments.
The most viral-y of these segments and the one that regularly garners the most attention because it's just good old fun, disarming and a little bit revealing is Carpool Karaoke, where a famous music artist – think the likes of Adele, Sia, Sir Elton John and Justin Bieber to name but four – jump into his car and sing their tunes with the late night host.
One of his recent hosts was Chris Martin, lead singer of Coldplay, who ostensibly needs a lift to the band's Superbowl Half Time gig – poor planning band management, POOR; yeah, yeah I know it's a joke, relax – and once in the car the two Brits have a fine old musical time.
If you think it's a case of Corden, simply recording a segment and moving onto the next workman-like, you'd be wrong, because as he told EW, he was really looking forward to throwing a few tunes such as "Adventure of a Lifetime" and "Viva La Vida" down with Chris:
"It's more of a road trip than it is a Carpool in many ways. I'm such a fan of his. I'm a fan of that band — they mean the world to me. It was very funny. He brought a keyboard over, and it involved an overnight stay."
It sounds like a lot of contrived fun and it is, one likely to cause, in the words of EW, a thoroughly enjoyable Rush of Blood to the Head … boom-tish thank you I'll be here all week … or Chris and James will be … you know what I mean.