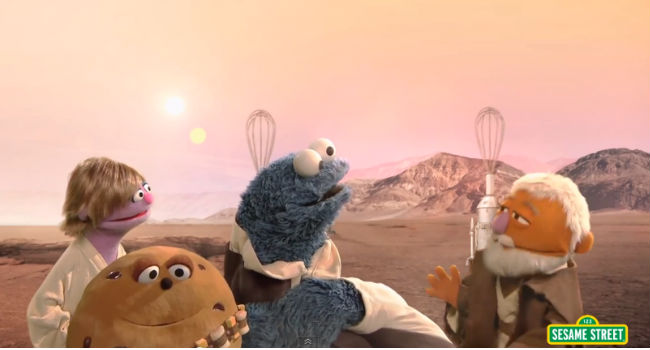 SNAPSHOT
A long time ago in a cookies and milky way galaxy far, far away…Princess Parfaita was taken prisoner by the evil Galactic Empire and had to be saved by a group of unlikely heroes including the young Luke Piewalker, Flan Solo, and Chewie the Cookie.
One of the great delights of life is undoubtedly Sesame Street and their inspired parodies of iconic pop culture films and TV shows.
They're always thigh-slappingly funny, visual and verbally delightful and clever, and most importantly, stick to Sesame Street's educational philosophy which is that "all children deserve a chance to learn and grow; to be prepared for school; to better understand the world and each other; to think, dream and discover; to reach their highest potential".
(If you want to know more about what drives Sesame Street to do the amazing work they do, it's worth taking the time to read an excellent post at Nicholas O Stirling.)
They have triumphed once again with an inspired take on Star Wars, currently filming Episode VII, which sees Cookie Monster as Flan Solo teaming up with Luke Piewalker and Chewie the Cookie to …
Wait! What's that? A cookie as a partner?
Cookie Monster isn't so sure he can handle that since it's highly likely he'll eat his buddy in Princess Parfaita-rescuing well before they encounter the bad guys from the Galactic Empire.
But fear not! If he just exercises a little Self Control, everything should be OK.
As is usually the case, there's an awesome message for today's kids about the virtues of delaying gratification, delivered flawlessly and hilariously with wonderful word puns and clever visuals which include Princess Parfaita sporting Oreo-shaped hair buns and giant whisks powering the wind farm on Tatooine.
It makes you wish you were a fly on the wall at the planning sessions at Crumby Films (best studio ever!) and could listen in on their brainstorming of ideas – there's clearly a lot of them and they're uniformly good ones if this delicious parody is anything to go by.
Now if you'll excuse I need to go and fall face first into a large cheesecake and pretend I am rescuing someone … after waiting an appropriate amount of time, of course (see I was paying attention Cookie Monster!) …