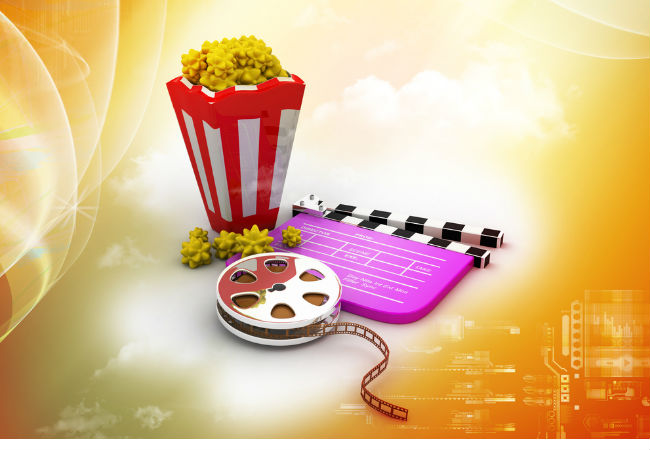 Much like the swallows arriving back en masse at Capistrano, movie trailers keep flocking to my inbox in numbers unseen since the last time they did so.
Which was, you know, yesterday.
And the day before and …
I need to release a few every now and then, or my inbox could well end up disappearing under a mass of squawking, insistent promotional shorts, so I have selected some that have captured my attention, and  hopefully will capture yours.
So grab the popcorn, wrestle the Giganto Mega Coke into the cup holder and hit play on the YouTube clips!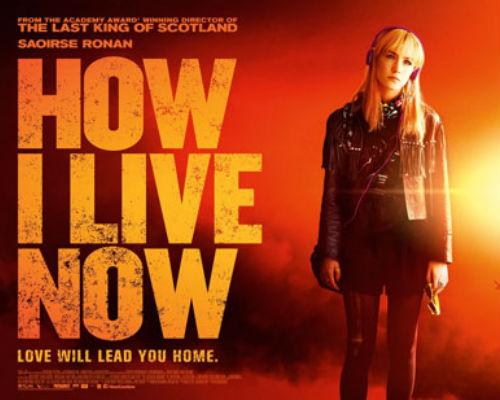 SNAPSHOT
How I Live Now is the powerful and engaging story of Daisy, the precocious New Yorker and her English cousin Edmond, torn apart as war breaks out in London of a not-so-distant future, from the multi award-winning Meg Rosoff. How I Live Now has been adapted for the big screen by Kevin Macdonald, starring Saoirse Ronan as Daisy and releases in 2013.

Fifteen-year-old Daisy thinks she knows all about love. Her mother died giving birth to her, and now her dad has sent her away for the summer, to live in the English countryside with cousins she's never even met. There she'll discover what real love is: something violent, mysterious and wonderful. There her world will be turned upside down and a perfect summer will explode into a million bewildering pieces.

How will Daisy live then? (source: penguin.co.uk) 
I will fully admit that while I have watched some movies based on young adult novels like Warm Bodies and The Perks of Being a Wallflower, I have yet to find the time to reach much of it, which is a great pity if How I Live Now is any indication, since this is highly emotionally resonant storytelling of the first order.
At least if the trailer and the copious numbers of reviews online are any indication, and I suspect they are.
This one is definitely on my Must Watch list when it reaches Australia.
How I Live Now premieres at the Toronto Film Festival in September 2013, opening in UK on 4 October 2013.
CAPTAIN PHILLIPS / SAVING MR BANKS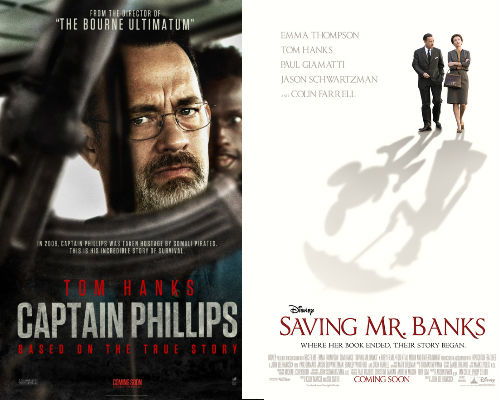 SNAPSHOTS
Captain Phillips –  Captain Phillips is director Paul Greengrass's multi-layered examination of the 2009 hijacking of the U.S. container ship Maersk Alabama by a crew of Somali pirates. It is – through Greengrass's distinctive lens – simultaneously a pulse-pounding thriller and a complex portrait of the myriad effects of globalization. The film focuses on the relationship between the Alabama's commanding officer, Captain Richard Phillips (two time Academy Award® winner Tom Hanks), and his Somali counterpart, Muse (Barkhad Abdi). Set on an incontrovertible collision course off the coast of Somalia, both men will find themselves paying the human toll for economic forces outside of their control. The film is directed by Academy Award® nominee Paul Greengrass, from a screenplay by Billy Ray based upon the book, A Captain's Duty: Somali Pirates, Navy SEALs, and Dangerous Days at Sea, by Richard Phillips with Stephan Talty. The film is produced by Scott Rudin, Dana Brunetti, and Michael De Luca. (source: captainphillipsmovie.com)

Saving Mr Banks – The story of how Walt Disney courted P.L. Travers into letting him option the rights to Mary Poppins is brought to the screen in this non-fiction drama starring Tom Hanks, Emma Thompson, and Colin Farrell. A doting father, Walt Disney (Hanks) promises his adoring daughters that he will bring their favorite fictional nanny Mary Poppins to the big screen. Little does Walt realize that surly author P.L. Travers has no intention of seeing her most famous creation bastardized on the big screen, a fact that makes keeping his promise a difficult endeavor. Years later, however, when Travers' book sales begin to slow, dwindling finances drive her to schedule a meeting with Disney to discuss the film rights to the beloved story. For two weeks in 1961, determined Disney does his absolute best to convince Travers that the film version of Mary Poppins will be a wondrous and respectful adaptation, meanwhile the author only grows more convinced that she has made the right move in preventing the proposed film adaptation. Later, just when it begins to appear that the rights to Mary Poppins have slipped through his fingers, the ingenious Disney reflects back on his childhood, and realizes that a sensitive chapter from Travers' youth could be the key to clinching the deal. Bradley Whitford, Paul Giamatti, and Jason Schwartzman co-star. ~ Jason Buchanan, Rovi (source: fandango.com)
I am a huge Tom Hanks fan and the idea of two of his movies opening within months of each other is a wonderful thing to look forward to indeed. It's even better if you're lucky enough to be attending the 57th London Film Festival where Captain Phillips will kick off a cornucopia of cinematic delights and Saving Mr Banks will close it out.
Captain Phillips opens in Australia on 10 October and USA on 11 October 2013 / Saving Mr Banks opens in USA on 20 December and in Australia on 26 December 2013.
SNAPSHOT
Based on the true story of the greatest treasure hunt in history, The Monuments Men is an action-thriller focusing on an unlikely World War II platoon, tasked by FDR with going into Germany to rescue artistic masterpieces from Nazi thieves and returning them to their rightful owners.  It would be an impossible mission: with the art trapped behind enemy lines, and with the German army under orders to destroy everything as the Reich fell, how could these guys – seven museum directors, curators, and art historians, all more familiar with Michelangelo than the M-1 – possibly hope to succeed?  But as the Monuments Men, as they were called, found themselves in a race against time to avoid the destruction of 1000 years of culture, they would risk their lives to protect and defend mankind's greatest achievements. (source: collider.com) 
I love stories of heroism and bravery, especially ones that take place against impossible odds with the express aim of saving something valuable and precious that might otherwise be lost forever in the mindless chaos and ferocity of war. The fact that this particular tale is true – well the basic facts are; no doubt Hollywood has gussied up the story a little … or a lot – and stars George Clooney and Matt Damon, is an added bonus.
The Monuments Men opens in USA on 18 December 2013, and UK on 9 January 2014; no release advised for Australia at this time.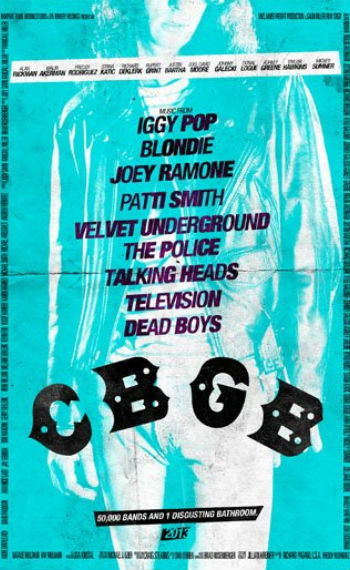 SNAPSHOT
CBGB tells the tale of the famed punk venue and its iconoclastic founder Hilly Kristal, portrayed by Alan Rickman (Harry Potter series) and directed by Randall Miller (Bottle Shock). The film also stars Malin Akerman (The Numbers Station), Ashley Greene (Twilight franchise), Johnny Galecki (The Big Bang Theory), Rupert Grint (Harry Potter franchise), Justin Bartha (The Hangover franchise), Joel David Moore (Avatar), Freddy Rodriguez (Six Feet Under), Stana Katic (Castle)  and Taylor Hawkins of the Foo Fighters.  With 16 on-camera musical performances, the film features more than 60 classic songs by Talking Heads, Ramones, Blondie, Patti Smith, Iggy Pop, the Police, the Dead Boys and more. (source: altpress.com)
While the movie, or at least the teaser trailers that have been released progressively over the last few months have been deemed too tame by some critics, it is nevertheless the first time that anyone has attempted to tell the true story of the legendary venue that was home to many of the bands that made up New York's punk music scene including Talking Heads, The Ramones, Blondie, Iggy Pop and The Police. CBGB, which comes with the tagline "50,000 bands and one disgusting bathroom", is being released to commemorate the 40th anniversary of the club which shut its doors in 2006 before being resurrected, at least as a brand, in 2012.
CBGB opens in USA on 11 October 2013 as part of the 2nd annual CBGB festival.