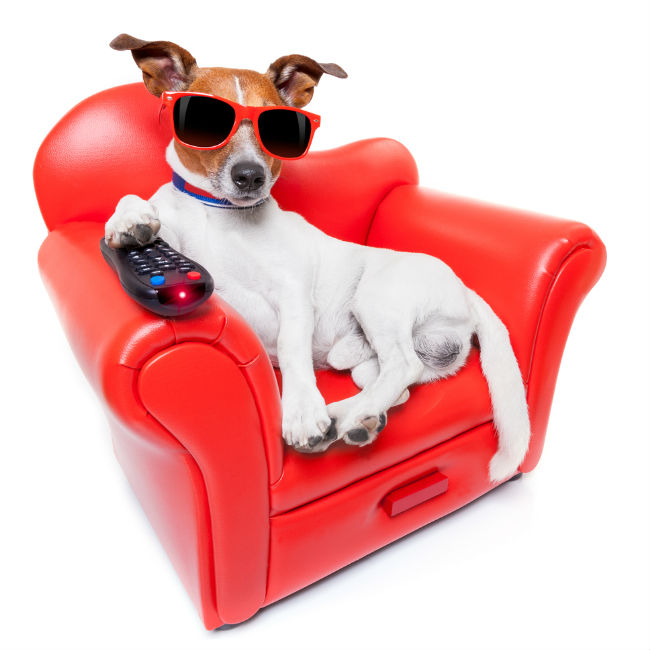 If you are an avid pop culture consumer, and if you're reading this blog there's a reasonably good chance you are, you will be well aware that the nerd extravaganza of sight and sound that is San Diego Comic-Con has just finished its 48th event.
With all the amazing panels, appearances by a multitude of stars, cosplaying and exhibitors galore, come the exclusive trailers that, after a respectable bit of time, come cascading onto the web … and thus to sparklyprettybriiiight.
Watch them. Enjoy them. Feast on their promises of movie and televisual riches to come and start filling in your diary.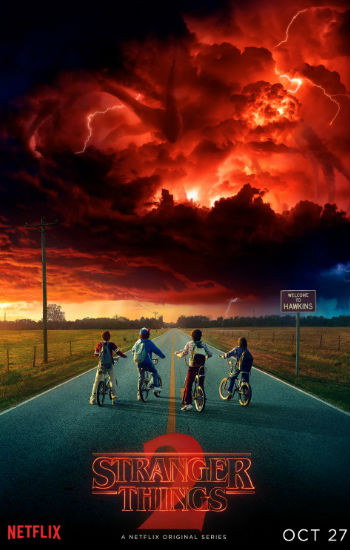 SNAPSHOT
Set in Hawkins in the fall of 1984, the story continues as supernatural forces once again begin to affect the town.[3] While the season will service the first season's core cast and characters first and foremost,[4] several new characters have been revealed: tomboy Max and her older step-brother Billy, a woman named Roman connected to Hawkins Lab, RadioShack manager Bob Newby, Department of Energy agent Dr. Owens and disgraced journalist-turned-conspiracy theorist Murray Bauman. (synopsis via Stranger Things Wiki)
If ever there was a more perfect song than Michael Jackson's "Thriller" to use as the soundtrack for the Stranger Things season 2 trailer, then I can't think what it could be. While the song has some inherent playfulness if listened to in isolation, in the context of this trailer, where great Upside Down evil is once again threatening the good, and not-so-good people of Hawkins, Indiana, it's as insidious as they come. And poor old Will, who's physically back but still psychically linked to the Upside Down and seeing visions of doom, and Eleven who's trying to find her back from the dark and gloomy side, are especially affected as the world counts down a collision of us and them.
Stranger Things season 2 premieres 27 October.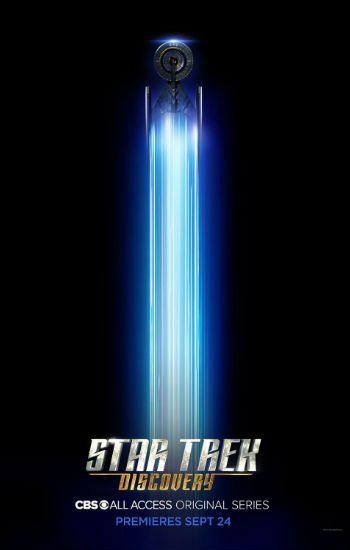 SNAPSHOT
Star Trek Discovery will follow the voyages of Starfleet on their missions to discover new worlds and new lifeforms, and one Starfleet officer who must learn that to truly understand all things alien, you must first understand yourself. The series will feature a new ship, new characters and new missions, while embracing the same ideology and hope for the future that inspired a generation of dreamers and doers.

The Star Trek Discovery cast includes Sonequa Martin-Green as First Officer Michael Burnham, Michelle Yeoh as Captain Philippa Georgiou, Jason Isaacs as Captain Lorca, Doug Jones as science officer Saru, Anthony Rapp as fellow science officer Stamets, Terry Serpico as Starfleet admiral Anderson, Maulik Pancholy as chief medical officer Nambue, Sam Vartholomeos as junior Starfleet officer Connor, Mary Wiseman as Cadet Tilly, James Frain as Sarek, astrophysicist and father of Spock, Chris Obi as Klingon leader T'Kuvma, Mary Chieffo as L'Rell, a Klingon commander, Shazad Latif as Lieutenant Tyler, Rekha Sharma as Commander Landry, Kenneth Mitchell as Kol, Clare McConnell as Dennas, Damon Runyan as Ujilli, and Rainn Wilson as Harry Mudd. (synopsis via Coming Soon)
Star Trek Discovery is not your grandmother's five year mission people. A mix of Deep Space Nine's gritty realness, the hopeful but wary optimism of Enterprise and the onboard camaraderie of Star Trek TOS, TNG and Voyager, it's looks to be its own Roddernberry-ian animal, armed with a cool, hip soundtrack, postmodern angst and light and shadow in abundance.
Star Trek Discovery premieres 24 September.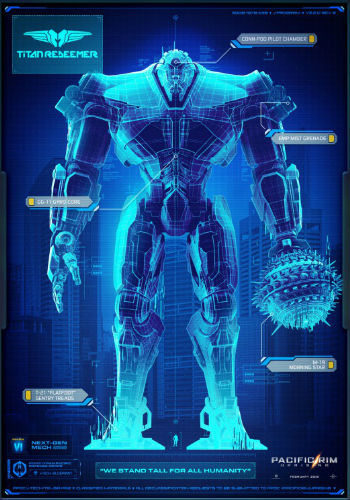 SNAPSHOT
It has been ten years since The Battle of the Breach and the oceans are still, but restless. Vindicated by the victory at the Breach, the Jaeger program has evolved into the most powerful global defense force in human history. The PPDC now calls upon the best and brightest to rise up and become the next generation of heroes when the Kaiju threat returns. (synopsis via Wikipedia)
If you can throw your mind all the way back to the dim, dark days of 2013, an eon ago in pop culture terms, you will recall that in Pacific Rim, Earth received quite a battering at the hands of monstrous creatures called Kaiju from outer space/another dimension/an off the grid scientific lab in Lubbock, Texas. They were defeated by Jaegers, giant mechanised robots controlled and empowered by teams of two people who possessed a psychic connection to each other (two of whom, it should be added, had utterly atrocious Aussie accents and died for their troubles). Now 10 years down the track, the Kaiju are back and Earth need people to join the Jaeger program and take up the fight again. The trailer for the sequel is relatively sparse, as teasers are wont to be, but it does manage to get some sly digs in at our current obsession with superheroes which should generate some fun knowing smiles.
Pacific Rim: Uprising opens 22 February 2018 Australia and 23 February 2018 USA.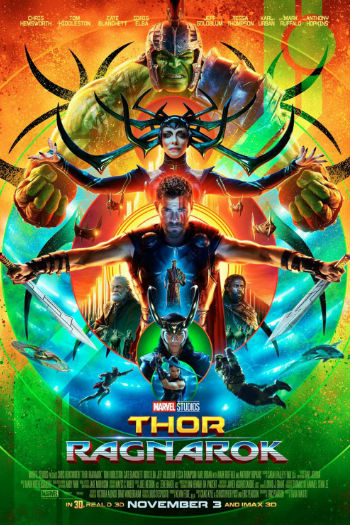 SNAPSHOT
In Marvel Studios' Thor: Ragnarok, Thor will arrive in Asgard after hearing about trouble in his home world, and when he arrives he finds Loki's style of ruling (while impersonating Odin) has led to some lapses in the rules and leads to the freeing of prisoner Hela. Thor and Hela naturally come to blows when they meet, which sees Thor "blasted" to Sakaar, described as "a barbaric planet ruled by the charming but nefarious Grandmaster (Jeff Goldblum)." There he meets Valkyrie, who is hiding out on the planet, and brings him to the Grandmaster to make him a gladiator, where he meets the most popular competitor in the arena, The Hulk, and loses his trademark hair and hammer.

Thor: Ragnarok will feature the return of Chris Hemsworth as the God of Thunder himself, with Tom Hiddleston as Loki, Mark Ruffalo as the Hulk, Idris Elba as Heimdall and Sir Anthony Hopkins again portraying Odin. Cate Blanchett plays the mysterious and powerful new villain Hela, Jeff Goldblum stars as the eccentric Grandmaster, Tessa Thompson will bring the classic hero Valkyrie to life, and Karl Urban will add his might to the fray as Skurge. (synopsis via Coming Soon)
Taika Waititi rules! His trademark humour and whimsy is all over this trailer for Thor: Ragnarok which is all end-of-the world angst and destruction, with all the requisite epic blockbuster-action that entails but also very funny too. The oneliners and comedic riffs alone are worth the price of admission alone, as is Cate Blanchett isn full Goddess of Death mode. The '70s touches are a lot of fun too, suggesting Marvel's love affair with that decade is far from over.
Thor: Ragnarok opens 26 October in Australia and 3 November in USA.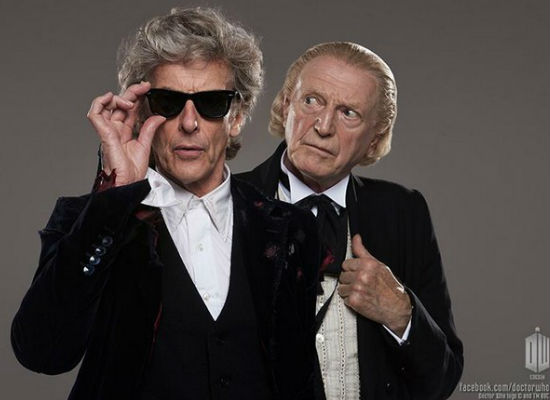 SNAPSHOT
The episode will be Steven Moffat's last episode as showrunner, and Peter Capaldi's swansong in the title role. It will end with Capaldi's Time Lord regenerating into Jodie Whittaker's 13th Doctor, whose first lines will be written by incoming showrunner Chris Chibnall. (synopsis (c) Bleeding Cool)
I had almost given on Doctor Who when I dipped out of the lacklustre ninth season but the buzz around season 10 was so persistently strong and good that I was persuaded to return to the TARDIS fold. While the most recent batch of episodes was exemplary television, it was a significant leg-up from its predecessor and gives me hope that this year's Christmas episode, which will also see the First Doctor (David Bradley) and companion Bill Potts return, will be a great return to form. Even if timey-wimey is all screwy-wewy and such.
Doctor Who Christmas Special 2017, "Twice Upon a Time", premieres Christmas Day in UK and Boxing Day (26 December) in Australia).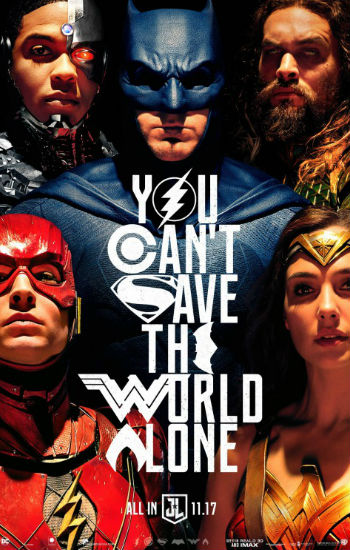 SNAPSHOT
Fueled by his restored faith in humanity and inspired by Superman's selfless act, Bruce Wayne enlists the help of his newfound ally, Diana Prince, to face an even greater enemy. Together, Batman and Wonder Woman work quickly to find and recruit a team of metahumans to stand against this newly awakened threat. But despite the formation of this unprecedented league of heroes—Batman, Wonder Woman, Aquaman, Cyborg and The Flash—it may already be too late to save the planet from an assault of catastrophic proportions. (synopsis via Coming Soon)
"Something is coming!" They aren't the words you really want to hear at any point but when that something is coming via Wonder Woman's island home of Themyscira and presages the possible, cataclysmic end of the world, then you definitely don't want to hear it. But then when you've gathered together DC's version of The Avengers, it's marginally not quite as scary. I said marginally. But hey, Wonder Woman and Aquaman, my two favourite DC superheroes – Wonder Woman is particular has been my superheo bae, enhanced by her blockbuster success this year – are in the mix, along with a sweet, geeky new Spiderman-ish The Flash, and  a neat balance between action, humour and humanity, then saving the world could be very entertaining indeed.
Justice League releases 16 November 2017 Australia and 17 November UK and USA.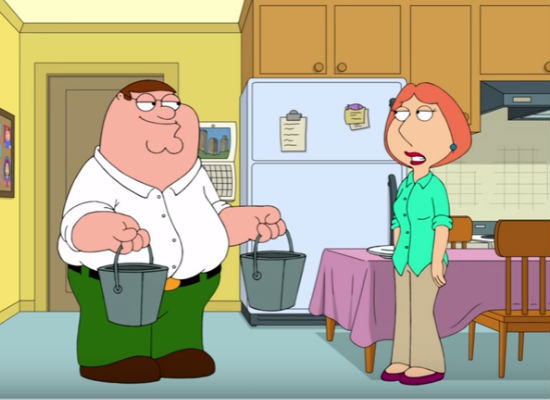 SNAPSHOT
Presenting: a goat-milking mishap, a firepole mishap, a rollercoaster mishap involving lots of gravity-influenced vomiting, Chris and Meg graphically taking down a sensitivity mob at school in a riff on the Kingsman church massacre, a live-action cameo by Danny Trejo, and, yes, some very welcome appearances from two beloved late actors: Mayor Adam West (West), who is riding a hoverboard while making fast friends with a rat, and Angela (Fisher) who fires Peter from the brewery in a most unusual way. (synopsis (c) EW)
It's irreverent as hell, funny to the core, gloriously and delightfully politically incorrect and a bona fide Lazarus show which was cancelled, came back and has gone from strength to strength ever since. The trailer for season 15 gives every indication we're up for more of the sane penetratingly insightful lunacy which is a Very Good Thing. Laugh, cringe, laugh, cringe and … GO!
Family Guy season 15 debuts 1 October on Fox.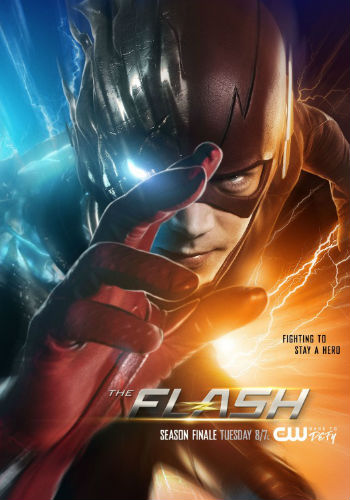 SNAPSHOT
In the season 3 finale,  H.R. swapped places with Iris, leading to his death, Savitar kidnaps Cisco and forces him to rebuild the Bazooka into an interdimensional quantum splicer so that Savitar could create fragments of himself to be dispersed throughout time and protect himself from the paradox and Barry tries to convince Savitar that he could be saved. Savitar returns to S.T.A.R. Labs, destroys it with the Philosopher's Stone and orders Caitlin to kill Cisco, but Gypsy interferes. Savitar and Caitlin open a portal into the speed force; the Black Flash appears and attacks Savitar, but Caitlin stops him with her powers. Savitar attempts to execute his plan, but Cisco actually modified the Bazooka into a skeleton key to free Jay from the speed force prison. Barry, Wally and Jay engage Savitar, while Cisco and Gypsy face off against Caitlin. Cisco convinces Caitlin to become benevolent. Barry phases through and destroys Savitar's suit before Savitar is shot by Iris, seconds before he is erased from existence. As Team Flash mourns H.R., Caitlin decides not to use Julian's cure, leaving in order to find her own purpose. A massive storm appears over Central City, created by the empty unstable speed force prison. Barry explains that he needs to accept his punishment for creating Flashpoint and enters the speed force prison himself, entrusting Central City to Wally and the team. (synopsis via Wikipedia)
Season 3 of The Flash tested my patience. A viewer of the show since its premiere, I have put up with a lot of really inconsistent stuff because (a) it's a series about superheroes and no one expects them or those close to them to live conventional lives, and (b) I really liked everyone in Team Flash. But as weird narrative leap follow odd storyline jump, and Barry Allen aka The Flash, played with endearing sincerity by Grant Gustin, proved to be his own worst enemy (pretty much literally), I began to wonder where it was all heading. So did others, like Forbes. But the season 4 trailer fills me with hope that this most lovable of shows can redeem itself since at heart it has all the fundamentals in place. It just need to get its narrative house in order and all will be well again. Assuming The Flash does play around with time again, of course …
The Flash season 4 premieres 10 October on The CW.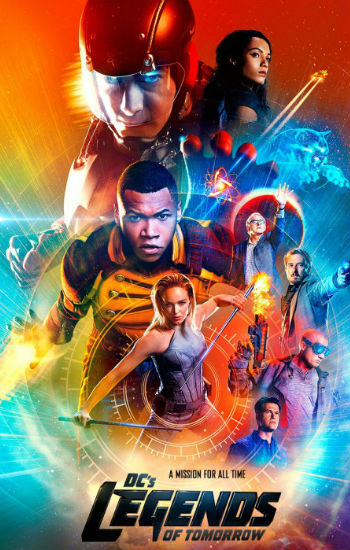 SNAPSHOT
The Legends broke time at the end of season 2, which isn't surprising since they did break the one rule of time travel. So, in season 3, they're focused on righting what's wrong. But, as showrunner Phil Klemmer teased when he and the cast came by EW's San Diego Comic-Con studio, fixing time aberrations is only a small part of the danger they'll face this season.

"Rip has been hiding something from us. There's a greater evil coming. Tell me what we're facing here," says Sara (Caity Lotz) to a woman in a suit, who we can assume is part of Rip Hunter's new squad, the Time Bureau. As Sara says that, we're shown our first look at Kuasa, Amara's great granddaughter. Judging from the trailer's scary music, Kuasa and Amara's eventual family reunion won't be as heartfelt as when Sara was reunited with her family after coming back from the dead. (synopsis (c) EW)
"There is a greater evil coming." OK – awesome. Just what you wanted to hear after you've broken time and put the cat right among the temporal pigeons. Think it can't get worse? Oh yes it can and it will if this trailer is anything to go by. Of course, this "team of outcasts and misfits" has shown an ability, despite their quip-heavy dysfunctional dynamics, to handle pretty much anything and I'm fairly confident they'll do just fine. Just keep the clowns away will ya?
Legends of Tomorrow season 3 premieres 10 October on The CW.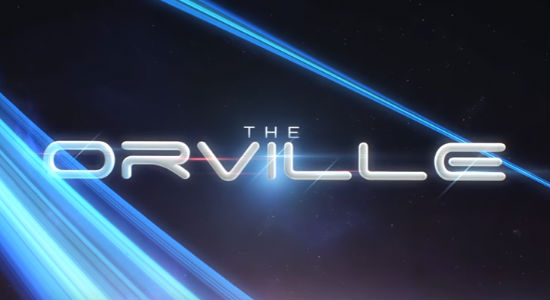 SNAPSHOT
From Emmy Award-winning executive producer and creator Seth MacFarlane (FAMILY GUY, Ted, Cosmos: A SpaceTime Odyssey), THE ORVILLE is a live-action, one-hour space adventure series set 400 years in the future that follows The Orville, a mid-level exploratory spaceship. Its crew, both human and alien, face the wonders and dangers of outer space, while also dealing with the familiar, often humorous problems of everyday life. The ensemble series stars MacFarlane as the ship's Commanding Officer and Adrianne Palicki (Marvel's Agents of S.H.I.E.L.D., Friday Night Lights) as his ex-wife, who's assigned as his First Officer. Additional cast members include Penny Johnson Jerald (24, The Larry Sanders Show), Scott Grimes (ER, Justified), Peter Macon (Shameless, Bosch), Halston Sage (Neighbors, Goosebumps), J Lee (FAMILY GUY, The Cleveland Show), Mark Jackson (That Royal Today) and Chad L. Coleman (The Walking Dead, The Wire). (synopsis (c) Fox)
I love a good a parody and I love Seth MacFarlane so the odds are better than average that I will love The Orville. A delightful fusion of the spirit of Spaceballs and Galaxy Quest, with MacFarlane's trademark irreverance, the show looks like it could be a whole lot of intergalactic fun. Not to mention the fact that graphics are pretty cool, meaning that Fox know it needs to look the part if its too successfull parody the part (Stare trek, of course).
The Orville premieres on 10 September on Fox.
Is that all the trailers from San Diego Comic-Con I hear you ask? What? Are you crazy? Nowhere freaking near it. Head to Screenrant to try all the #SDCC2017 trailers your pop culture-loving nerd heart can handle.