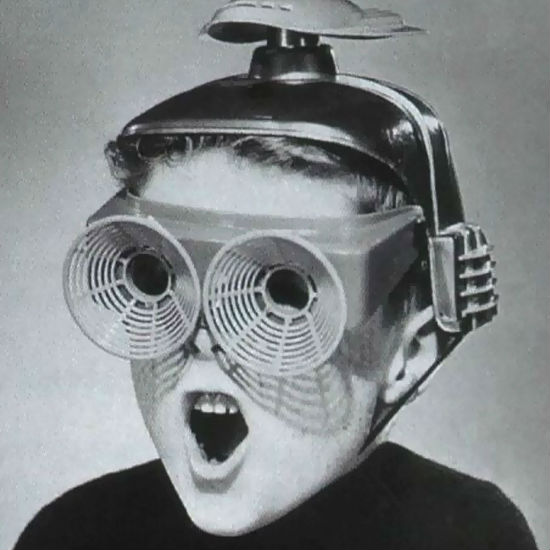 We're barely a month away from all sorts of new season TV goodness and with thoughts of evil fairy tale queens, re-imagined 19th century fictional detectives and bright, sunshiney high school singers dancing in my heads, it's entirely the right time to gather them all together in one big shiny bundle of promos trailers (and yes a photo or two pretending to be a moving image).
I appreciate you may not have the sort of funky retro glasses that the young boy in the main image does but I suspect you will enjoy catching these glimpses of TV shows to come every bit as much anyway …
ELEMENTARY (season 2)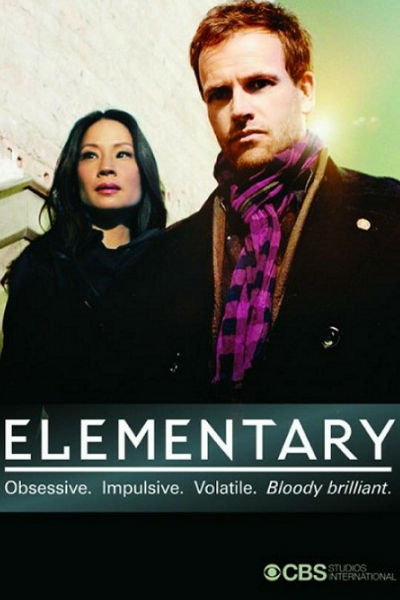 A bold 21st century re-imagining of Sir Arthur Conan Doyle's iconic detective Sherlock Holmes and his trusty companion Watson, Elementary set the creative cat among the pigeons, initially at least, by not only giving Holmes (Jonny Lee Miller) all sorts of addiction issues and transplanting him to contemporary America but by making Watson (Lucy Liu) – (mock) gasp! shock! horror! – a woman and his "sober coach", who eventually becomes his apprentice.
There were also accusations at the time of its premiere that it was a blatant appropriating of the spirit and sensibility of the British series Sherlock, starring Benedict Cumberbatch and Martin Freeman, dreamed up after negotiations between CBS and BBC to create an American version of the British show came to nothing.
But Elementary weathered all these initial storms to became very much its own distinct creation, something that a number of critics remarked upon such theguardian.com which noted among other things, its emphasis on strong, capable female roles, and to which audiences flocked in ratings-pleasing droves.
And now it's back for season 2, after a revelatory season 1 ending where Holmes' great love, Irene Adler (Natalie Dormer) was unmasked as the legendary detective's eternal nemesis, Moriarty.
The promo (below) for season 2 of Elementary promises more of the pair's trademark fast paced and witty banter, a slew of guest stars including Sean Pertwee (son of the man who played the third incarnation of Doctor Who and Worzel Gummidge, Jon Pertwee) as Inspector Lestrade, the Scotland Yard detective who owes much of his professional reputation to his association with Holmes, and the chance to see Holmes in his hometown of London.
No doubt there's much more to come when Elementary returns to our screens on 26 September.
ONCE UPON A TIME (season 3)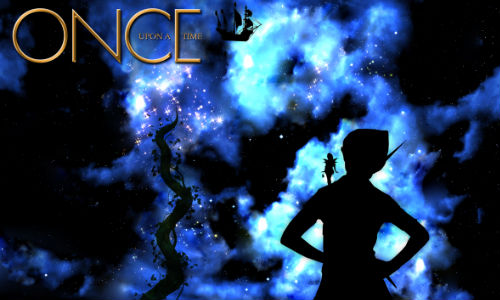 They've been cursed, un-cursed, returned to their fairytale kingdom (well at least some of them), all the while trying to forge lives still anchored to a large degree in our banal, mostly magic-less world.
And now, according to Hyperable.com, a number of the character's from ABC's imaginative post-modern mashup of just about every fairytale character and  land – including yes the one with Alice in it which is getting its own spinoff series Once Upon a Time in Wonderland this coming season – have to leave the comfort of home once again on an urgent mission to retrieve a kidnapped Henry (Jared Gilmore) from Peter Pan's Lost Boys:
"Emma (Jennifer Morrison), Snow (Ginnifer Goodwin), Charming (Josh Dallas), Mr. Gold (Robert Carlyle), and Regina (Lana Parrilla) journey to Neverland on Captain Hook (Colin O'Donoghue)'s Jolly Roger."
And it's going to be a challenging journey for everyone involved according to Once Upon a Time showrunner Ed Kitsis:
"'All our main characters are being stripped down to their core. Being in Neverland is going to have a profound effect on each of the characters,' which allows the writers to explore the characters further and push them forward in their development."
Among other things, it will mean more than a few deep and meaningful discussions between the Charmings and their daughter Emma, confrontations between Mr Gold and Peter Pan (Robbie Kay) with the latter likely to be the surprising victor, and the introduction, as you'll see below of characters like Ariel, who makes her presence known in the show via a bit of petty larceny.
It all promises some more rip-roarin' adventuring for all the characters torn between two worlds.
The magic of Once Upon a Time returns Sunday 29 September.
And now let's be still for a moment and hush the trailers for a look at the first promo poster for Supernatural, which is getting ready for season #9 and the launching of an ensemble monster-fighting spinoff show via a backdoor pilot in episode 20 of the upcoming season.
As ever, it's going to be a full-on season for the two brothers fighting all those supernatural nasties Dean (Jensen Ackles), Sam (Jared Padalecki), and the other member of Team Free Will as they're termed, Castiel (Misha Collins), as showrunner Jeremy Carver revealed via huffpost TV:
"The decisions [the characters] made at the end of last year are really causing a tremendous amount of fall-out, and that includes Castiel as well. Those decisions are going to propel them into some even greater and deeper and scarier decisions at the beginning of this season, that are going to have far-reaching, very personal consequences for our brothers."
So rev up the Impala! Supernatural returns on Tuesday 8 October.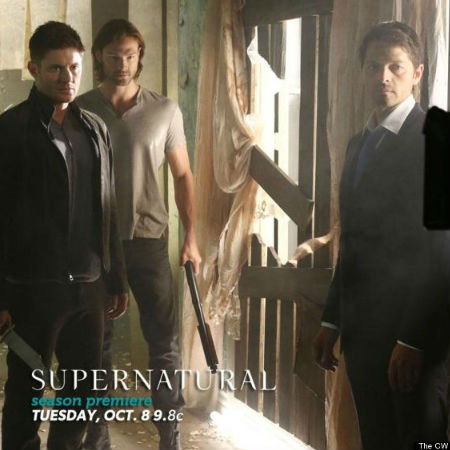 Speaking of supernatural nasties, and yes we kind of were, Dracula returns to our screens via  co-production between Sky Living and NBC Universal, starring Rhys Meyers (The Tudors) as the eternally-conflicted one himself.
He rides a wave of onscreen fascination with zombies and werewolves and vampires (oh my!) with shows like The Walking Dead, True Blood, The Vampire Diaries (and its spinoff The Originals which debuts this fall TV season) riding high in the ratings but let's face it, his is the original vampire tale and with Rhys Meyers in the titular role, it won't be anything less than dramatically engaging.
According to cultbox.co.uk, which premiered the musically-heavy trailer, "The show re-introduces Dracula as he arrives in London, posing as an American entrepreneur who maintains that he wants to bring modern science to Victorian society. In reality, he hopes to wreak revenge on the people who ruined his life centuries earlier. There's only one circumstance that can potentially thwart his plan – he's fallen hopelessly in love with a woman who appears to be the reincarnation of his dead wife."
Get your fangs into Dracula when the 10 part series premieres in USA on Friday 25 October and in UK, Autumn 2013.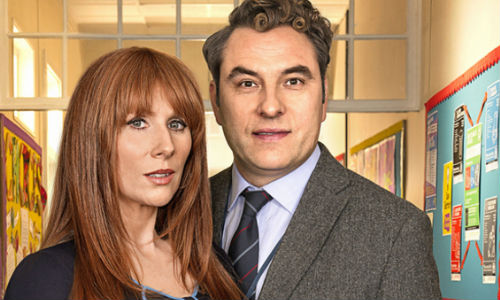 Ever since I set my nascent pop culture feasting eyes on the likes of To The Manor Born, Dad's Army and The Good Life, way back in them thar times long ago, I have loved a finely crafted, funny British sitcom.
Big School, which features David Walliams (Little Britain) and Catherine Tate (The Catherine Tate Show, Doctor Who) among other comedy greats such as Joanna Scanlan (The Thick of It)and Frances de la Tour (Rising Damp, Vicious), judging from the trailer at least, looks like it taps into the same vein of comedy gold.
Of course we won't know for sure till we have a full episode or two to take in – it began in UK on Friday 16 August but hasn't reached Australia yet – but Walliams, a co-writer on the show, who plays a much put upon chemistry teacher Mr Church in the show who is attracted to a fellow teacher played by Catherine Tate, neither of whom can't express their feelings in any sort of meaningful way, promised in an interview with Press Association that:
"This character has got to be a lot more real because you're going to spend a lot more time with him. I hope that people find it funny but enjoy that it's a slightly subtler thing from me."
Given the endless possibilities of workplace comedies set in school, hospitals etc, it looks like it will have a rich vein of comic gold to mine and I am looking forward to it reaching colonial shores before too long.
Till it does, I have this trailer to enjoy …
So which show are you most looking forward to seeing?