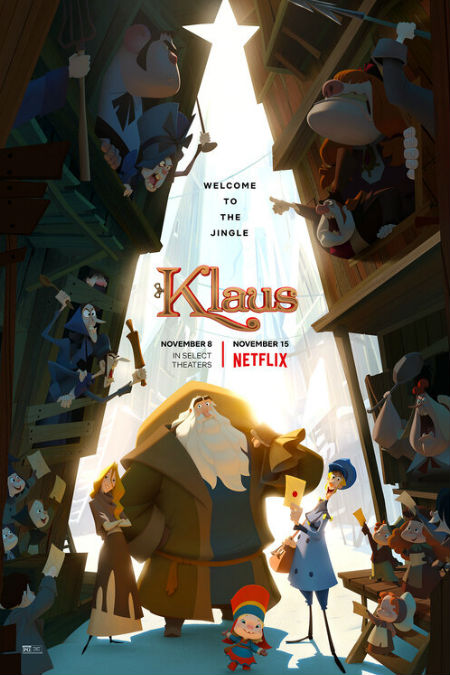 SNAPSHOT
When Jesper (Jason Schwartzman) distinguishes himself as the postal academy's worst student, he is stationed on a frozen island above the Arctic Circle, where the feuding locals hardly exchange words let alone letters. Jesper is about to give up when he finds an ally in local teacher Alva (Rashida Jones), and discovers Klaus (Oscar® winner J.K. Simmons), a mysterious carpenter who lives alone in a cabin full of handmade toys. These unlikely friendships return laughter to Smeerensburg, forging a new legacy of generous neighbours, magical lore and stockings hung by the chimney with care. (official synopsis via Den of Geek)
You may not believe this but the upcoming Santa origin story animated feature, Klaus, is the streaming platform's first foray into that particular genre.
Get out of here ho ho ho! No, you get out of here, jingling all the way!
In reporting the news, which is very welcome indeed since who doesn't love a Christmas animated film that brings some 2D animation beauty into the mix, Den of Geek noted that this isn't the only first for the film:
"Sergio Pablos makes his directorial debut with Klaus, bringing experience from his time as executive producer of Illumination franchise-launcher Despicable Me, and from the animation departments of classics like The Hunchback of Notre Dame, Tarzan and Fox's Rio. With Klaus, Pablos developed the story, which was the basis of a script written by Zack Lewis and Jim Mahoney."
Firsts aplenty there may be fa la la la but there is also, Den of Geek notes, a mixing of the old and new too.
"Pablos certainly set out to break the modern mold, in which CGI has long been the standard bearer medium. Yet, while Klaus is a throwback to the days of two-dimensionality crafted by hand-drawn cells, it's not quite an old-school production, since it clearly brandishes an aesthetic that gives the feature a quasi-3D feel as each frame transitions with the help of tracking software, supplemented by lighting that imbues the visual with a unique effervescence."
Klaus premieres on 15 November on Netflix.