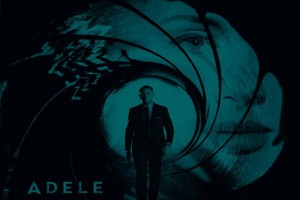 I am a reent convert to the Bond franchise it has to be said, and much of my new found enthusiasm for Bond, James Bond, has much to do with the actor now playing him, Daniel  Craig.
Lest you think it is a physical attraction only, I will acknowledge that though I find him immeasurably attractive in his sexy tight suits (and light powder blue swimming trunks too it should be said), what really draws me to the movies he's be in – Casino Royale, Quantum of Solace and now of course Skyfall – is the gritty, Bourne-esque edge the franchise has acquired since he signed on.
They almost have the look and feel of a noir thriller, with just a dusting of the light hearted Bond of old, and Daniel Craig is perfectly suited to portraying this new darker, far more introspective Bond.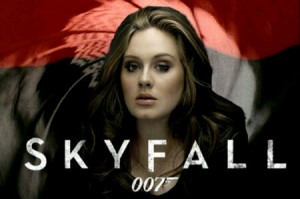 One thing that doesn't appear to have changed too much is the Bond theme song … and that's not such a bad thing.
Skyfall's producers have wisely chosen Adele as the new Bond songstress, and she hasn't disappointed with a suitably lushly dramatic song that Shirley Bassey herself, queen of the Bond song who brought us "Diamonds Are Forever" and "Goldfinger", would welcome with open arms were she still in the business of serenading everyone's favourite spy.
She wrote and recorded the song with the talented Paul Epworth at Abbey Road Studios – yes that Abbey Road – and a 77 piece orchestra, according to news.com.au.
She had this to say about being placed firmly in the centre of one of pop culture's most famous franchises:
"There's a lot of instant spotlight and pressure when it comes to a Bond song," Adele said.

"But I fell in love with the script and Paul had some great ideas for the track and it ended up being a bit of a no brainer to do it in the end. It was also a lot of fun writing to a brief, something I've never done which made it exciting. When we recorded the strings, it was one of the proudest moments of my life.

"I'll be back combing my hair when I'm 60 telling people I was a Bond girl back in the day I'm sure!"
No doubt she will. It is a beautiful, evocative song and a more than worthy addition to the Bond canon of theme songs.