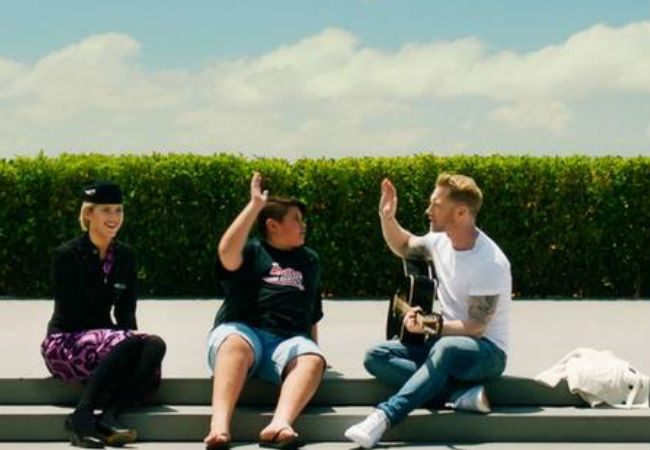 As a Christmas romantic, the great disparity between the traditional northern hemisphere visual look of Christmas and the much warmer southern hemisphere reality has never troubled me too much.
Sure there are some people who rile at the idea of celebrating sleigh rides, winter wonderlands and chestnuts roasting over open fires when the temperatures outside are 30 degrees Celsius plus but I've largely shrugged it off, content to place my Six White Boomers (kangaroos who pull Santa's sleight down under) right alongside elves neck deep in snow.
Still, when Christmas Day is HOT – one of my enduring memories is legs sticking to vinyl seating around the dining room table – and you're eating seafood, cold meat and salads, with nary a roast vegetable in sight, and you're more apt to go to the beach and play backyard cricket than sip eggnog in front of a roaring fire, it makes sense to reflect southern hemisphere realities in the celebration of Christmas.
Which is exactly what Air New Zealand, who are famous for their wonderfully-inventive ads and amusing safety videos, have done bringing singer Ronan Keating together with Julian Dennison, engaging, mischievous star of Hunt For the Wilderpeople to craft an hilarious southern hemisphere version of "Winter Wonderland".
Their rewrite, which Irishman Keating is dubious about attempting even as his producer, played by Dennison, cajoles him to consider a more down under lyrical reflection of Christmas, is hilarious with both of them apparently having a lot of fun making the ad.
"I'm a big fan of New Zealand, both the country and the people and also of Air New Zealand. I love their humorous on board safety videos and of course, the great inflight experience.
"Working with Julian was a breeze – he's an absolute legend, incredibly professional, and to top it off, he can definitely sing." (Keating)
"My job in the video is to sell Ronan on the idea of a sunny outdoor Christmas – the kind of day I'm looking forward to sharing with my family, jamming on the guitar or ukulele and chillaxing.
"For me Christmas is about getting people together and in the groove, so what better way to celebrate than to cut a track on why a Kiwiana Christmas is epic." (Dennison)
Even if you aren't from down under and can't imagine Christmas with sunscreen, thongs (flip-flops) and a snag or two on the barbie (sausages on the BBQ), I guarantee you'll enjoy the fun and vivacity of this ad.
And who knows, maybe you'll wing your way down under next Christmas – you know Air New Zealand wants you to! – to celebrate a sunnier, brighter, altogether more summery more Christmas.