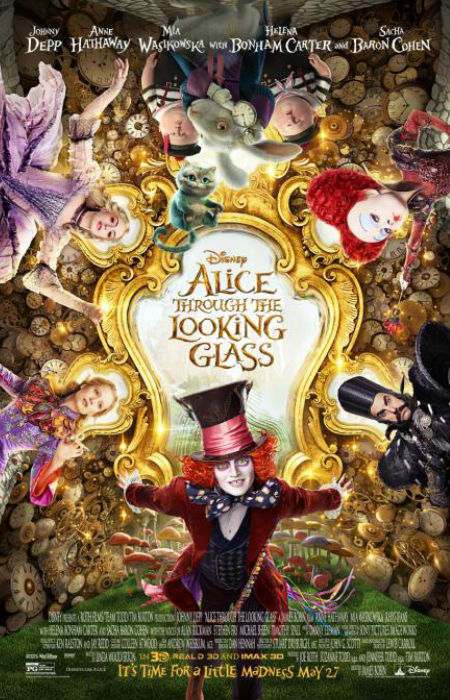 SNAPSHOT
In Disney's Alice Through the Looking Glass, an all-new spectacular adventure featuring the unforgettable characters from Lewis Carroll's beloved stories, Alice returns to the whimsical world of Underland and travels back in time to save the Mad Hatter. Directed by James Bobin, who brings his own unique vision to the spectacular world Tim Burton created on screen in 2010 with Alice in Wonderland, the film is written by Linda Woolverton based on characters created by Lewis Carroll and produced by Joe Roth, Suzanne Todd and Jennifer Todd and Tim Burton with John G. Scotti serving as executive producer. Alice Through the Looking Glass reunites the all-star cast from the worldwide blockbuster phenomenon, including: Johnny Depp, Anne Hathaway, Mia Wasikowska and Helena Bonham Carter along with the voices of Alan Rickman, Stephen Fry, Michael Sheen and Timothy Spall. We are also introduced to several new characters: Zanik Hightopp (Rhys Ifans), the Mad Hatter's father and Time himself (Sacha Baron Cohen), a peculiar creature who is part human, part clock.

Alice Kingsleigh (Wasikowska) has spent the past few years following in her father's footsteps and sailing the high seas. Upon her return to London, she comes across a magical looking glass and returns to the fantastical realm of Underland and her friends the White Rabbit (Sheen), Absolem (Rickman), the Cheshire Cat (Fry) and the Mad Hatter (Depp), who is not himself. The Hatter has lost his Muchness, so Mirana (Hathaway) sends Alice on a quest to borrow the Chronosphere, a metallic globe inside the chamber of the Grand Clock which powers all time. Returning to the past, she comes across friends – and enemies – at different points in their lives, and embarks on a perilous race to save the Hatter before time runs out. (official synopsis via Coming Soon)
All of us at one time or another have bemoaned the fact that there aren't enough hours in the day. But I think we can safely say that a lack of time to do all the things we want to do hasn't exactly imperilled our continuing existence.
In Alice Through the Looking Glass, however, where the titular character returns to Underland through, quite naturally, the most peculiar of circumstances, running out of time and the cessation of everything are pretty much interwoven, and Alice is caught in a race against, you guessed, Time himself, to save the day.
With Mia Wasikowska returning as Alice and Johnny Depp as the manic Mad Hatter, a little less manic these days it seems, and music by Pink – she covers, appropriately Jefferson Airplane's "White Rabbit" as well as contributing an original song (see the featurette below) – we're promised all kinds of, once-again Tim Burton-inspired goings-on in a reminder that even the best and silliest of things cannot survive forever if there's no time left to give them life.
Drawing on the same overactive imaginative spark that gave 2010's Alice in Wonderland such a sense of wonder, both narratively and visually, and which perfectly captured Lewis Carroll's bizarrely-trippy yet meaningful world, Alice Through the Looking Glass promises the kind of immersive, escapist adventure that big screen cinema was made for (not to mention one of dearly-departed Alan Rickman's final movie outings).
Alice Through the Looking Glass opens 27 May USA and 14 July in Australia.