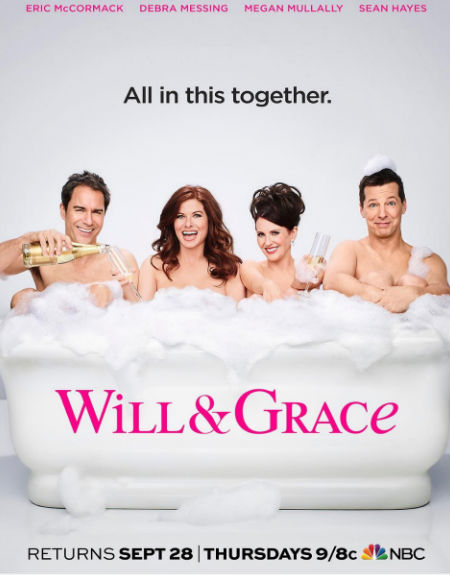 When news broke back in May that Will & Grace would be coming back to NBC, its ancestral home where it played a huge, very funny role in helping the world at large to better understand what it means to be gay in today's world, everyone (well, mostly everyone) rejoiced!
After reminding everyone how hilarious and insightful Will (Eric McCormack) and Grace (Debra Messing), Karen (Megan Mullally) and Jack (Sean Hayes) during the US Presidential campaign in October last year, the gloriously dysfunctional band of New Yorkers will return to our screens in an 12 episode season in the US autumn.
Granted not every show can or should be resurrected for another moment in the zeitgeist sun, but I have a feeling that Will & Grace, that was never afraid to tackle a whole host of issues in an eminently relatable and clever way, with a great deal of humour into the bargain, will do just fine.
In fact, better than fine. Even this new promo (set to James Brown's "I Got the Feelin'", released on 4 July, show they still have what it takes.
Here's to going back!
You can catch the 11 years in the making premiere of the ninth season of Will & Grace on Thursday, Sept. 28 at 9/8c