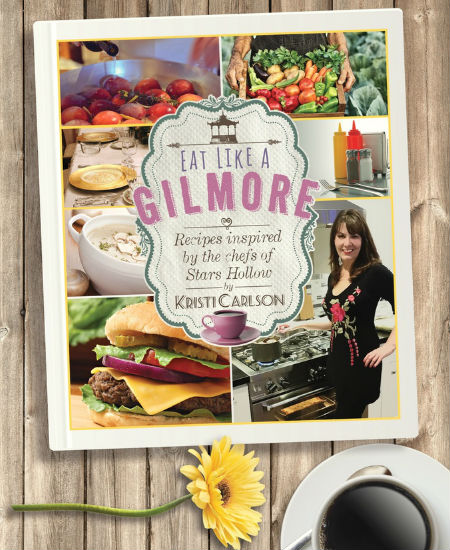 There are TV series you love, and then there are TV series you LOVE.
The Gilmore Girls, which is being revived thank the good, quirky people of Stars Hollow, for four more movie-length episodes on Netflix, is one of those shows with that magic combination of perfectly sublime setting, brilliantly-good, engaging characters, both main (hello Lorelai and Rory) and supporting, and clever, funny, emotionally-rich, pop culture reference-laden writing.
Frankly it could do no wrong and yes honestly I would have happily followed mother and daughter Lorelai Gilmore and Rory and their dense-dialogue-spouting ways pretty much anywhere, Carole King-sung theme song or no.
And now, thanks to a Kickstarter campaign by Kristi Carlson, I, along with plenty of other people, can eat like them too.
Well maybe not exactly like them because as Mashable's Nicole Gallucci points out, they were "two women who essentially lived off of Pop-Tarts, diner food and coffee."
Thankfully the people of Stars Hollow, the fictionally-fairytale town in which they and so many other wonderful though odd people lived, was full of people who did eat right and well and it's from them that Carlson is drawing her inspiration as Gallucci points out.
"Baker and caterer Kristi Carlson is writing the Eat Like A Gilmore cookbook that honors all of the Friday-night dinners, Chef Sookie St. James concoctions and Luke Danes diner fare that kept the residents of Stars Hallow nourished over the years."
And as Carlson explains on her Kickstarter page, it sounds like a feast indeed, with food suitable for just about every fast-talking situation.
"This book will be made up of 3 collections –
1 – Foods from a small-town diner
2 – Foods served at fancy Friday Night Dinners
3 – Foods served at charming, eclectic, independent inns
Focusing on these three categories provides a broad range of dishes – everything from cheeseburgers to salmon puffs, pancakes to risotto. It encompasses recipes for dishes suitable for:
dinner parties
brunches
romantic dinners for two
girls' nights
late night binges
potlucks
holiday meals
If there's someone you'd like to impress the heck out of with your mad cooking skills – it'll have recipes for that, too!"
If you, like me, always wanted to live in Stars Hollow, and why would you not you hard-hearted, non-quirky person loving cold soul, then you now can in a way.
I love the idea – not only will I be able to watch four new episodes of one of the shows I love more than any other but now I, and you (go support the Kickstarter now will ya please? I need Luke's dinner vittels in me stat) can Eat Like a Gilmore too.