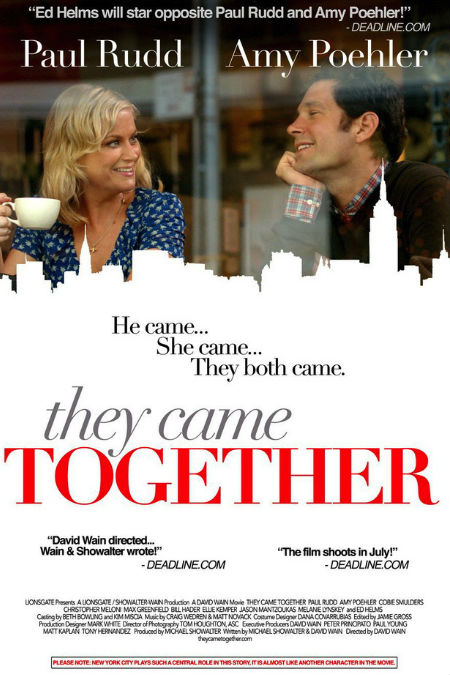 SNAPSHOT
They Came Together is a parody of the romantic comedy genre. Rudd stars as Joel, a corporate businessman whose company is threatening to shut down the small store run by Poehler's Molly. A relationship follows, mocking the conventions of the standard romcom. (synopsis via Coming Soon)
Parodies are funny things.
And no, not just in the "Ha ha!" sense of the word.
They divide people like few other cinematic things do, corralling people into either "For" or "Against" with the sort of ease and efficiency that you wouldn't necessarily expect of a movie type to lighthearted and jocular.
The reason these gentle pokes at genre are so divisive is that some people don't take too kindly to having their favourite type of movie pilloried, no matter how good naturedly it is done.
It's seen as some sort of attack, a breaching of the emotional defences if you will, that cannot be condoned.
I fall, however into the opposing camp.
Regardless of how much I love something, and I do love me a well-written, original romantic comedies (a rare beast indeed these days despite their multitudinous numbers on the studios' release schedules) it must be said, I am more than happy to have it satirised because I can appreciate that nothing is perfect.
And that it must thus be made fun of in a clever, hilarious and pleasing way.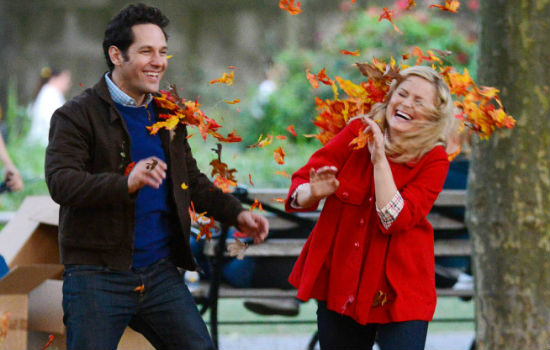 And who better to undertake such a necessary, rib-tickling task that Amy Poehler (Parks and Recreation) and Paul Rudd (Prince Avalanche) who pillory the romantic comedy genre with an affectionate ruthless that had me giggling like a genre-skewering maniac throughout the just-released full trailer.
With more than a passing nod to one of the giants of the genre, You've G0t Mail, which starred Tom Hanks and Meg Ryan, the one time queen of the rom-com, Rudd's Joel and Poehler's Molly go through each and every stage of the mythologised perfect romance from the meet cute, where they run across each other in a fun and unexpected way, through no doubt to the inevitable misunderstanding, temporary separation and obligatory race to the airport in terrible traffic.
There must also be best friends, one for each half of the couple, who are single, unsuccessful in love and yet the font of all wisdom in the affairs of the heart, a wonderful neighbourhood where it is perpetually autumn or summer, and a subterfuge underpinning the relationship which will eventually be uncovered and potentially ruin the nascent blooming buds of love, true love.
No doubt Poehler and Rudd have all this covered (along with director David Wain and his co-writer Michael Showalter) – the trailer certainly indicates they're across each and every single rom-com trope – and we can look forward to a gloriously funny, over the top homage to the very watchable act of fake falling in love.
They Came Together opens in theatres and via VOD on June 27.