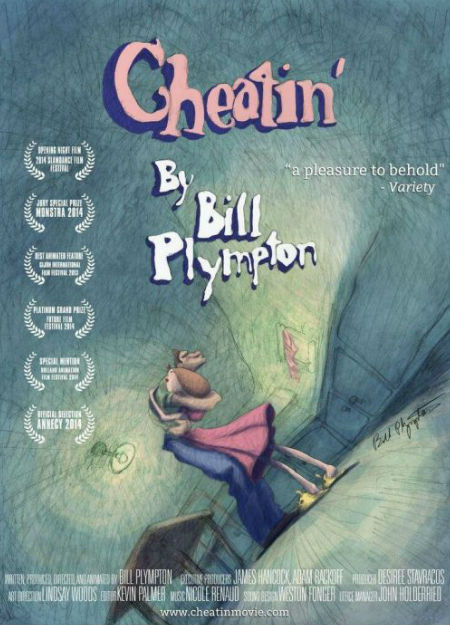 SNAPSHOT

Ella, a beautiful woman tired of unwanted attention from men, strolls through a carnival while reading a book. A barker talks her into trying the bumper cars, but the result is a perilous accident that leaves Ella trapped. A stranger, the handsome and muscular Jake, rescues her, and the two fall in love and are soon married. Various women attempt to seduce Jake, but he remains steadfastly faithful.

Enraged by this slight, one of these women stages a photo of Ella, changing in a room full of male mannequins, and gives it to Jake. Jake, distraught by what he believes to be his wife's infidelity, contemplates suicide, but soon takes solace in a series of affairs. When Ella discovers this infidelity, she tries to hire a man to kill Jake, before finding a magician who has a machine that will allow her to temporarily transport her consciousness into the bodies of the women Jake is sleeping with. (synopsis via Wikipedia)
There is such a whimsical, dreamlike quality to the trailer for Bill Plympton's Cheatin', which possesses a heart-stoppingly gorgeous visual style so richly beautiful and engaging that you fall in love with movie after about 10 seconds worth of animation, that you wonder how one man could create something quite so delightful.
The one scene alone where Ella unlocks a seemingly neverending series of faults and boxes and fortified containers to give her heart to Jake is beyond wonderful, a fast moving montage that speaks to how great their love is that she would open her deepest inner sanctum's to this clearly very special man.
Of course, not everything stays impossibly romantic, as is sadly often the way in life but to her credit Ella fights keep this most unexpected on life gifts; the question will what she does be enough?
We can only hope.
In the meantime, we can glory in the beauty of Plympton's extravagantly poetic artwork which has been featured in everything from The New York Times, Vanity Fair and The Village Voice to Your Face, 1987 Academy Award-nominated animated short and now the 2013-produced, Kickstarter-financed Cheatin', his seventh animated feature overall.
The film includes over 40,000 hand-painted style drawings and speaks to the intense artistry that Plympton brings to all his work, which has found itself once again very well received at a slew of film festivals around the world including Slamdance (USA, January 2014), Cork International (Ireland, November 2014) and Napa Valley (USA, November 2014).
And it's not surprising that the man who Scott Beggs at Film School Rejects says creates art, animated and still, that is immediately recognisable "with big-toothed, rubbery people who seem vaguely from the wholesome 1950s and foregrounds that often melt into backgrounds" is so much in demand.
His work not only looks beautiful but it says something authentic and real about the human condition too, a perfect combination that can't help but captivate you whenever you are fortunate enough to see it.
Cheatin' does not have a general release schedule available at this time.