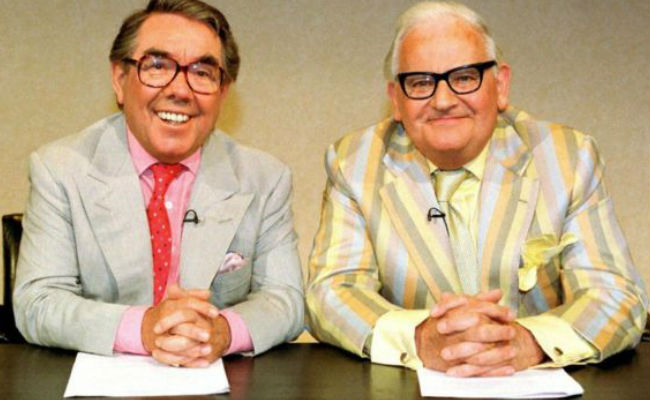 One of the enduring rituals of my 1970s childhood was sitting down with my family to watch The Two Ronnies, a program of satirical musical performances and sketches.
With my mother and father standing ready to explain any references that flew over my head – I did my best to keep up but I was a kid after all – I sat there rapt, not just at the cleverness of the comedy but at the obvious warmth and friendship between the two men, who first worked together on the equally legendary Frost Report, fronted by David Frost, in 1960.
Unlike some other comedy partnerships, which were all pretend bonhomie and friendship, Corbett and Barker actually got on famously with the former Ronnie, now sadly departed at the age of 85 (last Thursday in London due to gall bladder problems) saying this to The Telegraph newspaper in 2013 (quoted by BBC):
"Of course we were quite different but somehow we fitted so well together. I think it's a more pleasant and palatable thing to see people being funny together because you're touching areas of truth. Dinner parties or falling out with people – it's the naturalness of it."
And that was the joy of Corbett really.
He was a genuinely lovely guy, a man who the BBC said owed his career to the fact that he was the right man at the right spot with the right talents at the right man in the early 1960s:
"… one of the main reasons Ronnie Corbett was such a popular performer – acting, revue, the 1960s satire boom, music hall – he brought it all together at the right time and the right place in one five-foot-one performer."
It wasn't just on The Two Ronnies that he shone, although that is obviously when I encountered him during the show's long run from 1971 to 1987.
He performed solo on the sitcom Sorry!, the game show Small Talk and in recent times, in the BBC Radio 4 sitcom When the Dog Dies and the hilariously over the top film Cockneys Vs. Zombies.
He was, quite simply, an amazingly versatile performer with quick smart comic timing, a delightful sense of humour and a genuine respect and love for the people he worked with over his 60 year career, and who was very much loved back in return as these tributes (BBC) underscore:
"Sir Bruce Forsyth spoke emotionally about his friend, colleague and fellow golf enthusiast, saying it was 'one of the saddest days of my life.'

'Ronnie was a friend, someone I admired so much. It's a very, very sad day. I'm going to miss him like crazy, I really will.'

Comedian Ricky Gervais, who appeared alongside Corbett in his TV show, Extras, tweeted: 'RIP the lovely, funny legend Ronnie Corbett. It was an absolute honour and joy to have known him.'

Little Britain star David Walliams, added: 'Goodbye my friend and comedy idol Ronnie Corbett Thank you for all the laughs. It was the greatest honour to know and work with you. Goodnight.'

And comedy star Miranda Hart, said: 'Having a little weep at the death of one of my heroes Ronnie Corbett.'"
And that's quite simply why I loved the man so much.
He wasn't just supremely talented, he was a genuinely nice guy, two things that don't always go together but which were hallmarks of Corbett's career and life.
You could tell from watching his often mischievious quick-witted performances and appearance on show like The Graham Norton Show, that he was the sort of person that you not only wanted to watch on TV but would be happy to have a drink with, or quite honestly given how wonderfully chatty he could be, an extended dinner with somewhere.
I am not entirely sure when a performer's character came to matter so much to me but it always has and somehow knowing a movie or film star is privately a douchebag, takes away from their performance somewhat.
With Corbett that was never a problem.
You could just tell he was a lovely man, a very funny lovely man who made the 1970s and 1980s a very funny time for me when life wasn't always a lot of fun thanks to bullying at school.
I owe the man a great deal – for distracting me from the harsh realities of life, for giving some wonderful bonding time with my gorgeous family, and for reminding me that good guys can finish first and go on to enrich and enliven the lives of so many grateful people.
You will be greatly missed Ronnie Corbett. #RIP