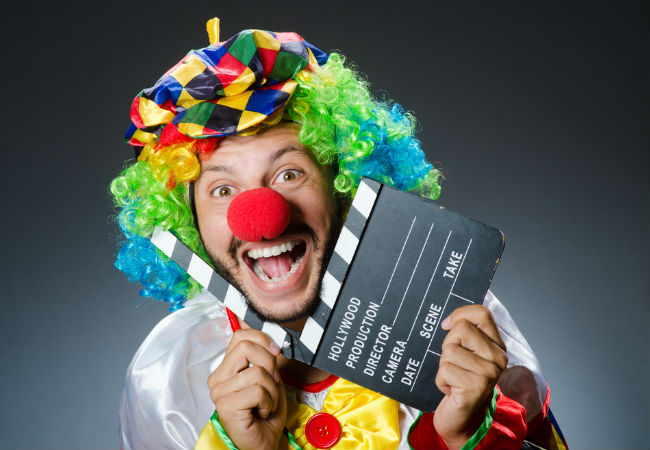 Ever since my mother took me to see Star Wars in a small wooden single-screen cinema in Ballina, N.S.W. in 1977, I have been enraptured by the power of movies to tell wholly-engrossing, utterly-immersive stories.
It doesn't matter if it's fun lightweight blockbuster or a serious "issues" movie, cinema tells stories in a profoundly visual way that never fails to move or entertain me.
There is something too about being locked away in a darkened cinema, with my sparkling mineral water and candy by my side, cut away for a time at least, from the world outside that is immensely relaxing.
For that small period of time, my usual work-a-day world ceases to exist and all that matters, all that concerns me, is the story playing out in front of me.
It's not always the case – I've seen my share of movies I hated such as Only God Forgives, Paris, Texas or Edward Scissorhands, and The Burbs, which is the only movie I have ever walked out on – but largely cinema is one of my happy places (which is why I hope the zombie apocalypse never happens because I would hate to lose my moviegoing idyll).
Here then are the 50 movies that have most enchanted, beguiled and compelled me to watch; they're not in any particular order and you could likely interchange other movies into the list, but for now, these are the movies that really connected to me, and which continue to provide joy in some form every time I watch them.
This is so magical and Amelie is a woman apart from reality and yet very much caught up in it. A reminder of how wonderful life can be.
2. Francis Ha
Released in 1965, the year I was born, this musical story of a governess and a stern military man in Austria that fall in love, sing a lot and escape the Nazis, was shown every year without fail on the local commercial TV station. I never tired of it and will happily watch at the drop of a hat.
4. Star Wars
The first movie I can recall seeing in a cinema and still one of the best sci-if movies ever. Period.
5. ET
6. Zombieland
8. UP
Oh Carl and Ellie's love story is so deeply-moving! I am so glad though that Carl gets to follow their dream and go to South America and in the process change the lives of a small boy named Russell and a dog called Dug. Heartwarming plus.
8. Blue Jasmine
All the feels, all the fun, all the gorgeous characters and fabulous, friend-filled adventures.
12. The Truth About Cats and Dogs
Love sweet love with an awkward American, a cute Brit, a BIG dog and crackling good dialogue – perfect for a rom-com tragic such as myself.
More love sweet love this time with a comatose guy, a lonely woman caught in an innocent lie and the sort of happy ending life should give everyone.
14. Speed
My introduction to the delightful Sandra Bullock, the taciturn Keanu Reeves and a bus with an acceleration problem … and love.
I am sucker for a beautifully told love story especially one as imaginatively and heartwarmingly told as this one.
16. What's Up Doc?
Madcap Bogdanovich farce with Barbra Streisand and Ryan O'Neal and a whole lot of matching cases. Inspired, silly, clever fun!
18. Nebraska
19. You Can't Take it With You
20. Pillow Talk
"Hello. My name is Inigo Montoya. You killed my father. Prepare to die." That is all.
22. Jurassic Park
23. Die Hard
25. About Time
26. Frozen
Sure the story isn't the most original ever but the songs, the love, the sheer sense of fun … plus first movie I ever took my young niece too.
A rom-com love triangle set in New York starring three of my favourite actors – Ben Stiller, Edward Norton and Jenna Elfman – and seen in New York after a glorious wandering through Central Park and along 5Th Avenue with my friend Ellen (2000).
30. The Money Pit
31. You've Got Mail
Love, bookstores, New York, Meg Ryan & Tom Hanks. Perfect.
34. The Way Way Back
35. The Wizard of Oz
Magical in every way – the characters, the storyline, the songs and the cinematography. Fantasy with heart … and courage, and brains.
37. Inside Out
Beautiful, just beautiful – touching, sweet, funny, smart and heartfelt.
38. Sneakers
39. Snow Cake
40. Planes, Trains and Automobiles
41. Home Alone
Released 25 years ago this year – full of all kinds of rich heartfelt meaning in the midst of an hilariously violent slapstick festive flick.
The first political action thriller I am remember seeing – frightening, edge-of-your-seat stuff that enthralled you from start to finish.
44. Eternal Sunshine of the Spotless Mind
46. Spaceballs
Mel Blanc is a comedy god and this is the funniest Star Wars parody ever!
47. Juno
48. The Dream Team
"Ah, it's great to be young and insane!" Indeed it is … INDEED IT IS.
50. Birdman
Masterful, brilliantly, engrossingly masterful – one of the finest, most intelligent, heartfelt movies I've ever seen.