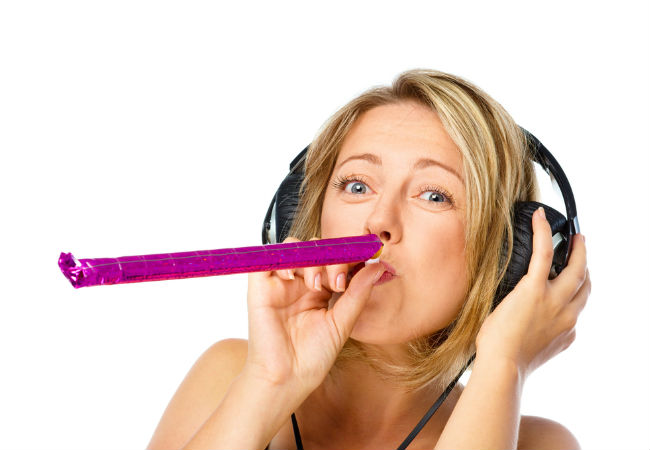 I can't imagine a time when music wasn't a major obsession.
Granted I never took up the guitar or drums and joined a band, and my efforts to learn the paino were dismal at best (right Mrs. Noble?), but as a listener I was devoted beyond all reason.
It didn't matter if it was rushing up to buy every ABBA single and album ever released – I set land speed records to get "Voulez-Vous" in 1979 – or spending untold hours listening to the top 40 on the radio and taping on cassette – yes cassette! – all the songs I liked (I could never quite stop the announcers' voices appearing at the beginning and end of songs), I was besotted.
And that love affair has continued on down through the years as ABBA gave way to disco and '80s New Wave and then Contemporary Christian Music and latterly all the indie music, and there's a LOT of it, flowing through the digital wonderlands of the interwebs.
Music is an integral part of my life and the soundtrack to everything I do and there's a healthy likelihood that will never ever change.
Here's to music and it's power to alter the look and feel of any moment.
1. ELBOW – "The Birds"

2. KIM HILL – "Round and Round"/"Stop My Heart"
Braveheart, the album from which these two songs are taken is quite simply one of the best albums I have ever heard. Released in 1991, and widely considered one of the best Contemporary Christian Music (CCM) albums released that year, it contains everything from rock stomper classics like "Round and Round" which bristles with existential emotion, and "Stop My Heart" which is delicate and intense all at once. An emotional feast set to music.
3. ABBA – "That's Me"/"Elaine"/"The Visitors"/"Should I Laugh or Cry"
I loved ABBA from pretty much the first time I heard them sometime in 1975 when they broke free of post-Eurovision hype and found success on their own terms. Songs like "SOS" and Mamma Mia", and of course "Dancing Queen" are well known to everyone, but for reasons known only to my contrary soul, my favourites have always been the obscure/B-side tracks.
4. BOMBAY BICYCLE CLUB – "Shuffle"

5. COLDPLAY – "Clocks"
I have loved this band ever since I heard a 15 second snippet – yep, that's all it took – of "Yellow" on a CNN world music wrap-up in 2000. This set off a search for their incredibly hard-to-find debut album and a love of the band which culminated in "Clocks" (from second album A Rush of Blood to the Head) and continues to this day.
6. MASSIVE ATTACK – "Teardrops"

7. KATE BUSH – "Wuthering Heights"
The first time Mrs. Derrett played Kate bust in our year 7 or 8 drama class, I fell instantly, headlong in love withKate Bush. Her music was so otherworldly, so beautiful and emotional that you couldn't help but be swept up in it. I remain happily and rapturously in love with her.
8. BLUR – "Song No. 2"
9. GWEN STEFANI – "What You Waiting For?"

10. KEANE – "Fly to Me"
11. DIDO – "Take My Hand"
I was in Vancouver visiting my dear friend Sandra in 1999 when Dido (brother of Rollo from Faithless) had just released her first solo album. I was walking around the now sadly-closed Virgin megastore on Robson Street when this song began playing and I was magically transported to somewhere utterly beyond words. I played it nonstop for days and it remains one of those rare songs that can stop me in my tracks and whisk me away to parts unknown.
12. ROISIN MURPHY – "Overpowered"
13. FLORENCE AND THE MACHINE – "Dog Days"
14. YEARS AND YEARS – "King"
15. AMII STEWART– "Knock on Wood"
I was massively into disco in the late '70s (wasn't almost everyone?) and this is one of the standout songs from the period. The song, the energy and the psychedelic clip all come together to make a truly memorable song. Hilariously, I told an 18 year old hairdresser a few years back that I remembered when this was on the charts and she looked at me like I'd just walked out of Noah's Ark with my pet T-Rex on a leash. Hilarious and the first time I really felt "old".
16. PATRICK HERNANDEZ – "Born to be Alive"

17. THE BUGGLES – "Video Killed the Radio Star"

18. M – "Pop Muzik"
19. DANDY WARHOLS – "Bohemian Like You"
20. VETERANS – "Ain't No Age For Rock and Roll"
I LOVED this song when it was out. There's something about quirky European pop that attracted me then, and attracts me now. What's most remarkable about this song is I mis-remembered the title for 30 years, only finding it for this post when YouTube helpfully, and at long last, threw it up as an option. Hello my musical Moby Dick, I have found you!
21. ROYKSOPP – "Happy Up Here"
22. ROBYN – "Indestructible"
23. DURAN DURAN – "Hungry Like a Wolf"
24. CAPE LION – Jennie
25. SUPERTRAMP – "It's Raining Again"
This is one of those distinctive songs that I remember taping off the radio – sorry radio industry but every teen in the late '70s and '80s did it – and playing over and over again, especially when it rained. There was something intensely emotional that I related to, similar to the way Annie Lennox in the Eurthymics made me feel. Sad and yet not, all at once.
26. MIKA – "Grace Kelly"
27. METRIC – "Youth Without Youth"
I love the sheer wall-breaking, in your face, defiant power of this song. Need a dreary commute lifted? Put this on and the train doesn't seem so drab after all.
28. BONEY M – "Rasputin", "Rivers of Babylon" 
29. RICKIE LEE JONES – "Chuck E's in Love"
30. SUZANNE VEGA – "Luka"
31. UNDERWORLD – "Two Months Off"
I love the energy and melodic inventiveness of much of the music this endlessly-creative British electronic band creates but this song in particular captures my soul like nothing else. I've always imagined it to be the closing credits song to the unmade movie of the novel I've written but haven't yet found a publisher for, and if you want to see me dancing like a madman with complete abandon, then this is the song to make that happen.
32. NARCOTIC THRUST – "When the Dawn Breaks"
33. Bhangra Knights vs. Husan – "Husan"
I spent the first 5 years of my life in Bangladesh where my parents were Baptist missionaries, and my love of the food, culture and music of the sub-continent has never left me. Discovering bangra music, a mix of traditional Indian sounds and Western electronica made my decade and this song in particular, which comes complete with a fun video clip, was the song I most fell in love with, becoming a staple on my the soundtrack that accompanies my morning exercise.
34. CHAIRLIFT – "I Belong in Your Arms"
35. SPLIT ENZ – "Six Months in a Leaky Boat"
36. NENA – "99 Red Balloons"/"99 Luftballoons"
37. CYNDI LAUPER – "Girls Just Wanna Have Fun"
Girls and gay men in the closet in the '80s! I loved this song from the moment I heard it back in uni and as I got to know the irrepressibly wonderful talent that was and is Cyndi Lauper I fell in love with her too (strictly platonically, of course!). She is that offbeat personality I always wished I could be.
38. THE POLICE – "Don't Stand So Close To Me"
39. EURTHYMICS – "Sweet Dreams"
What an amazing twosome were Annie Lennox and Dave Stewart – so much talent and such a stellar roster of evocative songs. "Sweet Dreams" remains my favourite of all the brilliant songs they created – so much energy and emotion in such a perfect pop song.
40. IRENE CARA – "What a Feeling"
41. THE GOGO'S – "Our Lips Are Sealed"
42. LADY GAGA – "Poker Face/Telephone"
43. BONNIE TYLER – "Total Eclipse of the Heart"
44. SANTIGOLD – "Radio"
45. CARIBOU – "Silver"
46. CAT POWER – "Ruin"
47. PINK – "Are We All We Are" / "Delirium" / "Get the Party Started"
What a powerhouse artist. Very much her own woman, with a strong sense of self and distinctive artistic vision and one of the finest in your face performers I have ever seen. There is nothing I don't LOVE about P!NK.
48. KOSHEEN – "(Slip and Slide) Suicide"
49. LITTLE DRAGON – "Shuffle a Dream"
50. AMY GRANT – "Lead Me On"/"Baby Baby"
After ABBA and my late '70s obsession with disco, Amy Grant was the next big artist to completely occupy my musical attention. Granted for many years she was a big thing only in Contemporary Christian Music (CCM) circles but I loved her songs, her persona and her concerts (they were the first I saw as a "grown up" at university. I even stuck by her when she went "mainstream" since she made good music and that's all that matters right?