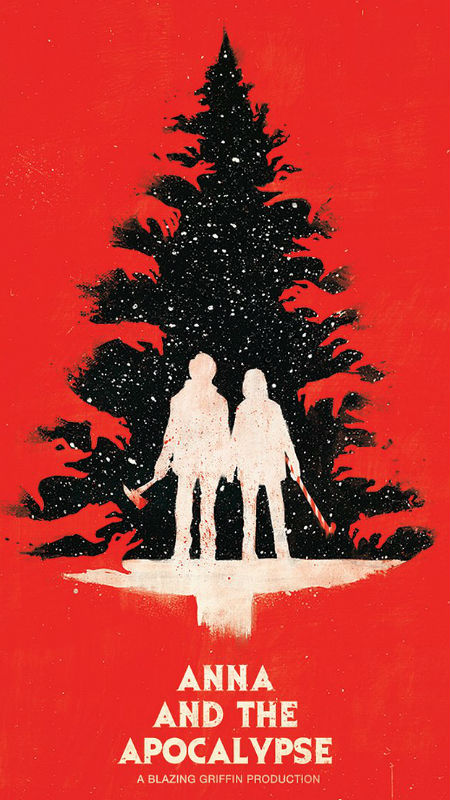 SNAPSHOT
When a zombie apocalypse threatens the sleepy town of Little Haven, Anna and her high school pals must fight, sing and slash their way to survival. Teaming with her best friend John, Anna and her crew try to save family and faculty alike as they encounter zombified snowmen, a manic bachelor party and teenage hormones. But they soon discover that no one is safe in this new world, and the only people they can truly rely on are each other.

Shot on location in Scotland, the comedy stars Ella Hunt (Our Robot Overlords) as Anna, with Mark Benton (The Halcyon) as her father Tony and Paul Kaye (Game Of Thrones) as the wicked Savage. The cast also includes up-and-comers Malcolm Cumming, Sarah Swire, Christopher Leveaux, Ben Wiggins and Marli Siu. (synopsis via Deadline)
It's the most wonderful time of the year, right?
What with the kids jingle-belling and everyone yelling be of good cheer … presents wrapped and placed under the tree with care … decking the halls with boughs of holly and … undead people wandering the street with visions of living legs and arms to chomp on shambling in their heads …
Wait … WHAT?!
Yes, producers Naysun Alae-Carew and Nicholas Crum of Blazing Griffin and Tracy Jarvis of Parkhouse Pictures, inspired by their BAFTA-winning Zombie Musical, have brought together the undead and musical fabulousness to devastatingly entertaining effect in Anna and the Apocalypse.
If you're not a fan of festive family gatherings then the scenario given deliciously-good un-life in this brilliantly twisted film may just what the Christmas doctor ordered; but even if you're one of those people who love everything about the festive season – c;est moi, cover me in tinsel and hand me a barrel of eggnog if you please – you'll no doubt find something to love about a film that dares to throw some great new, highly original elements into the Christmas, musicals and zombie genres simultaneously.
Now pass me the fruit mince pies will ya, I have some zombies to kill before we sit down for Christmas lunch …
Anna and the Apocalypse premiered at Fantastic Fest in Austin, Texas on 22 September, and will hopefully be available in time for the festive season.