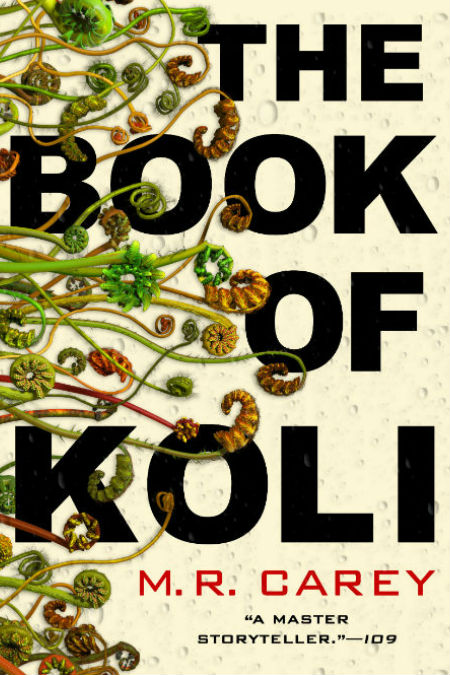 SNAPSHOT
Beyond the walls of the small village of Mythen Rood lies an unrecognizable landscape. A place where overgrown forests are filled with choker trees and deadly seeds that will kill you where you stand. And if they don't get you, one of the dangerous shunned men will.

Koli has lived in Mythen Rood his entire life. He believes the first rule of survival is that you don't venture too far beyond the walls. He's wrong.

Mesmerizing, thought-provoking, The Book of Koli begins a powerful new trilogy from one of the most inventive voices in contemporary fiction—the unforgettable story of a young boy struggling to find his place in a world where nature itself has turned against humanity. (synopsis via Gizmodo)
M. R. Carey, who has given us the supberly-written delights of Fellside, The Girl With All the Gifts and The Boy on the Bridge, is one of those writers for whom I will drop everything to read their latest work.
Alas, that is not a strategy I can employ with news of his newest body of work, a trilogy known as The Book of Koli, since it doesn't debut its first volume until April 2020. (You can order it already in the USA and UK should you so desire, and of course, you do.)
However, the very fact that it is in the offing is enough to cheer my soul, which has taken a few beatings of late for reasons best not divulged, and send me scurrying to my favourite bookstore to await its release. (They will likely tell me to go home, we're closing but I shall not be dissuaded; well, until I need dinner anyway.)
Along with the announcement of the books' relatively impending arrival, Orbit Books has unveiled three beautiful covers, with design by Lisa Marie Pompilio and cover photography by Blake Morrow and also an exceprpt which you can read at Gizmodo.
It sounds utterly compelling but then you'd expect nothing less from an author who has already given us so many fine hours of apocalyptic reading.