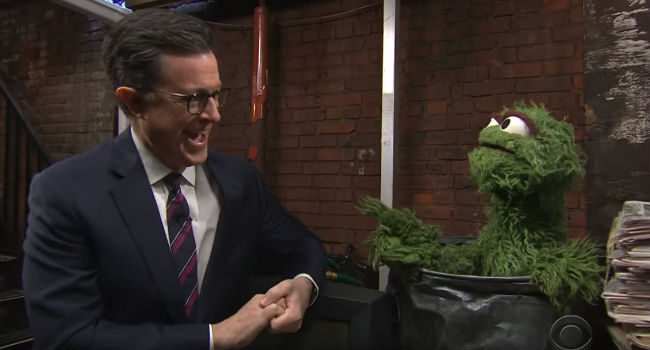 SNAPSHOT
Stephen plays the optimist to Oscar the Grouch, author of The Pursuit of Grouchiness, in a catchy new song called "Things Are Going To Get Better (Before They Get Worse)". (synopsis via Laughing Squid)
I don't think you'd find many people who'd disagree with you if you stood up and said "The world gone royally to crap of late!"
It's hard not to look at the rise of extreme nationalism, the growth of fake news (the real kind, not the Trump-pretend kind), the growing ravages of climate change, war and pestilence and … and … and … and concluded that we're pretty much doomed.
But late night talk show Stephen Colbert refuses to give into his incipient disappear, and manages, through a mightily-entertaining song, to trick Oscar into backing his optimism.
Oscar isn't happy about it, of course, but you have to hand it to Colbert – he manages to regain his optimism even while hanging with the grouchiest grouch of them all.
Good thing is – one listen to this song and you'll want to join him, and an hilariously-reluctant Oscar the Grouch.