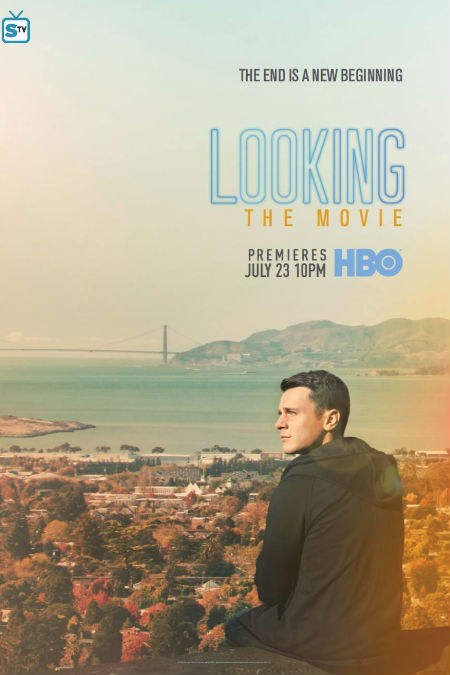 SNAPSHOT
After living in Denver for nearly a year, Patrick returns to San Francisco for the first time to celebrate the wedding of old friends. In the process, he must face the unresolved relationships he left behind and make difficult choices about what's truly important to him.

Starring Jonathan Groff (Tony Award nominee for Hamilton, HBO's The Normal Heart), Frankie J. Alvarez (Smash) and Murray Bartlett (August), LOOKING: THE MOVIE wraps up the story of three close friends who explore the options available to a new generation of gay men seeking fulfillment in love and life. From filmmaker Andrew Haigh (45 Years).

Looking debuted on HBO in Jan. 2014, winning critical praise over its two-season run. Among the accolades, Vanity Fair called it "a rarity in television … an affirming, sexy, cathartic show," while The New Yorker hailed the series as "a stealth breakthrough," and Huffington Post called it "one of the sweetest and most romantic shows on television." While the series focused primarily on a group of gay friends, the themes were universal, including falling in love, finding professional fulfilment, forging an identity in a complicated world and searching for happiness. (official synopsis via HBO press release)
Life is never ever truly wrapped up.
There are always unresolved issues, relationships that didn't quite find resolution or faded away, and hopes unfulfilled, all loose ends dangling where we can't always reach them.
That's the situation that Patrick finds himself in when he returns to San Francisco in the movie-length conclusion to Looking, a series which perfectly captured what it's like to live life wedged what you'd like to see happen and what actually comes to pass.
That it featured gay men was vitally important; simply by realistically presenting the lives of characters who are all too often portrayed in the most hackneyed on ways, Looking gave voice to people like myself who hadn't always seen the real us reflected in TV.
Sure, there are guys out there who spend their lives in dance clubs and at the gym, drinking and taking drugs and sleeping around; but there are just as many, if not more, gay men who simply want to find love, settle down and live a fulfilled life, in common with just about every other person on the planet.
It's a dream that not all of us realise, or at least realise with any degree of completeness but Looking gave a rich, emotionally-resonant perspective on what it means to live life as a gay man, or anyone really, with its triumphs and defeats, its joys and sadness and its perpetually incomplete state.
Sad though I am to see the show finish up way too early after just two seasons, I am thankful for what it achieved in its short time and that it has been that rarest of gifts – the chance to say to say a proper, conclusive goodbye.
It something that life, unfinished to the end, rarely affords us, gay, straight or otherwise.
Looking: The Movie premieres on HBO at 10pm on 23 July.
For a great look behind the scenes of the series-ending movie, check out this excellent article on 
Indiewire.