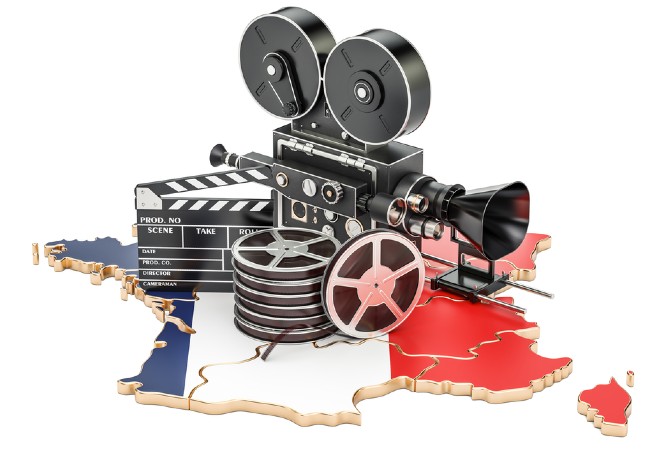 Animated short films are a delight in so many ways.
They demand of their creators an elegant economy of storytelling, a knack for near-instant fully-realised characterisation and a visual style which can set the scene quickly and keep building until a not-far-off finale.
These five French animated shorts, accessed via My French Film Festival, are testament to how powerful short films can be, and how rich and affecting a story can be told in a breathtakingly beautiful brief amount of time.
There is no way you can walk away from these films without a song in your heart and an extra lilt in your step, because while not everything goes perfectly in the worlds these animated shorts winningly encapsulate, what emerges is the power of friendship, love, hope and dreams and who doesn't need more of that right now?
The recipient of an Academy Award nomination for Best Short Film (Animated) in 2009, Oktapodi is the gleefully anarchically romantic story of an octopus couple who must rescue each other when events at a Greek taverna start to take an expected but wholly unwelcome turn cuisine-wise. A graduation film from that was co-directed by six Gobelins, L'École de L'Image graduands Julien Bocabeille, François-Xavier Chanioux, Olivier Delabarre, Thierry Marchand, Quentin Marmier, and Emud Mokhberi, the film is an exquisite, dialogue-free two minutes of animated perfection as love seeks to triumph in the tight and narrow streets of an island more used to octopi consumption than appreciation. Produced to a prescribed limit of two minutes with music by soundtrack composer Kenny Wood and violinist Dorothy Kwon, Oktapodi is a beguiling mix of near-instant characterisation, emotional resonance and a comedic physicality that will take your breath away and steal your heart. It is hard not to fall in love with our plucky, acrobatic couple and their pool-hopping aplomb, and there is no question, pretty much from the start, who you will be voting for to come out on top in the end … even if the end takes a little longer to reach than either anticipated …
Le Petit Bonhomme de poche (The Pocketman)
Directed by Ana Chubinidze, this 2017 2D stop motion delight tells an immensely emotionally engaging in an impressively short period of time. The Pocketman of the title is a cheery fellow who gathers up all kinds of bits-and-bobs such as buttons and barcodes and straws, in his small suitcase which sits in the middle of the footpath where it remains largely unkicked and undisturbed despite the considerable amount of food traffic passing by. His only nemesis are an impossibly large set of boots belonging to what looks to him like a giant; however, he never quite sees who the person is, only that he leaves a trail of trod-upon cats, broken children's train toys and a certain spilled suitcase in his wake. Determined to make this seemingly thoughtless person pay, he sets a banana-ery tap which leads to a resolution that le petit bonhomme did not see coming and which will have you sighing in a delight that the world can be quite this wonderful.
A touching, magically poetic film of the most affectingly high order, After the Rain, made by seven students from MOPA (ex Supinfocom), the first French animation school devoted to CG imaging, is a delight from start to finish. Set in a place where the cycle of life is sustained by a quietly, wise old shepherd who shears his sheep but who, rather than sending the fleece often to be made into clothes, instead send the wool up into the sky where it becomes clouds and unleashes rain down upon what would otherwise be a dry and desiccated landscape. There are a number of visual flourishes that give the film true moments of laughter-induced joy – when the sheep are ready to be shorn, their fleece simply pops up much like popcorn when it's ready to eat, and the way in which the shepherd sends the wool aloft into the blue skies above is a thing of graceful beauty, as is the calm and caringly tender relationship between the shepherd and the dog who faithfully and lovingly tends his herd. The bit twist in After the Rain is what happens should that time-honoured cycle be broken in any way? Watching how the dog, who is the heart and soul of this most beguiling of short films, confronts this crisis in inventive, wondrous and wholly beautiful.
It is tempting to think of all animation, especially that which is directed towards as children, as insistingly fey and sweet. Much of the best of the animation out there, such as Stuffed, created/directed by Jarild Maravilla, actually comes with some dark, teachable undertones, the kind that anyone paying attention to the grim realities of life, and kids aren't not immune to noticing life's cruelties, will be well acquainted is. The feline protagonist in Stuffed is quite sweet and lovely when they are at their best but when they are upset or resentful or feel wronged, well, you don't want to be around them for dark and terrible things to manifest. The results are quite bleak and all too real but through its friendship with a ukelele-playing giraffe who seems unflappably calm and able to cope with just about anything, including woolly manifested inner demons, our cat friend comes to see how transformative real, self-sacrificial and emotionally open connection with someone else can be.
There is nothing more exciting than watching someone pursue their dream. It's inspiring on all kinds of levels to see this person, or in the case of this sumptuously touching short animated film, a mouse seize hold of hope, in direct contravention of a host of countervailing influences and reach for the sky. In this case, quite literally. Sam, who has an adorable pet ladybird and a frog best friend who is very Huckleberry Finn in his outlook and pursuits, wants to fly with the swallows who come every year on 21 March. It might seem like a quixotic dream to devote great amounts of time and effort to, and certainly the forest's resident owl and squirrel think so, but the look of delight and hopefulness on Sam's face, and the way his friends rally when the blustery chips are well and truly down, is one of the loveliest, most uplifting things you will ever see. Rich with picture book-worthy sumptuously lush and evocative visuals, Le Rêve de Sam (Sam's Dream), directed by Nölwenn Roberts and produced by Barbara Schuerrerm will put a stupid grin on your face, fill your heart with joy and remind of the power and soul-sustaining goodness of going all out for those things that bring you great and transcendent joy.