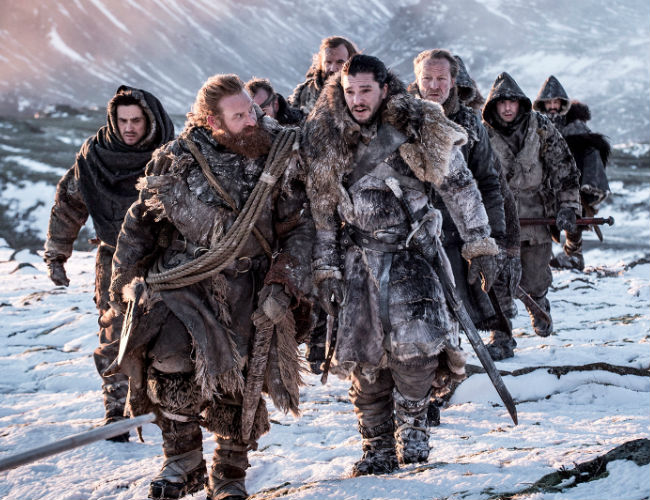 SPOILERS AHEAD … AND A LOVELY RELAXED WALK THROUGH THE SNOW … THEN RUNNING, LOTS OF RUNNING … THEN FIRE … THEN … YOU KNOW, LET'S JUST STAY HOME SHALL WE?
With Lee Marvin nowhere in sight and not a samurai to be seen, Jon Snow led six intrepid souls north of the wall to snag themselves a Wight, one of the army of the dead led by the very cool, calm and collected White Walkers, magical beings led by the taciturn in the extreme, Night King.
(To be fair if one of the First Men had plunged a dragonglass dagger in your beating human chest and turn you into the mystical king of the dead, you wouldn't be smiling much either.)
It was, as you'd expect, quite the suicide mission with the chances of success slim-to-none, and the odds of dying (and coming back to undeadness – woohoo!) fairly high, with the goal of proving to Cersei (Lena Headey) that the Army of the Dead weren't just myth and legend resting solely on their efforts.
So no pressure then?
Still, given the odds, the band who set out from the Eastwatch tower were remarkably chilled at first, languidly strolling through the snow and taking care of all manner of dangling narrative threads while they were at it. (Let's hear it for narrative spring cleaning, even in the depths of winter.)
For a start, Tormund (Kristofer Hivju) and Jon Snow (Kit Harrington) had a nice little catch up – actually the King of the North was very much the in-demand dance partner, with everyone spending time with His Thoughtful Beardness at one point or another – with Gendry (Joe Dempsie) chipping in here and there, in the process doing little to impress the giant-like wildling who still holds a burning torch for one Brienne of Tarth (Gwendoline Christie).
He rather accurately judged that Gendry is a bit of a whinger, though a damn good fighter said Jon by way of assurances from Ser Davos (Liam Cunningham), an assessment bolstered mere seconds later when the young ex-blacksmith and illegitimate son of an ex-king, started having a go at the Lord of Light gang Sandor Clegane aka The Hound (Rory McCann), Thoros of Myr (Paul Kaye) and Beric Dondarrion (Richard Dormer).
He didn't get far being told to put a sock in it, which he wisely didn't do because #frostbite and because a little later on he had to run like the blazes back to Eastwatch to summon some wight-killing dragons.
Throw in some conversations with Ser Jorah Maumont (Iain Glen) who opted to let Jon keep the Maumont sword Ironclaw, some jibes about sex and ruminations by Jon about life on the Night's Watch and what it taught him about facing death and you had one of those exquisitely-well done slow-burning lead-ups to what you know, you just know, will be undead mayhem.
And so it came to pass.
What kicked off with an undead snow bear, eyes lit blue, who was a little hungry for human flesh, and a messy blood tussle which resulted in the first of the casualties, soon became a full-on fight to what looked like certain death for Jon and the crew.
While they managed to successfully bag themselves a wight, it turned out to be rather too noisy, sending a high-pitched squeal out across the icy wastes that alerted oh, say, about a gazillion mindless Wights and their sentient masters to the presence of very much alive interlopers into their midst.
Yeah, bit of a tactical mistake there which led to lots of running, soooo much running, and being cornered on a rocky outcrop in the middle of a lake which showed a welcome propensity to crack and let tongs of Wights down into the icy depths.
Unfortunately it didn't swallow quite enough snowy zombies and pretty soon the Magnificent Westeros Sven found themselves cornered and fighting for survival; in pretty much any other Game of Thrones episode this would have been the end of things given the unsentimentality of the show's producers who show no compunction in sending their characters off to sleep with the (zombie) fishes.
But in "Beyond the Wall", they were rescued by Daenerys (Emilia Clarke) and her dragons, Drogon, Viserion and Rhaegal just in the nick of time, thanks to some narratively elastic running by Gendry, some super fast raven flying and smack bang on time flapping of wings by the dragons.
Sure it was all very convenient, but let's be fair – some of them had to get back with a Wight; in this case, Jon, Tormund, the Hound and Gendry – and Daenerys had to be convinced the Army of the Dead was real (she is) and they needed a Wight to convince Cersei that Westeros has got bigger issues than who will next wear the size E crown and sit atop the pointy sword throne.
What was truly shocking in what turned out to be a gripping, pulse-pounding battle to the near-death was the death, and later thanks to the Night King, resurrection of one of the dragons, Viserion.
So the undeaders now have a dragon at the disposal? Yes indeed they do, something that will be a deeply-unsettling realisation for Daenerys, who is mourning the loss of one of her children, and Jon, who almost died again after falling into the lake, and only made it back thanks to the heroic sacrifice of his uncle Benjen Stark (Joseph Mawle) who ride in on one of the horses that Jon's party mysteriously chose not to bring with them. (That's why you need a list whenever you go anywhere; otherwise you forget things like horses and dragons and a shit ton of dragon glass.)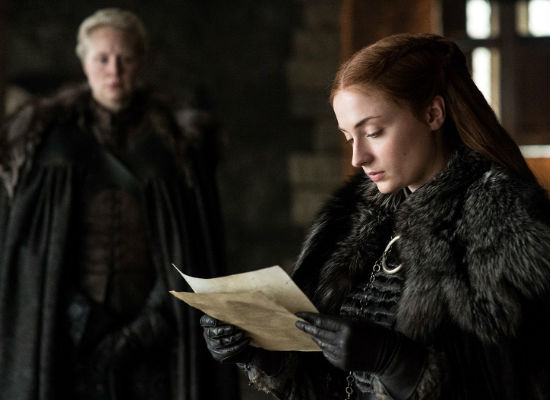 Now while Daenerys was having a Jesus moment out in the snowy wastes beyond the wall, Sansa (Sophie Turner) was finding herself being pushed every which way.
If it wasn't a conveniently-planted note written by Sansa under duress while she was wed to the poisonous Joffrey that read like a treasonous request, it was Arya (Maisie Williams) who has gone seriously weird after her time in Bravos (can you blame her? It was one big old-fashioned mental asylum), openly and aggressively challenging and Little Finger (Aidan Gillen) continuing his slimy behind the scenes machinations of well, just about everyone (yes even you, too-clever-for-her-own-good Arya).
You can't have everyone jump on the "Oh shit! There really are zombies!" bandwagon now could you? Where would be the fun in that? The narrative momentum?
No, someone other than Cersei has to keep the infighting going while Rome figuratively burns; how else will the Army of the dead sneak in and lay waste to Westeros? Or not? Or maybe?
In truth, keeping some of the characters in the dark amps up the tension that is building and building in the lead-up to next week's season 7 finale, " where it looks all the zombie chickens, and yes such things exist thank you, will come home to roost.
And here are some videos giving you some insight into "Beyond the Wall" …