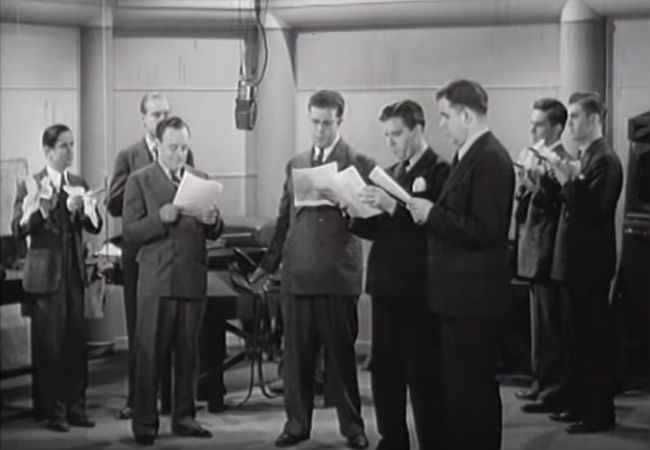 SNAPSHOT
A boy lies on his bed (wearing a white shirt and a necktie), listening to a radio western. We see the images the radio creates in his mind, then we cut to the studio, where we see that this whole fantasy world is created at a frantic pace by announcers in three-piece suits and sound-effects technicians operating incredibly complicated jury-rigged devices. We get to see such things as one guy doing both voices in a conversation, an adult do a very convincing impersonation of a child's voice, guys playing cowboys impersonating the sound of conversing while riding by playing "horsie" while reading their lines, and all the weird stuff used to make sound effects. (synopsis via Laughing Squid)
It's often fascinating to see what happens behind the scenes of a TV or movie to see the work that goes into bringing them to the screen.
We're used to see how CGI effects were created or how stunt people seamlessly merge with actors so that you can't tell where one person leaves off and the other takes up.
Interesting though this is, what's even more intriguing is watching all the work that went into making radio plays, which were the main source of entertainment over the airwaves when TV was still in its infancy.
The lengths that the production went to in their quest for authentic sound effects is impressive as is the vocal work by a team of talented actors.
The truly enjoyable part of this Jam Handy short film, which was produced in 1938, is watching it cross between the rapt young boy listening to the play on his bed, the actors in the radio studio and the live action representation of all their hard vocal and sound effects work.
It's worth investing the 9 minutes or so to watch some real artistry at work.