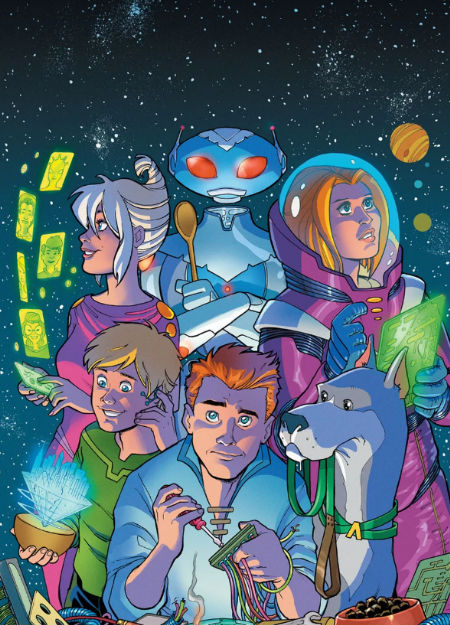 Following the recent trend to give much-loved Hanna-Barbera a bright, sparkly new leg-up into the current pop culture firmament, which has includes Scooby Doo, Wacky Races and The Flintstones, DC Comics has now turned its attention to The Jetsons.
Presented at the time as the future equivalent of The Flintstones – the two series share considerable similarities and tackled similar issues – the relatively shortlived series (1962-1963;1985-1987) bore all the retro future 1950s flourishes you could ask for such as flying cars, homes in the sky and travelators. (By the way, did you know The Flintstones and The Jetsons once met? See here and here for futuristic Stone Age proof.)
It was, at the time, exactly what everyone imagined the future would look like.
Now we're off course, we know it's nothing like what the show imagined and so DC Comics are giving George, Elroy, Judy and Jane, dog Astro and maid/robot/overseer of the family Rosie the Robot, are a good postmodern makeover, courtesy of from writers Amanda Conner & Jimmy Palmiotti and artist Pier Brito, including notes CBR, some very dark overtones befitting our modern less rose-tinted view of the future:
"We get a sense of the sprawling world, packed with hover-cars, funky hairdos and futuristic slang, and even get a taste of the world's origin; at some point in their past and our future, the Earth flooded, forcing humans to live above sea-level in their mid-air floating homes. Rather than depicting the future as an optimistic place, the issue sets up a world where people wouldn't be able to survive on ground- (or sea-)level. There's a deeply sad, almost disturbing element to this story. Yes, mankind escaped extinction, but do people even belong on Earth anymore? If we need to rely so heavily on technology, do humans deserve to stick around?"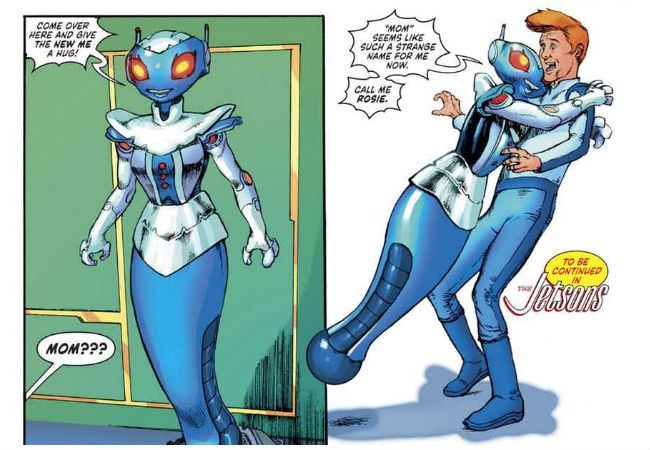 So it's as dark and dire a future as that envisaged for Scooby Doo or Wacky Races but with a far glossier sheen and more edgy aesthetic.
Even so, with humanity in a fairly mess predicament, you get the feeling that what will anchor the 6-part comic mini-series, is a real appreciation for the innate humanity of The Jetsons, and how in the midst of mild-dystopia, that it's family that remains the core point of life experience for everyone.
This element appears to be injected in fairly full-on style as CBR outlines:
"The first few pages establish that Judy is secretly seeing her grandmother in 124-year-old woman's final moments.The process, which will transfer her consciousness into some sort of machine, is deemed "better" than life. That's right — storing your memories on a hard drive somewhere is considered superior to the daily pain of mortality, at least in the world of DC's Jetsons.

"Managing to pack a lot of emotion into very few panels, Conner and Palmiotti establish a strong bond between Judy and her grandmother, showing us how close they are, and how aging is a horrific experience, even in the distant future. Despite Rosemary's ability to live on as a machine, she feels a deep sadness as she leaves her mortal body. However, it's her choice: Rosemary wants to die and relegate her memories to technology. She chooses technology over life, an idea which is sadly relatable even now, in the 21st century."
But it helps ground the series in the sort of real world issues that confront humanity now, and if DC's Jetsons are any guide, well into the future.
The first issue of Jetsons hits comic book shops on 1 November.
And if you think a revamped, ultra-modern take on The Jetsons is only happening in comic book form think again. Vulture has revealed that a live-action TV series is in the works on the ABC network in USA, written by Family Guy and Will & Grace's Gary Janetti. Not only that but Warner Animation Group is looking at a new animated version overseen by Sausage Party's Conrad Vernon.