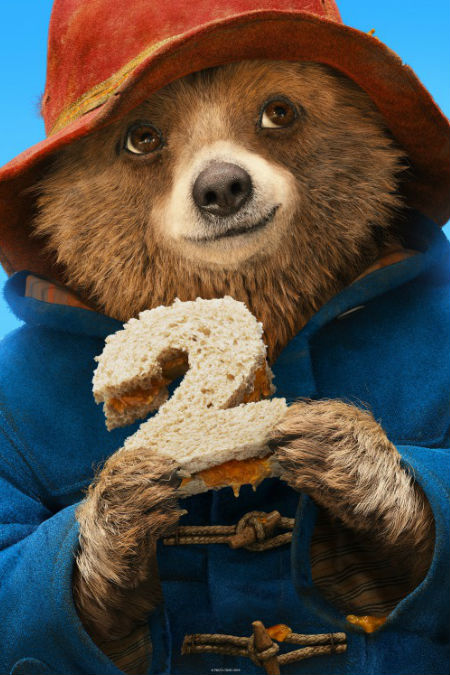 SNAPSHOT
The sequel to the worldwide hit family film finds Paddington happily settled with the Brown family in Windsor Gardens, where he has become a popular member of the community, spreading joy and marmalade wherever he goes. While searching for the perfect present for his beloved Aunt Lucy's hundredth birthday, Paddington spots a unique pop-up book in Mr. Gruber's antique shop, and embarks upon a series of odd jobs to buy it. But when the book is stolen, it's up to Paddington and the Browns to unmask the thief…

Hugh Grant plays Windsor Gardens' local celebrity, Phoenix Buchanan, a vain, charming acting legend whose star has fallen somewhat in recent years. Brendan Gleeson plays "Knuckles" McGinty, a notorious safe-cracker and legendary strongman who becomes an unexpected new ally for Paddington. (synopsis via Coming Soon)
One of the great trepidatious moments of my life – yes my emtire life; it was that serious people – was when I went to see the Paddington film adaptation back in the simpler days of 2014.
I had read and re-read the tales of the sweetly thoughtful and  klutzy bear from Peru who ends up at Paddington station, alone and sitting on his suitcase, and is adopted by the Brown family, right throughout my childhood and had, and still do, a great deal of affection for Michael Bond's delightful creation.
So my relief that only was the film a faithful adaptation but it was an inexpressible joy to watch to boot, was palpable, reflected in my exuberant review of the film.
The good news is that Paddington is back this year and looks just as adorably clumsy and full of good intent and questinable execution as ever.
I am not usually one for camping out at cinemas in excited anticipation but I would make an exception for sweet, dependable Paddington, making sure, of course, that I have full picnic basket of marmalade sandwiches at the ready.
Paddington 2 opens 21 December 2017 in Australia and 12 January 2018 in USA.