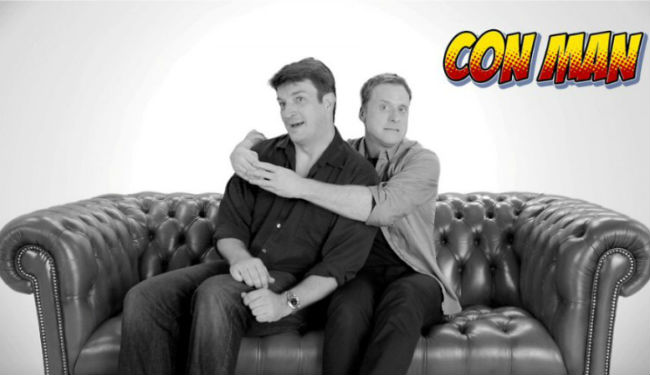 SNAPSHOT
Con Man follows the comic convention adventures of fandom-favorite (but pigeonholed and a bit washed up) Wray Nerely, played by Tudyk, and his best friend Jack Moore (Fillion), who of course went on to super stardom. They starred in the one-season-and-done fictional sci-fi series "Spectrum" (just pronounce that in your head like "Firefly") together, but Nerely is still trying to figure out what to do next besides tour the weird and wonderful convention world. (synopsis via and (c) Zap2it)
You may recall that back in March, word came out that Alan Tudyk and Nathan Fillion, beloved stars of the cancelled-too-soon- sci-fi Western masterpiece, Firefly, where they played Hoban "Wash" Washbourne and Malcolm "Mal" Reynolds respectively, had launched a crowdfunding appeal to raise funds for a show called Con Man.
Deciding they wanted to self-produce the show after every TV studio they approached wanted to make fun of the fans who attend the conventions that form the centrepiece of Con Man – Tudyk: [One TV exec said] "You're not going to be able to fund the show on the backs of those weird convention nerds." / Fillion: "There were some people who didn't understand this was a love letter to the fans. They didn't honor the fans, they didn't respect the fans." (Paste magazine) – they turned to Indiegogo where they raised an extraordinary $US 3.1 million, the third highest figure ever.
So the fans, who are the very beating heart and soul of the show, were the very people who are making this very promising, very funny show happen, and it was those very fans who crammed into the cavernous, legendary Hall H at this year's Comic-Con (#SDCC) to watch Fillion, Tudyk and a host of the show's special guests aka their close friends such as Felicia Day, Wil Wheaton and Seth Green front the very first webseries panel in the venue.
Very loosely based on Tudyk's experiences at conventions in the wake of Firefly's cancellation and rampant post-TV death success, Con Man takes an affectionate at pop culture fandom and the way in which TV shows, movies, comic books and the like end up meaning so many different things to so many people, and how this is often projected, whether they want it to be or not onto the stars of the shows or movies.
As Tudyk remarked, it's an amazing world just waiting to be explored by people like he and Fillion who will do it justice:
"Someone needed to make a show about this. There's so many amazing characters. So every time I went to a convention, I thought of something else. So it happened like that. It was also an opportunity to get into a spaceship again with Nathan. It was just getting back onto a space show." (Zap2it)
And if the trailer is anything to go by, they have succeeded beyond our wildest dreams with a show that looks to have heart and soul, whimsy, hilarity and pathos, all in fan-honouring equal measure.
According to Zap2it, "The first three 10-minute episodes of "Con Man" will premiere Sept. 30 on Vimeo, with four sets of episodes total."
Buckle up and get ready to blast off my friends!