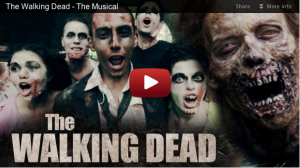 Yes it appears that zombies can now dance!
You may wonder how that is even possible, since while they can chomp on the flesh of the living with great skill, and do a mean job of guttural soulless growls, they are not known as the most coordinated of individuals. Synchronised dancers they are not.
Death … and then "life" which is really death … um, anyway … will do that to a fella, I hear.
But thanks to the skills of two talented guys over at AVbyte's fantastically imaginative, clever and damn near hilarious YouTube channel, zombies are not only dancing but they are singing, and all to choreographed routines.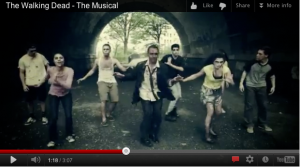 They still want to eat you alive of course but  at least now it's performance art, and not just wanton death.
And that makes it all so much better right?
Well, no, no it doesn't. But it is funny!
The guys behind AVbyte, , had this to say about their latest video which bows, as luck would have it – yes, yes, I know it was all planned; I am being ironic … or something – just before Halloween, but more importantly just as season 3 of The Walking Dead kicks off …
"Because we're excited about season 3, we made this! Where Zombies don't only eat brains, but also sing and dance! The Walking Dead Musical!"
So sick back and enjoy and remember when the zombie apocalypse, it will pay to have taken basic dance lessons …