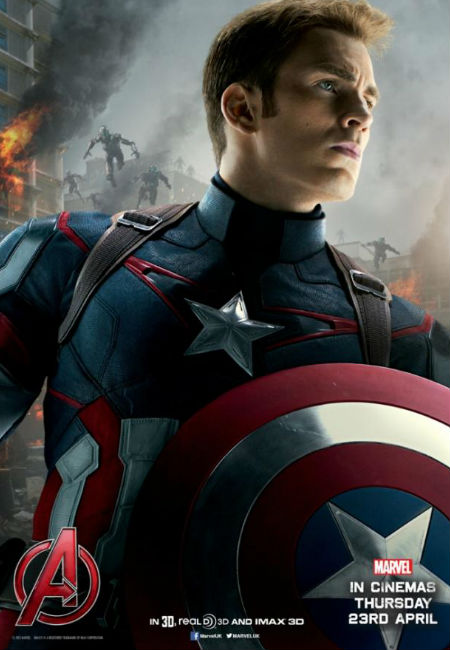 SNAPSHOT
Marvel Studios presents Avengers: Age of Ultron, the epic follow-up to the biggest Super Hero movie of all time. When Tony Stark tries to jumpstart a dormant peacekeeping program, things go awry and Earth's Mightiest Heroes, including Iron Man, Captain America, Thor, The Incredible Hulk, Black Widow and Hawkeye, are put to the ultimate test as the fate of the planet hangs in the balance. As the villainous Ultron emerges, it is up to The Avengers to stop him from enacting his terrible plans, and soon uneasy alliances and unexpected action pave the way for an epic and unique global adventure.

Marvel's Avengers: Age of Ultron stars Robert Downey Jr., who returns as Iron Man, along with Chris Evans as Captain America, Chris Hemsworth as Thor and Mark Ruffalo as The Hulk. Together with Scarlett Johansson as Black Widow and Jeremy Renner as Hawkeye, and with the additional support of Samuel L. Jackson as Nick Fury and Cobie Smulders as Agent Maria Hill, the team must reassemble to defeat James Spader as Ultron, a terrifying technological villain hell bent on human extinction. Along the way, they confront two mysterious and powerful newcomers, Wanda Maximoff, played by Elizabeth Olsen, and Pietro Maximoff, played by Aaron Taylor-Johnson, and meet an old friend in a new form when Paul Bettany becomes Vision. (official synopsis via Coming Soon)
It is a rare thing indeed that I become extraordinarily excited over a superhero movie.
It's not that I don't enjoy them – my review of the first Avengers movie makes it clear that when they're done well, I enjoy them enormously – but they are rarely the sorts of movies that seize my imagination in any kind of remarkable way.
It has a lot to do with the fact that while I consumed British comics by the dozen as a child, and bought as many Hanna-Barbera comics as my allowance would allow, I never really took to the superhero ones put out by Marvel and DC.
It's an anomaly in my childhood in some ways given how voraciously I took in any and all superhero cartoons including the Super Friends Hall of Justice and the 1960s Batman series, which I grant wasn't exactly faithful to the far more serious canon.
But all that seems to have nicely corrected itself as Marvel has assiduously and successfully built up its Cinematic Universe with a succession of well-written, character-rich, if a tad formulaic at times, movies featuring the likes of Thor, Captain America, Iron Man to name a few, and I have found myself not simply enjoying them but really enjoying them.
Whatever your penchant for superhero action blockbusters may be, there's no denying they are well-made movies with scripts a cut above the usual big screen behemoth fare, and a cast of usually wisecracking, charismatic characters that make even the hokiest of lines seem almost Shakespearian.
OK, I said almost.
So the arrival of the latest, information rich Avengers: Age of Ultron, which features the first extended glimpse of The Vision (voiced by Paul Bettany), a creation of the big baddy of the film, Ultron, an Artificial Intelligence with characteristically nefarious for an unwitting humanity.
The trailer's featuring of The Vision is being hailed by those in the know, and no given my dearth of superhero comic book reading as a youngster that is most assuredly not me, asa Big Deal and even more reason to be excited about what is likely to be another phenomenally successfully feather in Marvel's already burgeoning cap.
Avengers: Age of Ultron storms into cinemas with thunderous intent on 23 April in Australia and UK and 1 May 2015 in USA.