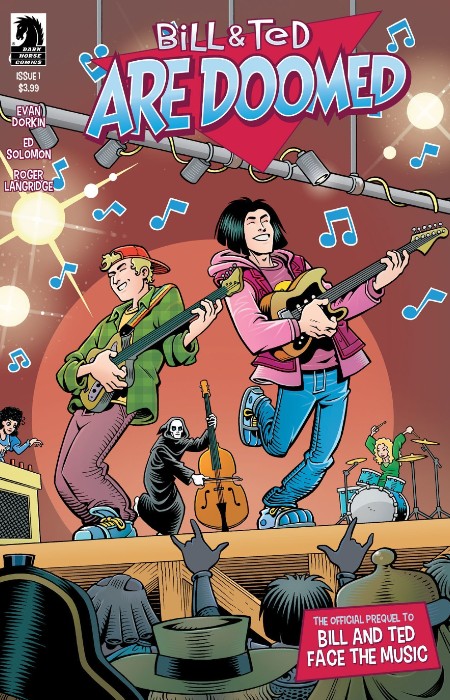 SNAPSHOT
After defeating the evil dictator De Nomolos in Bogus Journey in 1995, things aren't looking as excellent as they should for either Bill and Ted or Wyld Stallyns. There's tension in the band and worry at home. Bill and Ted's obsessiveness with writing the one song to bring peace to the world is affecting their playing and their relationships with their families. The band is losing favor with fans and the future isn't shaping up as they were all led to believe it would from past (and future) events. Desperate for a solution Bill and Ted burst in to announce their great idea to revive the band's fortunes: a world tour to spread the love-and the rock, and the love of the rock-to the world. (official synopsis via Nerds and Beyond)
It's been a while between their most excellent adventure and their bogus journey and now and you may be wondering, before you air guitar your way into the cinema to see Bill & Ted Face the Music, just what the two most bodacious dudes you know have been up to!
Well, it turns out inadvertently imperiling the future.
Not deliberately, of course, because William "Bill" S. Preston Esq. and Theodore "Ted" Logan would never do anything to wreck the utopian future they give rise to, but well, their lives aren't going exactly as planned, amazing daughters aside, and they are yet to write the world-unifying song.
It's more than a case of writer's block and as the new prequel comic series, Bill & Ted Are Doomed, written by Evan Dorkin with art and colour by Roger Langridge, documents and the only thing that may out things back on track is a world tour!
But will it be enough?
Find out on 9 September when issue 1 of Bill & Ted Are Doomed is released … No way! YES way!
Via Gizmodo, where you can see an exclusive peek at more of issue 1, check out the first two pages of the comic …