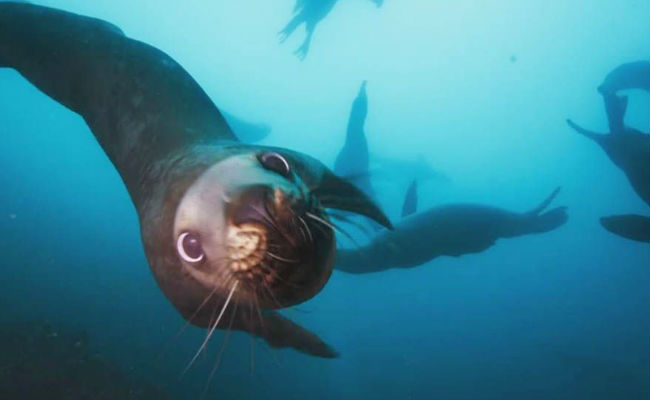 SNAPSHOT
This world-exclusive introduction to the show is narrated by series presenter Sir David Attenborough and set to an exclusive track developed by Hans Zimmer and Radiohead. The prequel features an array of some of the most awe-inspiring shots and highlights from the new series, as well as several exclusive scenes that will not feature in any of the seven episodes which are set for UK broadcast on BBC One later this year. (synopsis via YouTube (c) BBC)
There is something about the ocean blue that has an irresistable pull for all of us.
Perhaps that's because where all life, including our own began. Or is it because we sense in its vast, near-unfathomable depths a mystery that we want to solve or beauty and vivacity of life that we want to connect with, especially as our modern, urban-based lifestyles increasingly distance us from the natural world?
Whatever the reason, this love for the seas, oceans and coastlines of our remarkable planet are in for another exquisitely-made close-up as the BBC prepares to release Blue Planet II, which, much like its 2001 predecessor, combines stunningly immersive visuals, a love for the natural world and the dulcet and knowledgable tones of Sir David Attenborough (one of my all-time personal heroes).
The trailer that has been released to publicise the series, which airs later this year, gives an intriguing, compelling look at the wonder and beauty of the oceans, which are populated, according to BBC producer Mark Brownlow, by some amazingly emotionally-resonant stories:
"You're meeting little tusk fish that can pick up shells and smash them.

"You've got an octopus that can disguise itself from a shark attack."

"The level of characterisation we're getting from our animals, they are almost like real life Pixar stories."
Stories that, it should be added too many years to film and required an infinite amount of patience and dedication. The results, notes Sir David, have been suitably impressive, and promise an excitingly watchable new dive into the natural world.
"I think the things that really astounded me were when we go down deeper into the oceans than ever before and see sights that are really mind-blowing."
(source: BBC and Laughing Squid)