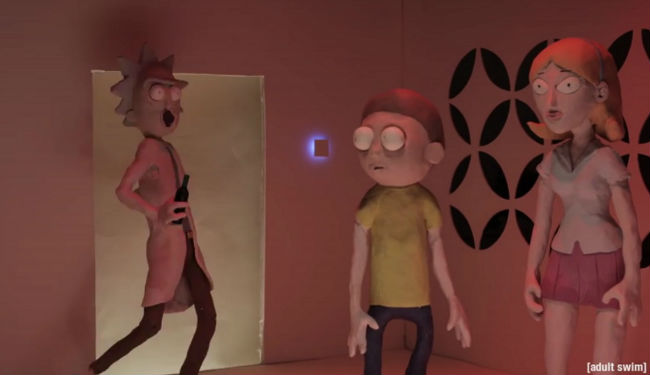 Rick and Morty, from the hilariously fetid, gloriously imaginatively trippy minds of Dan Harmon and Justin Roiland, is one of the best animated series to emerge in recent years.
Not only does it sport brilliantly-realised characters who are over the top dysfunctional but authentically and humourously human, and a premise so expansive that anything is possible – Rick, an alcoholic scientist grandfather can go pretty much anywhere in space, time and twisted dimensions; hello twisted multiverse! – but it has the storytelling chutzpah to do pretty much anything with that neverending blank canvas of narrative possibilities.
Knowing that all too well, and with a third season of the show so close we can almost taste it – it tastes like vodka and a lack of familial intimacy if you're interested – Adult Swim, the supportively off-the-charts weird minds who release Rick and Morty to the world (long may they break all the boundaries!), have released a series of 16-30 second claymation adventures featuring our favourite bickering duo in all kinds of classic Hollywood movie situations.
So it is that we have Rick and sensible grandson Morty, whose nervousness and fury at just about place his grandfather takes him provides fuel to the narrative fire and gives us much of the humanity inherent in the show, reliving classic scenes from Halloween, The Fly, Honey, I Shrunk the Kids, The Thing and Ex Machina, itself one of the best releases of anything in recent memory.
Sure, they're short but wubb lubba dub dub they're good my glip glops!