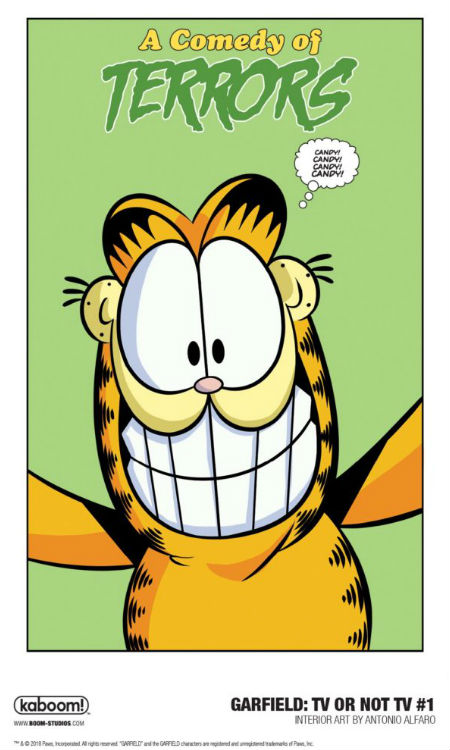 SNAPSHOT
In Comedy of Terrors, the fan favorite Garfield: Homecoming team of writer Scott Nickel and Antonio Alfaro reunite for a frighteningly fun Halloween tale, as a creature reaches through the television and into Jon's living room. Luckily, Garfield is as brave as they come…oh, wait.

And in The Fall Season, Eisner Award winning writer Mark Evanier (Groo) and artist Dave Alvarez (Looney Tunes) show just what happens when Garfield and the gang head out to an audition for a new reality show. But Garfield's idea of reality might not be exciting enough for these devious television producers! (official synopsis via Bleeding Cool)
Way back in the dim, dark comic-infested days of my youth – oh who am I kidding? Those day never ended; well the comic book reading, not so much the youth – one of the comic strips I devoured was Garfield.
True, it was no Peanuts, which remains the gold standard for me and so many others, but it was dependably amusing, a little cynical and a great diversion when all you needed was a quick laugh.
But in the years since, Garfield and I parted ways, as my comic strips tended towards cleverer fare like Calvin and Hobbes, Mutts, Pearls Before Swine and Get Fuzzy, and Jon's sarcastic pet lost his appeal.
But a new comic book issue from BOOM! Studios may change all that, if but for the time it takes me to read it, with two brand-new adventures giving Garfield a whole new Halloween lease on life and me a reacquaintance with my old comic strip pal.
Garfield: TV or Not TV? #1 releases 17 October.