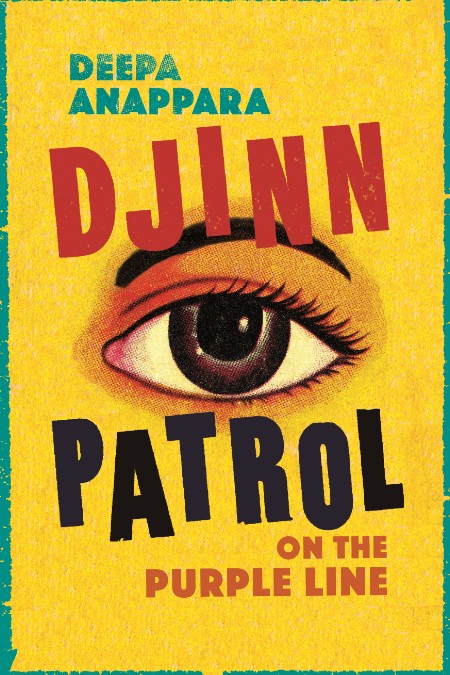 We all know that for all its occasional beauty and moments of fleeting inspiration, that we live in a broken, bestial and horrific world.
That's not being downbeat, simply realistic.
The horrors of inequality, cruelty, abuse and murderous intent are all laid grimly bare in Deepa Anaparra's luminously revelatory book Djinn Patrol on the Purple Line, which, through the eyes of nine-year-old slum dweller Jai, are revealed bit by deeply disquieting bit.
However, for all its willingness to life as it actually is, Djinn Patrol on the Purple Line is also full to the beguiling brim with hope and wonder, largely driven by Jai, a young boy who believes it is possible to find truth and secure justice in a world perilously short on both.
Granted, he draws this optimistic sensibility from his favourite TV show, Police Patrol which, like many programs on that finite medium, favours completion over messy inconclusiveness, but it powers his zestful approach to a life which is, by any objective assessment, blighted by all manner of setbacks and problems.
His family, which is rare in that it both parents are present, caring and as fully-employed as anyone in that situation can be, is one of many in a basti which is always under threat of demolition from corrupt police and developers eager to put up another "hi-fi" residential tower as the skyscraping homes of India's emerging middle class are known.
"I peer into ditches for the rest of our walk to school, just in case Bahadur has fallen into one of them. All I see are empty wrappers and holey plastic bags and eggshells and dead rats and dead cats and chicken and mutton bones sucked clean by hungry mouths. No sign of djinns, no sign of Bahadur." (P. 24)
Granted no one in his family including 12-year-old sister and school track star Runu, can afford to go to the mall or ride the train line from which the novel draws its quirky title, but his is a life that makes sense to him, is bolstered by the friendships of Pari (she is the most scholarly of all his friends and the one most likely to get ahead) and Faiz, who veers between school and working to support his family, and which, until kids started disappearing feels as cosily inclusive as any around him.
He is, given his young age, not fully party to the horrors that lie beyond his door, horrors that are exposed as his attempt at Boys' Own/Nancy Drew sleuthing, which takes him and Pari mostly, and Faiz occasionally, to the most fraught parts of the city in which he lives including the bazaar in the dead of night, and the decidedly dangerous environs of the world at the end of the titular Purple Line.
For all the scary stuff facing Jai, a kid who fancies himself as a consummate detective and leader, a charming piece of self delusion that works beautifully in the book as a means of showing how much he has been shielded from the worst of the world, he is someone with boundless hope and a joy for the sheer joy of being alive.
That takes a beating as it must as the story progresses and it becomes increasingly obvious that the escalating number of disappearances indicate something far darker and more alarming than the neatly-contained and easily-solved mystery that Jai loves watching on his family's highly-prized television.
For all of the battering of innocence that takes place, Jai remains our heroic window into a world where people struggle mightily, and often without success, against a system weighted towards corruption, wealth and injustice.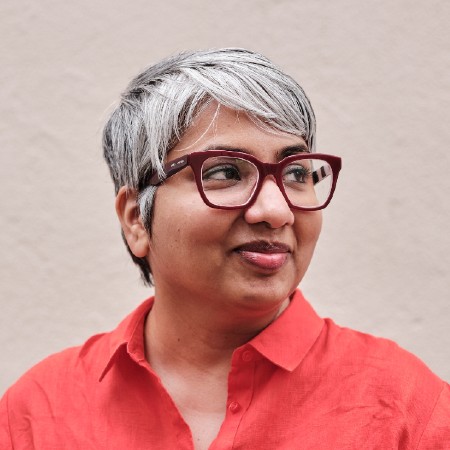 It becomes readily apparent that Jai's battle for truth and justice is a pointless one but he is largely ignorant of this fact, pushing on with his quest to find his friends, all of whom might have had some problems such as alcoholic fathers or impoverished lives, but none of whom wanted to leave everyone they love behind.
Jai knows this and his spirited defence of his friends, even if indirectly, is a joy to behold in a book which is brimming with as much youthful brio and energy as it grim awareness of the slowly polluting realities of a broken, nasty world.
Djinn Patrol on the Purple Line succeeds as a mix of the very worst and very best of humanity because it is told with an empathetic eye from a writer who spent many years as a journalist reporting on the many issues plaguing Indian society.
She expertly and affecting takes this vast storehouse of knowledge and fashions it into a masterfully-told story which springs vividly alive at every turn, never once flagging or forgetting that its character, Jai especially, are living very real, very difficult lives.
Tempted though you might be for some happy-ever-afters, Djinn Patrol on the Purple Line is clear these are rather short on the ground, with Jai's ideas of justice and fairness often giving away to bigotry, gossip, and intolerance when, by rights, there is far more to be gained by pulling together and uniting.
"Sadly, my brain isn't intelligent enough to tell me where Aanchal is. I try to make my ears catch signals as I walk home, but I don't pick up anything more than the usual bazaar and basti sounds of arguing mouths and hissing cats and jibber-jabbering TVs." (P. 185)
But as the disappearances escalate against a backdrop of police indifference and stark community unrest, it is obvious that while it would be uplifting if everyone did unite, this kind of idealistic outcome is really not in the offing.
Watching Jai come to grips with the fact that his child-like, TV-bred optimism may not be fully fit for the arduously awful rigours of a world more likely to disappoint and dismay than delight is heartbreaking (and which offers far more of which to be terrified than the djinns he imagines might be lying in wait for him) but Djinn Patrol on the Purple Line never lets us forget that while hope may seem superfluous, it is in reality anything but.
It is all many of the residents of the slum have; they cling to the idea that they will catch a break, that their children will have a brighter future than they do, that justice may be something that falls inside their experience of life.
This hope takes a battering of course on an almost daily basis, how can it not with so many terrible things happening on an almost daily basis, but it never goes away with the novel ending on a movingly poetic note as Jai, with his dog Samosa, chooses to look up at the stars rather than down around him.
That may sound like one of those unbearably twee bumper-sticker sentiments that have no rightful place in the real world but Jai gives it authenticity and resonance, his precious attachment to life and all the good things that come with it miraculously persisting even after the horrors that are visited upon him and his family in a story that comes movingly and insightfully alive, page by captivating page.