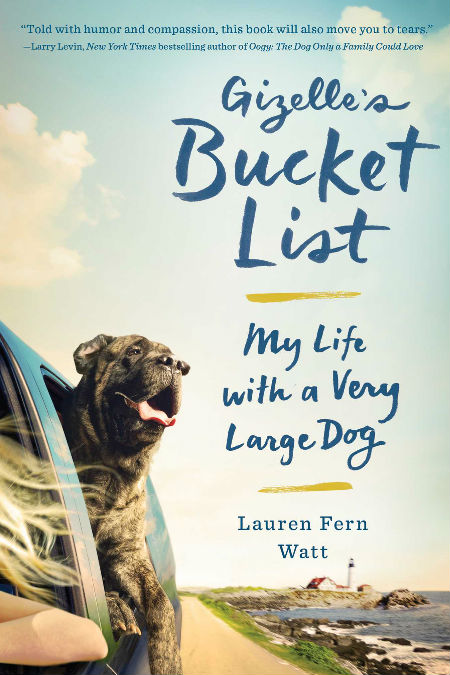 It's only after you've had an extraordinary pet in your life, an animal that was far more than just a companion and came to define your life in ways you never expected, that you can understand why a book like Gizelle's Bucket List is so immensely affecting.
It's a resounding rejoinder to anyone who has ever scoffed at the idea that a dog or a cat or any other living creature with personality and heart, and they are out there, sceptics be damned, can truly be more than a furry friend to while away the hours.
In fact, to read this remarkably touching, funny and meaningful memoir by Lauren Fern Watt, which recounts the six years she spent with an English mastiff who thought she was a human and could fit into the tiniest of places, is to come to understand just how much our pets come to mean in our lives.
The truly outstanding dogs and cats, and let's face it that's all of them isn't it, make a huge, indelible impression in our lives, playing an instrumental role in defining key points in our lives, and in many ways helping us to become better people in the process.
I can still remember with poignant intensity how much I love having my cat Fred study with me during my final year in high school in 1983 when the pressure was immense, and there was little to no downtime.
"The puppy felt so right in my lap. I looked down at her and couldn't believe this was real. Years later, I'd recognise this look as the way my friends gazed at their shiny engagement rings, like they are about to start their lives, like their adventures are about to begin. That's how I'd felt with the dog in my lap, looking into her marble eyes traced by tiny eyelashes." (P. 16)
As I sat at my desk most nights and weekends toiling away on essays and prepping for the exams that would determine which university I went to and hence where I'd go in life – that was the spiel; in the end it wasn't that dramatic but it felt like it at the time – Fred was the one who was always there, curled up in my lap, happy to spend countless hours just being with me.
I was his world, and in a lot of ways, he was mine, the most loving and close of companions and the one who spent more time with me in that cocoon of study and learning that anyone else.
His death halfway through that year was like a knife to the heart and I often wonder how I made through the rest of that tumultuous high pressure year.
Gizelle's Bucket List, beautifully written and with disarming honesty and truthfulness to spare, underscores how universal experience my time with Fred was, and how the loss of the special furry friend, wounds in ways we know are coming but still feel far more exhaustingly painful than we could ever have anticipated.
Lauren is clear from the start that she is going to be deeply honesty about her life, and how pivotal a role Gizelle played in it.
Given to her as a present one day by her alcohol and drug dependent mother in one of her more lucid, free-spirited moments, Gizelle was initially a shock to the system, a dog that was acquired on a whim, a spur of the moment decision that came to be defined by first guilt and lies (Lauren wasn't entirely forthcoming about the fact that Gizelle had cost a lot of money and was a permanent part of the family, not a temporary foster dog) and then by extravagant love and belonging.
Gizelle followed Lauren from her family home in Tennessee to university then to New York City and finally Maine, a constant, affectionate, enlivening presence through family dislocation, multiple moves, endless New York Marathon-preparing runs along the city's sidewalks and through its parks, career lows and highs, relationship troubles, and a whole of other big and small life moments.
She was far more than just a pet; she came to be Lauren's best friend, her comforter and confidante, her exercise companion, holiday buddy and in the end, the one who awakened her to the myriad possibilities life offers.
"Our adventure continued. We spent the next week discovering Maine. Gizelle and I found the best lobster rolls (Clam Shack in Kennebunk), the best doughnuts in the world (Congdon's Doughnuts in Wells), twisted through roads with views of the sea, explored antique stores trying to not knock things over (Gizelle) and not to get taken in by "collector's items" (me) … I kept busy by coming up with bucket list things for Gizelle to do …" (P. 166)
Told with tenderness and joy and wry good humour, Gizelle's Bucket List is all about what happens when a trip or series of trips to say goodbye to a beloved companion, ends up enriching your life in ways that help you realise anew how much of life there is to experience.
There's a heartbreaking irony to this since the one thing Lauren regrets deeply about her mother's ferocious addictions, apart from the way they force mother and daughter cruelly apart, is the way it wastes so much of her mother's life.
All those wonderful special moments such as watching snow fall on a beach, eating ice cream on a wharf behind a very old general sore or driving through picturesque countryside, have been lost to the mother; which is why Lauren, and she only realises this later, decides that what Gizelle needs one long bucket-list swan song to life.
Granted, it is more for Lauren's benefit than Gizelle's but given how close these experiencers and celebrators of life are, it's the perfect way to farewell what Lauren admits is the most important relationship of her life to date.
With a fearless commitment to unveiling her life, no matter how hard or painful that may be, Lauren has invested Gizelle's Bucket List with a fearless celebration of life with your special furry companion, and the passion for life and living that comes with it, a force so emotionally-resonant and strong that it can survive pretty much anything, and live to tell the tale, long after life itself has ceased.