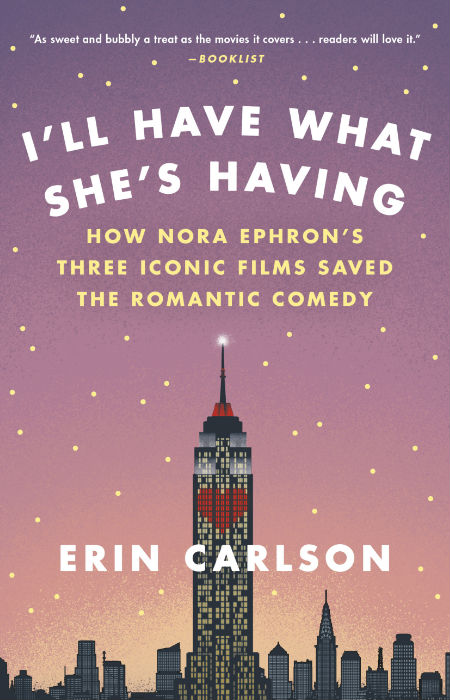 Romantic comedies are one of those cinematic genres that the cool people of the world love to rain hate and scorn down upon.
Possessed, you must assume, of love lives so magnificently perfect and satisfying that Cupid himself looks on with rose-ripped envy, they look disdainfully at films which polish the possibility of love to a shimmer rose-tinted glow and take us away from the idea that romance, like so much else in our imperfect world, is a little frayed and worn around the edges.
Those of us with our un-cool feet firmly upon the ground however, know that the types of films made by the late, great Nora Ephron, who is profiled with admiration and unflinching honesty by Erin Carlson in I'll Have What She's Having (a nod to that scene in When Harry Met Sally), are as much about love and life as it is as we would very much like it to be.
In Ephron's superlatively lustrous trio of rom-coms – When Harry Met Sally, Sleepless in Seattle and You've Got Mail, all starring "America's sweetheart" Meg Ryan) – love is certainly given the kind of flawless patina that makes you want to move to a rom-com and never move out again.
And honestly that's the idea – take us into an alternate world of romance, loveliness and hope such that we forget for a little while that love, even in the best relationships, isn't perfectly expressed and leaves a little bit to be desired.
"By 1993, Nora, partnering with Delia on Sleepless in Seattle, would undergo a decidedly unintentional rebrand as a specialist in the lost art of fairy-tale romance. Meg Ryan seemed an ideal mother figure and Tom Hanks the perfect father; together they embodied the kind of joie de vivre that Henry and Phoebe might have prolonged had darker realities not intervened." (P. 13)
But as Carlson explains in prose every bit as deliciously light and yet substantially rich and knowing as Ephron's own, while the films did accomplish that reassuring act of romantic escapism again and again, they were also borne from some pointedly unromantic elements in the creator's own life.
Her family life had been less than ideal, with an emotionally distant mother who kept her distance from Nora and her three siblings including frequent collaborator Delia, her first two marriages ultimately loveless disappointments (her third to Nicholas Pileggi was the one that stuck) and stricken by a chronic illness that finally killed her far too early, Ephron was not living some sort of untouched by mortality existence.
Carlson beautifully describes the flaws in Ephron's own life and character while at the same time celebrating all the immensely good things she brought to close friends and family, her inspired ability to bring whole new cinematic universes to life, and the way she took all kinds of things and gave them a unique slant and lustre.
She was one of a kind but she wasn't perfect, and the delightful thing about I'll Have What She's Having is that Carlson weaves together the Ephron's imperfections with the sterling qualities that made her such a beloved figure and explains how all these elements came together in a captivating whole to create the rom-coms now rightly regarded as classics of their genre and of movies generally.
Each film is given its moment in the spotlight with Carlson dextrously describing the lows and highs of moviemaking with everything from personality conflicts on set, discrimination against women writers and directors and the thankless task of shepherding ego-brittle actors towards the finish line to blissful onscreen chemistry such as that between Tom Hanks and Meg Ryan, the close friendships that built up such as those between Hanks and Ephron who traded scripts and gave feedback to the euphoric sense when you know a film is coming together.
It's a warts and all depiction that doesn't reek of sensationalism or tawdry gossip, or even gleeful meanness but rather the grim reality of getting films, even ones as wonderful as those in Ephron's oeuvre made.
This willingness to tell it like it is on just about every aspect of Ephron's life and the way she made her movies grants I'll Have What She's Having the kind of accessibility and refreshing honesty that many other books on the inside of Hollywood or show business lack.
Just like life, which is messy mix of the good and bad, the triumphant and the defeatist, the path to rom-com glory that Ephron, who was in many ways as unromantic and tell it like it is as you could get (she did appreciate the irony of becoming the rom-com queen) trod was strewn with all kinds of disappointments, missteps and flaws; and yet, also like life that didn't stop wonderfully compelling things from emerging from the fray.
"In Hollywood, if something works, the instinct is to make more of it and right away. That summer, Gary called Nora two to three times per week with a sequel idea, but she wasn't hooked. Assuming Sam and Annie lived happily ever after, would their blissful—uneventful—relationship sustain audience attention over an hour and a half? Dounbtful. Now if they broke up, even temporarily, that would be drama. But a breakup would negate the movie's uplifting kicker: Once you find The One, your troubles melt away. Depicting the couple as anything less than perfect would feel like a betrayal to their fans." (P. 199-200)
Impeccably well-researched and a love letter to Ephron and her work, both cinematic and written without being the least slavishly deferential, I'll Have What She's Having is a perfect guide to these films, to Ephron's cut-the-crap life and the way she took so many things that might have defeated less-sturdy souls and created something magnificent and wondrous with them.
The mix of memoir and storytelling, for there is most assuredly a narrative woven in there gives the book a readability that has you turning page after page with gleeful anticipation.
It's not an exhaustive analysis of filmmaking nor of Ephron's place in it, and I'll Have What She's Having doesn't really live up the book's tagline "How Nora Ephron's three iconic films saved the romantic comedy" but it's still a wholly satisfying read, give us a glimpse behind the curtain and helping us to appreciate why Ephron's films were, if not the saviour of rom-coms, at the very least a considerable helping hand to keeping them alive and kicking that reminded us that love can be wonderful and delightful and fun even in the midst of this crushingly exhausting thing we call life.