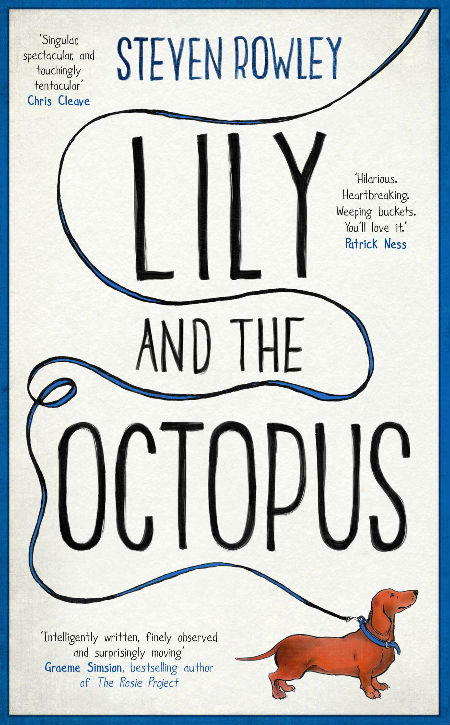 Grief can be a cruel, intangible beast.
As we grapple with great loss and the seemingly unending loss of control that comes with it, we struggle to understand how to approach to deal with it, how to regain some form of power from an entity that seems to have take all the power, all the oxygen and the life from us.
As someone in the unenviable throes of mourning my wonderful father, I know this all too well; as does first time author Steven Rowley whose insightfully offbeat book Lily and the Octopus gives voice and form to this often unspoken struggle to give some sort of tangible shape to something that feels all too crushingly, sadly real but so often remains in the shadows, a nebulous enemy without form or substance that evades our every attempt to take it on.
In the case of the book's protagonist Ted, who notices a cancerous growth on his beloved dachshund's head one day, the grief, which precedes Lily's eventual and much-mourned death, begins almost immediately as he faces the loss of the one person in his life, and make no mistake about it Lily, in Ted's mind at least eats pizza, plays Monopoly and talks back as only a close friend and companion can, that makes his life feel whole and worthwhile.
"I will not be a coward, I will not be afraid. I will not be someone who can love only so much. I will not be someone who is not whole or fully present when things get tough. I will not let others do the heavy lifting for me … Wringing the piss out of the dog I love – this is my Everest. This is on me." (P. 91)
Having broken up with Jeffrey, his unfaithful partner of six years and having not quite realised his writing dreams, Ted is living a small "l" kind of life, one that runs through its various routines in autopilot, allowing him to slip under the radar of just about everyone but his less-than-stellar therapist Jenny and his brilliantly good best friend Trent.
It doesn't become apparent to Ted just how much his life pivots on having Lily in it until he is faced with the very real prospect of losing her to a merciless enemy without real form, one that is silently and steadily taking everything from his beloved dog – her extravagantly-enthusiastic love of life, her sight, her sheer enjoyment of licking ice cream.
Lily loves life in a way that Ted wants to but hasn't quite managed and he is in many ways living his life vicariously through his (almost) unassailably happy dog.
But cancer is an enemy that he can't easily attack, with all the options given by his vet too invasive, painful or lacking any real guarantee of success.
So there Ted is, facing Lily's eventual demise, unable to attack the problem or the enemy head on, a study in impotent grief that, quite understandably, tries to give it some form in order to deal with it.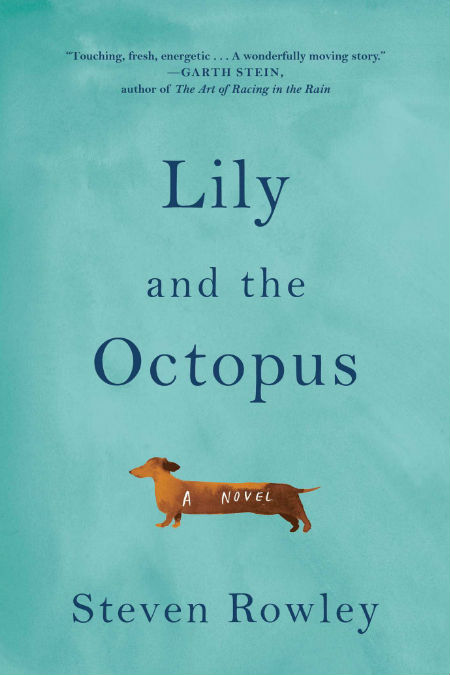 And that form is an octopus, a creature that assumes all the malevolence, dark calculations and mercilessness of the cancer that is consuming Lily.
Ted refers to the octopus as the enemy throughout the book, with Jenny, Trent and even his surprised vets going along with his unusual assigning of form and substance to the cancer.
This lends the book a magical realism that works well – Ted imagines himself heroically battling the octopus out at sea, banishing it to the depths, subduing, outsmarting and destroying it, convincing himself he has the upperhand.
He engages in heated, snarling conversations with it, orders and demands and then pleads for it to abandon its fatalistic work, reasons and argues with it, in an attempt to give the intangibility of impending loss some kind of relatable, dealable form.
It doesn't stop the inevitable of course, but throughout the course of the many surreal passages, Rowley succeeds beautifully and with great emotional impact, in highlighting how powerless we often feel in grappling with death, loss and grief, and the complete lack of control that comes with the territory.
"Did the octopus come to me because of karma?" she asks.
I'm taken aback by the question, and when I finally understand what she is asking, the whole thing is like a meaty punch to the gut. "No. No, of course not."
"But you said a person's actions in the present-"
I cut her off. "That's just it. A person's. Dogs, on the other hand … dogs have pure souls." (P. 219)
Lily and the Octopus is heartbreakingly real and sad but it is also warm, rich, funny and touching, as much about the richness and vivacity of life with someone you love as it is about having to face their eventual and painful departure.
Rowley has crafted a book that is packed with insight, real heart and humour, one that understands that grief begins early with the realisation that one day all the people and animals we love will one day leave us.
It is not though ever grindingly depressing or fatalistically sad; rather it acknowledges the great elephant of death in the room, the devastating impact it often is and the many strange, bizarre and understandably futile things we do to delay its dread hand moving.
And that makes it a freeing thing to read, granting us permission to let ourselves deal with loss, death and grief in ways that make sense to us, that allow to begin the grieving and move onto the healing in ways that will let us really make the most of life.
But Lily and the Octopus also serves as a warm and poignant tribute to those we have lost or are in danger of losing, testifying at every step that we would be poorer, and far less happy in life without their rich and much-missed presence.
Beautifully and sensitively written, Lily and the Octopus is breathtakingly imaginative, touchingly real and deeply emotional and funny, much like Lily herself who understands far better than the people around her that life is for the living and that all of us should be going all out to make the most of it.