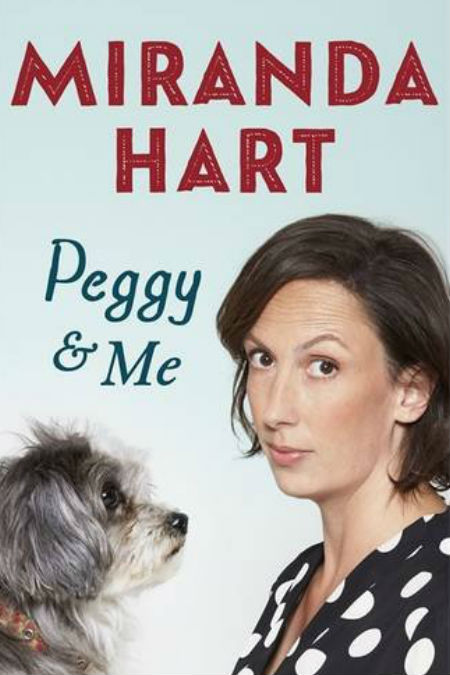 It's tempting to look at celebrities, even those from what Miranda Hart refers to as the "pretty earthy, budget-constrained variety of show business" (BBC sitcoms), and assume their lives unfold in some sort of gilt-edged ivory tower untroubled by the cares and concerns of our everyday world.
But as the much-loved comedian explains in her own delightful, oft-humorous way in Peggy & Me, a highly-engaging tale of her unexpected adoption of a shih-tzu/bichon frise cross who quite literally changes her life, high-profile figures such as herself encounter every last sling and arrow of misfortune that we do.
It makes sense of course but hearing someone as wonderfully down to earth as Miranda Hart talk about the emotional devastation wrought by the end of a longterm relationship and the loneliness and self-doubt that followed in its wake, the concomitant thrill and stress of writing a sitcom for the BBC that could profoundly alter the trajectory of your career, and the need for real companionship that goes beyond fans recognising you in the street, brings it all home with some real emotional poignancy.
This might surprise those who have grown used to Miranda's merry TV diet of "such fun" and "What I like to call", and her propensity to repeat words over and over that tickle her fancy, and consider that to be the be-all and end-all of her contribution to popular culture.
"I promised myself I would never join the dog-owning brigade. But there I was. I suddenly had my very own dog, a dog of my very own. Both a wonderful gift from the universe and, frankly, the absolute last thing I needed at the time … I'd just ended a long-term relationship and the Hart heart (serious circumstances call for merry wordplay, I find) was not in the best shape … [I was] very uncertain whether I could ever love or be loved again." (P. 49)
But the thing is, if you look closely at her three season sitcom Miranda, and listen intently to her stand-up comedy routines, it becomes clear that, as with all intelligent comedians who have put some thought into what they say, that there is a great deal of substance beneath the affectations, faux-embarrassment of words like S-E-X and quips.
That is never on better display than in Peggy & Me, which begins in 2007 in the wake of the end of her relationship when her now indispensable doggy companion comes into her life via the TV show Lee Mack's Not Going Out, at which point Miranda, yet to be the quirky household name she is today, was a dyied-in-the-wool cat person and not the least bit interested in owning a dog.
She freely admits she saw them as overly demanding and needy, and despite possessing an "animal goof gene" par excellence which drove her to briefly contemplating living in Thailand working at an elephant sanctuary and to stage vigils at her school, to which no one else came, for endangered animals, she had long ago decided that dogs were not even remotely on the agenda.
Ah but then along came Peggy, the final dog from a litter owned by the wardrobe lady on the show, and with mere moments to decide when the person who had decided to take Peggy pulled out, Miranda found herself on the receiving of poocalypses, nighttime whining and endless walks in the park with a fascinating panoply of British dog owners, and unexpectedly, initial reservations, of which there were many, aside, and irrevocably changed by her fluffy new friend.
Acutely conscious of the fact that dog owners are often perceived as an odd lot, Miranda goes out of her way at first to disabuse readers and the world at large of the strangeness that can go hand-in-hand with dog ownership.
But as Peggy & Me goes on in a highly-enjoyable mix of emotionally-insightful epiphanies and hilarious wordplays, Miranda happily admits that she is no longer worried if people think she's an odd duck, that she owns her dog-owning quirkiness largely because Peggy has played a pivotal role in her coming to terms with who she is as a person and thus how well-equipped she feels to handle the twists and turns of life.
"It's extraordinary and indeed surprising the wisdom that's come to me through Peggy. I've learnt that if I trust Life/God, as Peggy trusts me, that I'll be gently led where I need to go. I've learnt that no matter what's going on, no matter how tense I am, or neurotic, or worried about something, I can choose to deal with it Peggy-style by letting out a long breath, bringing myself into the moment and embracing all the positives around me …" (P. 289)
That quote is but a small sampling of the many insights that the ownership of Peggy has given Miranda, who manages to write with conviction and enthusiasm about her life changes without coming across as intense or twee.
In fact, it is hard not to be moved by her recounting of the many ways in which Peggy, who is also amusingly given a voice in the book to great comic effect, has changed her life for the better and while it's understandable that you may recoil from the book thinking it's simply another in a long line of "animals saved me halleleujah!" bios, Miranda invests her tale with a winning earthiness and honesty that wins you over by the end, even if you are a cat person of longstanding.
Peggy & Me, apart from granting us fascinating insight into the rise & rise of Miranda's career, which has now reached Hollywood-level proportions, is that rare form of pets-saved-me book that doesn't come across as a treacly call-to-arms.
Yes, Miranda is passionate about her delightful dog and thankful for the many lessons learned and isn't afraid to say so; but she's also funny, self-deprecating and all too aware that saying "poocalypse" a LOT is damn near hilarious.
In short, it's everything you've ever loved about Miranda Hart, whose comedy is always rooted in the daily grind of the everyday and the big life issues that flow from being unflinchingly honest about the fact that you don't have all your collective s**t together.
You will laugh (A LOT), nod in wry recognition and be genuinely moved by a book that is brilliantly, hilariously honest about life and that's not afraid to admit that the solution to all the travails of existence, regardless of whether you are a celebrity or a commoner looking on, may well be a cute, adorable dog who loves life without reserve and encourages you, against all odds, to do the same.