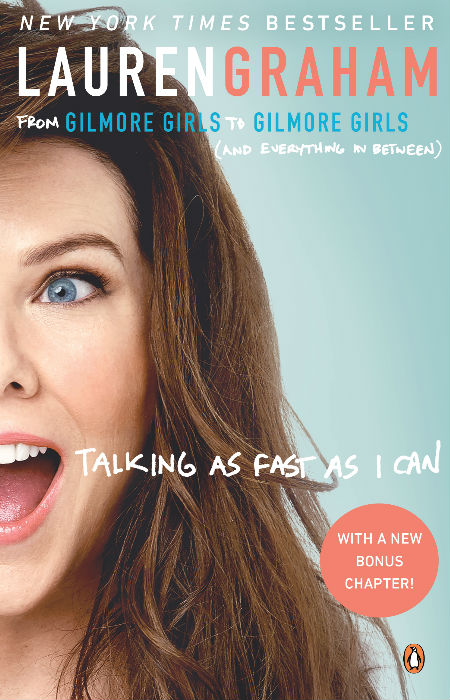 Lauren Graham is one of my favourite people in the world.
I say this quite confidently though I have never met her nor conversed with her at length on social media – nothing says I know you well than an almighty long Twitter thread these days right? – it's an assessment based solely on how natural and down to earth she comes across in interviews, as an actor in shows like Gilmore Girls and Parenthood, and now in Talking as Fast as I Can.
This fascinating book, which reads like Lauren Graham talks, which makes perfect sense given the title and also Graham's vivacious, bubbly personality, reminds of another actor gift with comedic brio – Britain's Miranda Hart.
Both actors are able to pour themselves authentically into their writing, a gift in Graham's case that makes Talking as Fast as I Can, which is equal parts memoir and goofing around while saying important stuff, such a pleasure to read.
While as noted I have yet to meet Graham in person, it takes but a page, likely less, to feel as if the gregariously gifted actor has sat opposite you in a cafe and started talking about anything and everything with delightful candour and ready wit.
"… I want to tell you what it was like for me to play Lorelai all of those years. So I'm going to at least scroll through all the episodes to see what I can come up with, to give you a sense of it as best I can. The internet has already done its job in terms of ranking episodes and naming its favorites. My goal here is to just give you my take on what was going on personally." (P. 67)
All you're lacking is a coffee and a croissant although given it's a light and portable book then get thee to a cafe and that too will be take care of!
The joy of Talking as Fast as I Can is the openness Graham brings to the book.
Not quite Tiffany Haddish levels of candour – The Last Black Unicorn reads the wildest and funniest therapy session you've ever sat through – but it's as open as a figure in the public eye can get, with Graham dishing on her early years as an actor, her life as an high school acting superstar and as a houseboat resident, the perils of dating based on how perfect you look at an awards ceremony and the money shot for any TV viewer with a beating heart, her time on the Gilmore Girls then and recently when it was revived on Netflix.
To be honest, the Gilmore Girls chapters are why I bought , and I'm guessing many other people too, a fact recognised by the publishing company who plastered the tagline "From Gilmore Girls to Gilmore Girls (and everything in between)" on the front cover; but what surprises and delights is how fascinating all the in between stuff is and how funny and insightful Graham is throughout.
If you've read many of these celebrity books, and I've read a few, the quality can vary tremendously.
Not every person who sparkles on screens big or small necessarily sparkles in print (even with the help of a ghost writer; refreshingly Graham's book read like wholly her own effort which speaks again to her eclectic talent mix) and so you can approach these books a little afraid of how well they're going to read.
Interestingly, and this probably speaks to the consummately warm and funny way Graham comes across in any forum, I had no such anxiety with Talking as Fast as I Can, which radiated everything I've loved about her from the moment I came across in the somewhat obscure sitcom Townies.
She is forthright, silly, serious, insightful, reflective and downright goofy in equal measure, all of it suffused with the reassuring sense you know her and it's all part of your weekly catch-up with her.
"But as Gilmore Girls: A Year in the Life began, there was suddenly a pileup of due dates the likes of which I'd never experienced before. First, without much notice. I was back to filming—and not those cushy Parenthood hours either … I had suddenly returned  to a very heavy workload. Obviously, this book was due, Then Mae and I sold The Royal We, and now that script was due too … Back then I'd had too much time on my hands; now I had too little." (P. 143)
You don't of course, or maybe you do, in which case, you lucky thing you with Talking as Fast as I Can springing to life every time you get together; for the rest of though this is our chance to sit down, be Ellen for a moment and find out what makes Graham tick.
Or at least the parts she feels comfortable pulling back the curtain on.
What makes the book work as well as it does too is the fact that Graham threads some serious insights into even the silliest of passages; balancing the two takes quite some work, and not everyone pulls it off, but Graham manages it with aplomb, remarking on everything from the uncertainty of obtaining her Actors Equity card, and fun and disappointment along the way, her last-minute leap off a cliff decision to audition for a graduation acting program, and the way she's ended up, all these years later, a wiser, older person and yet still wanting to be hip-and-happening (the fact that I used that phrase indicates I am, like Graham, in need of Old Lady Jackson to impart wise advice and still look hip at the same time).
It's a lovely peek behind the public persona, one which reassures you, in part at least, that some people really are as grounded and human as they appear, and that all those times you imagine sitting with them, talking and laughing over a Mimosa brunch (oh, is that just me?), might be as every bit as good as you imagine were you to ever have them as a bestie.
Until that happens, and yeah I'm not holding my breath, I, and you, have the inestimable delights of Talking as Fast as I Can, an exuberant funny, insightful and wise book that entertains every bit as much as it engages.