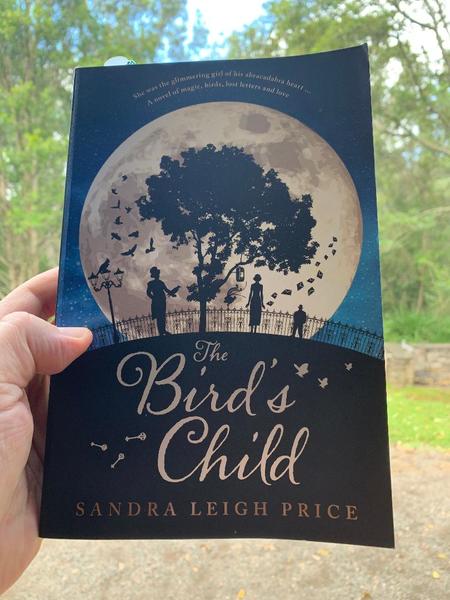 Finding, and keeping, a place to belong is one of the great imperatives of the human soul.
We all need somewhere that feels our own, with people who will love us unconditionally and give us the room and the encouragement to be precisely the people we need to be.
Discovering what sometimes feels like a mythical place is tough, though not without eventual rewards, all of which is laid out in the compellingly original story at the heart of Sandra Leigh Prices' debut novel, The Bird's Child, set in 1929 Newtown, Sydney (Australia) where three quite different but equally in need of a place to belong somewhere where this might just be able to happen.
Again, though, it is a far from easy thing with familial expectations, past pain and sociopathy getting in the way of any imagined or barely conceived but longed for happy ever afters.
The setting is Miss Du Maurier's bohemian boarding house in one of the lovelier streets in one of Sydney's more adventurous suburbs where a onetime dancer at the Tivoli Theatre is excitedly encouraging her new tenants, and one who use her shed as an escape from an oppressive rabbi uncle, to follow their dreams and let their artistic expressions find free rein.
It's easier said than done for all three with significant challenges lying in their ways but as The Bird's Child progresses, we come to see in gloriously evocative and sumptuously told detail how close each of them will get to their newly-unearthed dreams and how far they may fall.
"The moon was low on the horizon and my uncle would be wondering where I [Ari] was, but I had no intention of running as if a riot would be behind me now. Lily would be waiting, that I knew. My uncle, he could wait some more. And those jet-black raven's feathers were soft like the running of water against my skin." (P. 60)
Ari is the one who has been in the area the longest, an orphan of the pogroms in Europe who has been spirited to Australia to find a new life with his hardcore rabbi Uncle Israel and his compassionate Aunt Hephzibah, each of whom are harbouring secrets that will eventually have a bearing on the would-be magician's life.
While Israel, who dreams fervently of the Holy Land being restored and who leads his flock faithfully at Newtown's nascent synagogue, wants Ari to go to a yeshiva in Europe and study to become a rabbi, Ari, who worships Houdini, a constant and fascinating presence in the book, wants to become a magician, someone who can delight and dazzle crowds with shows that defy explanation.
Unaware of a past that predisposes him to the latter rather than the former, the now young adult Ari finds a kindred spirit in one of Miss Du Maurier's new tenants, Lily, someone who has known great pain in her short life and who has fled to the city after great tragedy and trauma sees her unable to stay in the country tending to her ailing, grieving mother.
Described rather wondrously on the back cover of the book as "a glimmering girl after [Ari's] own abracadabra heart" – the young magician wannabe had the word 'abracadabra' inscribed on his hand from tip of finger to wrist by his mother, violating a sacred Jewish tenet but almost predestining him to his hoped-for new life – Lily, whose own father had a limited way with magic and inspired her to dream big and go far, charting her own magical path, finds she very much wants to remake her own life in an image shaped by her and Ari's shared dreaming.
Deciding to form a magical act with idiosyncratically talented Australian birds at its heart, everything seems set for the aspirational twosome, who find a connection that extends beyond dreams of a magical new career and who both come to be alive they can surmount the limitations and expectations of loved but less than ideal pasts.
The great wild card in this is the charmingly dangerous Billy, a young man borne of too young romance and substance abuse, who though handsome and capable of a great deal of amazingly good things, finds himself drawn again and again to the darker, more possessively manipulative, and frankly tragically malevolent, parts of his personality.
He is a man who has lost so much in life, who dreams of so much still coming his way but who seems palpably unable to let life chart its own course with some wholly hurtful dabbling in peoples' destinies, including his own.
His role in this story is as a spoiler of sorts but Price, in keeping with her eye for rich, layered characterisation and nuanced expression, doesn't turn Billy into some one-note villain, giving him a tragically full background, as she gives all the characters, so much while he troubles us as he troubles Ari and Lily, we are able to empathise in some way with his broken soul.
The three of them together promise so many good things but also so much pain and as the novel unfurls its utterly immersive story, told with lush description and emotionally resonant passages that will tear your heart and out it right back in again, you appreciate how much can stand in the way of us finding our true selves and a place to truly call home, and yet overflowingly richly alive it is if we can overcome the obstacles that stand in our way.
"What had I [Lily] expected by trying to talk to the dead as if it was some sort of trick? My father was in my thoughts every day. I didn't need Billy or any man to tune me in. My father was in my blood, just like all my ancestors were, each travelling through my veins. The gift of my life had come through him. I didn't need to talk to the dead; they talked to me through every pulsation of my heart. I was the message. There was no question I needed anyone else to answer. There was no question I couldn't answer by looking to myself." (P. 341)
Price has crafted a beguilingly original tale in The Bird's Child, a novel which feels gothically oppressive at times but also lightly charming and seductively possible too, with resolution and happiness just out of reach but still within grasp.
The story is immensely beautiful and diversely vivid, paying homage to the great faith of Judaism, the connection of Australia's First Nations people to their land, and to a quirkily upstart country that brings people together who otherwise might never have crossed paths.
While there is great pain and sadness in its pages, and tales of lives lost and hopes dashed, there is also great optimism and vibrant possibility, a chance to follow your own path in life and to do it with people who will love and support on every support of your harrowed by hopefully eventually happy journey.
Bringing together an epically transformative yet quietly told love story with a mysterious tale of obscured origins and ever clearer destinies, The Bird's Child is almost literally magically alive, existing in a place and time where so much is broken and bereft and palpably dangerous but also swarming with the alluring possibility of reinvention and fulfilment, a world where happy ever afters are real and not the stuff of myth and legend if only you can defeat your own demons, and tellingly those of others, and find the place of belonging to propel you to where you have always deserved and just as importantly, wanted to be.