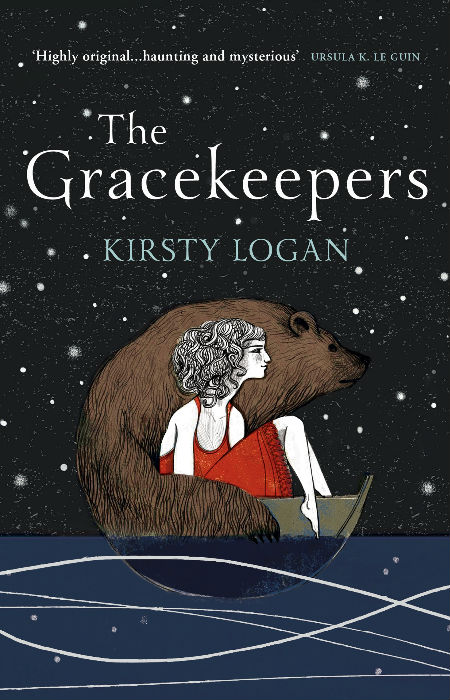 If you'ever wondered what might happen when climate change has run its inevitable course and the seas have risen and the land has not, then look no further than Kirsty Logan's luminously poetic take on the apocalypse, The Gracekeepers.
Taking place in a world flooded to the point where only the highest points of land remain as scattered archipelagos, and humanity has been divided, by prejudice as much as displaced physical locations, into the island-dwelling Landlockers and the looked-down-upon Damplings who sail the seas with no home other than their ships.
It's not a world without charms of cours, with the last remaining trees and animals highly-valued (and on one island, worshipped), a robust sense of community highly treasured (regardless of the tribe you belong) and a sense of poetry and wonder still intact for those with time to dwell on such pursuits.
But by and large, it's a hard world, with a dictatorial military style of government, a lack of food and a grinding sense of loss and displacement that's only partly assuaged by the family to which you belong.
People die much younger than used to as well, meaning this future is the home of the orphan and the cast aside, where you only have value if you belong to a community and are valueless without.
This stirs up in all of the characters that populate this charmingly bleak but hopeful book, most particularly North and Callanish, two women who find in each other a sense of home and belonging, a palpable need for somewhere to belong.
But as North says to Callanish on the final page of the book after both have had their former lives upturned in ways unexpected and ultimately welcome, they can't be limited in their quest for this sense of belonging by the petty blinkered attitudes of the Landlocker/Dampling divide:
"Look around you. Look at us. Is it so bad to be different? To make your own way? We have this place, and we have a boat. We can stay still or we can keep moving. But there are more than two worlds. And this baby – our baby- she proves that – Ursa is both of us, and she's something else as well. I don't know what what these new world are yet, but I know that when we discover them, I want us to discover them together."
That is the essence of this quite magical and sublimely immersive of books right there. That home, even on a planet blighted and changed by climate change ruled by dictatorship, prejudice and a certain hopelessness of opportunity, is still very much what you make of it.
This hopefulness, limited though it might be by circumstance, prevails slowly throughout The Gracekeepers – the title is drawn from Callanish's role as a grace keeper who performs burial rites for Damplings on platforms quarantined far out to sea – and marks Logan as a member of a camp of cautiously optimistic writers on the apocalypse, like Emily St. John Mandel (Station Eleven), M. J. Carey (The Girl With All the Gifts) and Peter Heller (The Dog Stars), all of whom acknowledge its gravity but also humanity's innate ability to find a way, no matter how dire the circumstance.
Both North and Callanish undergo their fair share of trial and tribulation – Callanish's attempts to mend fences with her mother don't go to plan while North finds her world upended in the most violent of ways with the least possible notice – but come out the other side, realising that life, real life and not a pale survival-driven facsimile thereof, is possible even after the end of the world as it once was.
Logan delivers her gently, poetically-arresting musings on humanity's propensity to find hope where there is none through a series of slowly-building chapters that proceed with emotional import and meaning without hurrying along too much.
The only downside to this character-rich, insightfully philosophical book is the way in which Logan, after taking her time establishing characters, a sense of place and a languidly compelling narrative with prose so beautifully executed it's hard not to stop and glory in it, rushes to the finale.
Suddenly out of nowhere, events and characters move at breakneck speed, a nicely tied up with a pretty red ribbon ending arrived at so quickly it almost gives you whiplash as it drags you along.
There's nothing wrong with the ending of course, especially as it reaffirms and underscores the hope that has percolated throughout the book, but it all feels a little too sudden and rushed to be wholly enjoyed.
But at the end of the (submerged) day, it's a small glitch in what is overall a deeply pleasing read that immerse you in a world, where all appearances to the contrary, options are available and hope is very much alive in many forms.