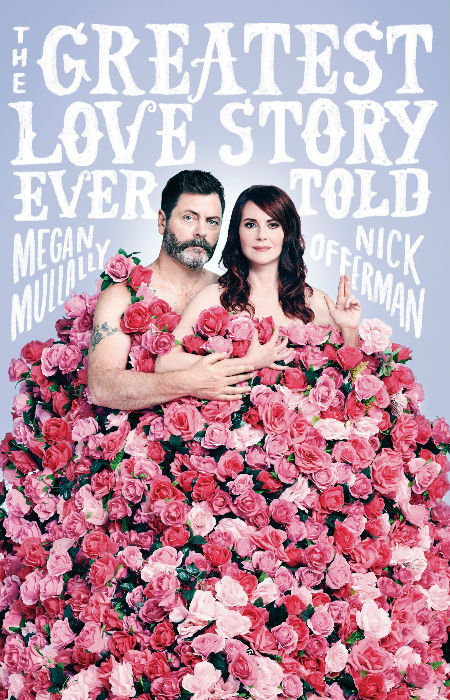 It needs to be said right from the start that I have fallen hopelessly and irrevocably in love with Nick Offerman (Parks and Recreation) and Megan Mullally (Will & Grace) over the course of reading their delightfully-candid and hilariously funny book The Greatest Love Story Ever Told.
So you can kiss goodbye to any hope that this review will be even slightly balanced and subjective because I have Stockholm Syndrome'd the hell out of both of them as they conversationally share their thoughts on everything from love and religion to jigsaws, fame and unorthodox things to do in the Sistine Chapel at the Vatican.
In a book that features a car chase – well, a race to get to the Emmys on time which both Nick and Megan concur is pretty much the same thing, even if it does happen on foot with the former carrying the beautifully-coiffed latter on his back down barricaded streets – much musing on the weighting of domestic activities by each member of a couple and the possibility that sex might soon be on the table after 18 years of marriage (they are kidding … or are they?), the sense you get most profoundly is of a couple who really, I mean really, like each other.
We are told repeatedly that you must really like your life partner every bit as much as you love them, and while that's indeed true (in my experience at least; I like spending time with my guy every bit as much as I love him to bits), it can feel really abstract until you come across a couple like Nick and Megan who radiate a liking for each other than is damn near contagious.
MEGAN: "We'd met in April. This was July Fourth. We'd been making out for, like, two months at this point. At the high point of the fireworks, at the ultimate moment of this night, I turned to nick, brought him close, and whispered in his ear, 'I want you to be my boyfriend.' Because we strange as it may sound, we weren't even officially boyfriend and girlfriend. I hadn't even gone that far yet. And the next night, July fifth …"

NICK: "There were more fireworks." (laughs)
Now, you might think that it's a confection, a ploy to sound like they like each other for the base capitalist means of selling lots of books (the proceeds of which may, or may not, pay for a home studio) but honestly in this case, I don't think that's the case at all.
Leaving aside the fact that Nick and Megan come across as genuinely into each other in every TV interview I have seen them do (see below) – they are actors, yes, but you can't fake actual, real connection or chemistry – because the book is done in a conversational style, recorded as a back-and-forth chat between the two sitting in various hotel rooms (such is the life of an actor/musician/raconteur/author/public object of Instagram'd affection), you genuinely get a real sense of a couple who like each other holding forth on the topic at hand.
Whatever the issue up for discussion and they range broadly from career goals to meeting each other to religion to upbringing to doing jigsaws, there's a wonderful warmth and connection that comes through, a real sense that these two people have talked long and hard and deep about things and arrived at points that make sense not just to them as individuals but as a couple.
It makes The Greatest Love Story Ever Told a joy to read as a result because while celebrity tomes where the author makes merry with the topic at hand are an unmitigated, mirth-filled delight to read – see The Last Black Unicorn by Tiffany Haddish or Squirrel Days by Ellie Kemper – you don't always get the feeling you are the recipient of the real unvarnished personage at play.
That's not to say that the Tiffany Haddishes and Ellie Kempers of this world aren't being genuine but they are writing alone and by definition not bouncing off someone that would illuminate other parts of who they are that don't fall into the singular prose they gift us.
With Nick and Megan, of course (yep, we've bonded in a pretty close manner over the course of some 260-plus pages such that we're now a first name basis; they don't know that but we are), you get all kinds of brilliantly-articulate musings – Nick holding forth on why he believes religion is both good and ad (the former, a little; the latter, mostly) is worth the price of the book alone as is Megan speaking about her childhood with honesty and acceptance and vulnerability in equal measure – that bounce of each other in an ever-growing, and highly-rewarding mountain of insights, lived-experiences, observations and home truths.
Not only that, but the strength and personality of their relationships shines through, powerfully, too.
It's clear theirs is not a life lived in the spotlight – they admit it happens because they're public figures but they don't actively seek it out and avoid wallowing in it whenever possible while remaining grateful for their fact their careers are so profile they are in that position – but one which is primarily lived in woodworking projects completed, books read, jigsaws done and shared on Instagram (the section of the book which displays these photos is a hoot of epic proportions) and life shared where it's just them – two people who met and fell in love working on a play in L.A. in 2000, who've learned from each other about family life, music, acting, and all manner of things and are more than happy for it to continue for as long as they both shall live.
NICK: "Sex got so much better when I let all of this teenage angst roll of me and said, 'Hey, what parts of you do you like me to do this to?' Getting into a casual, comfortable, and mutual sexual relationship."

MEGAN: "I hope you find that someday."

NICK: "(Whispers) Thank you."
By the end of The Greatest Love Story Ever Told , you really feel like you know Nick and Megan.
Clearly, not as well as you know your friends and family who, last I checked, do exist for you beyond the pages of a very entertaining book, but in a way that you don't often feel like you do know people in the public eye.
It is still a curated sense of knowing, of course, since it's highly doubtful the two of them spilled absolutely everything about themselves, and besides, even if they had, it's all out of a day-to-day context for us anyway, but it's feels close in a way that makes you feel like these would be two people you would really like to know.
And, most importantly on this, the Day of the Valentines, people whose relationship you'd like to emulate because it comes across as real, grounded, fun, thoughtful, caring, intuitive, sexy, silly, serious and all those things anyone would want if they meet the one, fall in love and take gloriously-clever photos of jigsaws they have done.
So yeah, go ahead and fall in love with Nick and Megan as you read
The Greatest Love Story Ever Told because it's going to happen and just like their gloriously good love story, which as told by them is pretty damn great, you should just sit back and enjoy it.