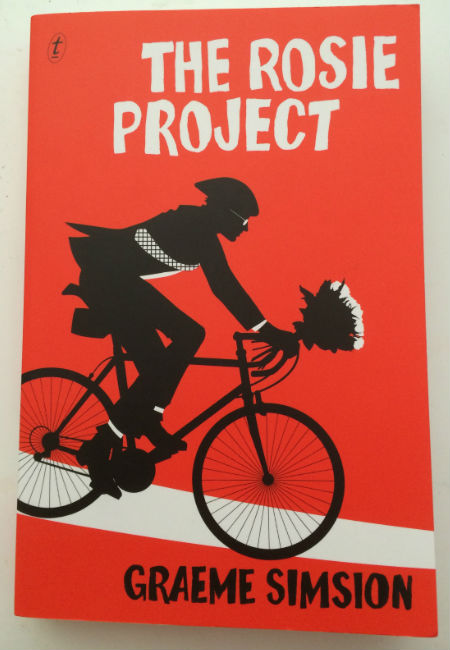 At first appearance, Don Tillman, the handsome 39 year old geneticist with undiagnosed Asperger's Syndrome (and a love of lobster every Tuesday night without exception) who anchors Graeme Simsion's delightful debut novel with his quest for a wife via questionnaires, and Shakespeare may not look to have a great deal in common.
But if ever any one modern literary character embodied the spirit of Lysander's declaration in Shakespeare's A Midsummer Night's Dream that "The course of true love never did run smooth", it would be Don, a man whose dearth of natural social skills and inflexible lifestyle choices have left him single and alone, save for his two friends, university colleague Gene, and his wife Claudia, with whom he shares an open marriage.
Deciding with a certainty borne of a love of scientific principle that he can easily remedy his socially disadvantaged position by simple means of a questionnaire that he would administer to any prospective romantic candidates – it assesses their alcohol intake, BMI ( a recurrent theme for Tillman who follows a rigidly strict healthy lifestyle), food preferences and sexual proclivities among other things – he declares in the opening sentence of The Rosie Project that "I may have found the solution to the Wife Project".
What Don neglects to take into account however is that life, and the human beings who stumble their way through it with little to no acknowledgement of or adherence to logical certainties, will pay no heed to his intentions, rendering his Wife Project as he endearingly terms it, more problematic, and yes less "smooth" that he might have imagined at the start.
Just how unpredictable his grand marriage-enacting plan is likely to become is made clear on the night that Don meets Rosie Jarman, PhD student by day, bartender by night and the owner of an enormous chip on her shoulder courtesy of a father she suspects may not be biologically hers, a woman who doesn't meet any of the criteria in his questionnaire and shows little aptitude for acceptably squeezing herself into its narrow, unrealistic confines.
The meeting of Don and Rosie, in the grand tradition of the romantic comedy staple the "Meet Cute", is an apple cart upsetting event of humourously told and deftly articulated emotionally epic proportions, as each party realises that what they want is not necessarily what they might need.
Which is, of course, each other.
What sets The Rosie Project apart from many other tales of its ilk, both literary and cinematic, is that Simsion writes it in such a way that while you suspect a happy ending is a possibility, it is by no means a certainty.
Don, despite his Rosie-inspired willingness to study the nuances and intricacies of social interactions – an unexpected course of study that is triggered by what becomes known as the Father Project, Rosie's quest to find her biological dad using Don's skills that ends up involving some amusingly written subterfuge and hair-raisingly uncomfortable situations – is by no means a slam dunk to become a Changed Man.
And Rosie, reluctant to drop the drawbridge into her closely guarded inner world, which draws on sarcasm, witty banter and wry observations to provide the protection against any emotional hurt she might possibly encounter, does her utmost to keep Don at arm's length despite her growing attraction to a man who she believes is incapable of love.
It's a classic set up in some ways, the two unwilling would-be lovebirds unable to see the reality of the love blossoming between them – Don because he is simply not wired to see it and Rosie who refuses to accept its existence – but Simsion's genius is in refusing to play by the accepted rules of the genre even as he employs some of its beloved tropes to tell his richly engaging tale.
The Rosie Project manages a beautifully told balance between the harsh realities of finding love true love in a flawed world where what you expect is not what you will necessarily receive, and where the obstacles to happiness are many (each of Don's and Rosie's "issues" are touched upon but not with an overly emphatic hand), and the giddy delights of discovering that life can still surprise you, no matter how hard you might work to stop that happening.
Simsion's carefully-judged and perfectly executed narrative, build around a protagonist who could so easily have been coldly unsympathetic but emerges as someone you warm to thanks to the author's carefully teasing out of Don's hitherto unexpressed sweeter elements courtesy of Rosie, Gene and Claudia (in that respect Don reminds me of Sheldon Cooper from TV's The Big Bang Theory), is a joy to take in.
It bubbles along with the unmistakeable fun and self-discovery of a classic romantic comedy but with the added richness of Simsion's keen insights into the human condition, granting The Rosie Project both a light and frothy air and a bristling socially-aware winning intelligence.
At its heart The Rosie Project is a welcome assurance that no matter how peculiar we may be, and we all carry with us our own quirks and idiosyncrasies, that life has people waiting for us who will not accept us but love and change us for the better if only we will take the time to let them.