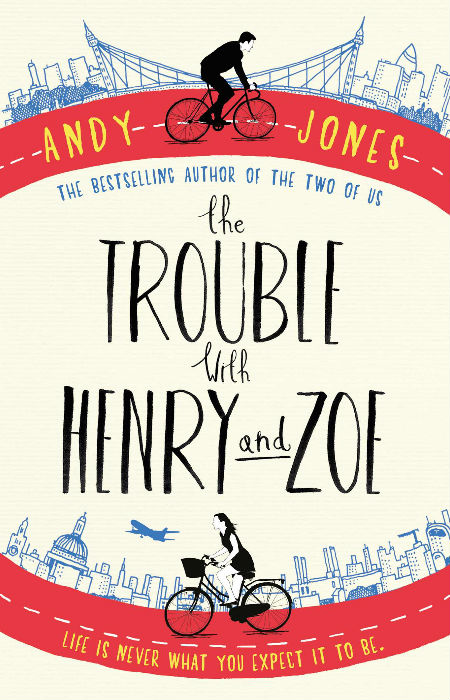 If you were to look around the world right now, and to be fair, at any time through history, you would be well justified in concluding that humanity, for the greater part, does not have an expectationally-idealistic bone in its body.
From war to famine, disease to relational destructiveness and sadly far beyond, we have long demonstrated a remarkable ability to conceptualise and go straight for the bottom and stay there, taking as many others with us as we can.
And yet, as Andy Jones' robustly delightful novel The Trouble with Henry and Zoe amply and engagingly demonstrates, our natural inclination is to aim and wish for the very best of things given half a chance.
We emerge from the womb expecting the best, not aiming to perpetrate the worst – for proof just ask an average bunch of kindergartners what life will be like and it's highly unlikely you'll emerge with even a vaguely-tainted scenario between them – and so we're all a little surprised when life doesn't deliver up fairytale castles, princes or princesses riding in on chargers and more happily ever afters than we know what to do with.
"And that is the problem – he can't be trusted with himself. He cannot be relied upon to intelligently sift his emotions and find the truth beneath the layers of thought and doubt and indecision. Henry loved April, right up until he didn't. And then back the other way, changing his mind like a kid in a comic shop." (P. 53)
What we often end up with, as Henry, who skips out on his fiancee at well beyond the eleventh hour, their wedding just hours away, and Zoe, who endures the kind of traumatic event no one should have to go through, discover is a half-baked version of what we expected life to deliver up.
After all, as Henry's firebrand hairdresser mum Sheila observes in one of the more emotionally-charged scenes in the book, "life is complicated son."
That it is, and as Henry flees his small home village, where his dad Clive "Big Boots" Smith is the publican, for a hastily-cobbled together new life in London, split between his profession of dentistry and his hairdressing skills, picked up during the parents' cold war for their son's heart and soul as he grew up, he comes to appreciate just how complicated life can be.
All those assumptions, forged during a hitherto uneventful life – that he would become a successful dentist, practice locally, marry his childhood sweetheart April and live happily ever after, cliché cliché cliché amen – come crashing down upon him when he finally listens to his heart and casts aside everyone's expectations, including his own, and strikes out into the thoroughly unexplored territory of the unexpected.
Zoe is also adrift in her jumbled-up existential hell but not one of her own making; well, not for the most part anyway.
Changing from law, a profession which made each and evert waking moment a perpetual and exquisitely awful slice of misery, to children's book publishing (immeasurably better), her world is rocked by a loss so unexpected and sudden that all the plans and idealistic aspirations in the world could not have prepared her for it.
She is left reeling, although also secretly relieved that her imagined future hasn't played out, wondering where on earth she heads next and how she gets there when nothing in her life has prepared her for this.
Once again, expectations zero, real life 143.
But Andy Jones, who has crafted a novel full of captivatingly real protagonists who slip and fall and come up again just as we all do, full of hope, humour, drama and a realness that engages from the get-go, does not deliver up the expected twists-and-turns, nor even exactly the ending you might expect.
"And we were going to cover so many miles; exploring the green spaces and hidden parts of our city, maybe even ride to Brighton. So much for 'going to'; we took the bikes out that first weekend and maybe two or three times since, but we never got to Brighton, we didn't even get out of South London. We even bought a backpack that doubled as a picnic hamper, but we never used it." (P. 259)
When Henry and Zoe meet and realise there is something between them that each has longed for but never quite conjured up, it's tempting to sit back and expect them to fall head over heels in love, dive headlong into all those romantic notions all of us possess to some extent or another, and serve up the tropes and clichés we love so much though rarely get to live out as much as we want to.
He comes deliciously close, just like life, but doesn't quite take you there, giving us a tale that is so engagingly, richly real, that, just like life itself, it subverts expectations while still producing something wonderfully fulfilling and thoroughly expectations confounding.
Again, just like the real thing.
The Trouble with Henry and Zoe dances with poetic good intent and the artful but accessibly expressed realisation that life never quite matches what we envisage, and how that can be both good and bad, sublime and upsetting, joyous and despairing.
The book is so perfectly well-written, with fully-formed, intensely lovable characters and realistic scenes, with just a hint of delicious melodrama (which let's face it, life also has in spades if we're paying attention), that echo the truisms of life, that you will find yourself, flying through the book, eager to spend time with Henry and Zoe, alone and together, and wondering where Jones' well thought-out and appealingly delivered tale of life gone bad and good and somehow also somewhere inbetween, will take you.
It's the kind of book that will have you sighing with recognition, laughing and crying at the veracity of it all, and realising once again, just in case you'd forgotten, that life can confound and delight us with equal measure, but that it will never be any less than utterly surprising and more than a little complicated into the bargain.
Best put away those childish expectations; you won't be needing them.