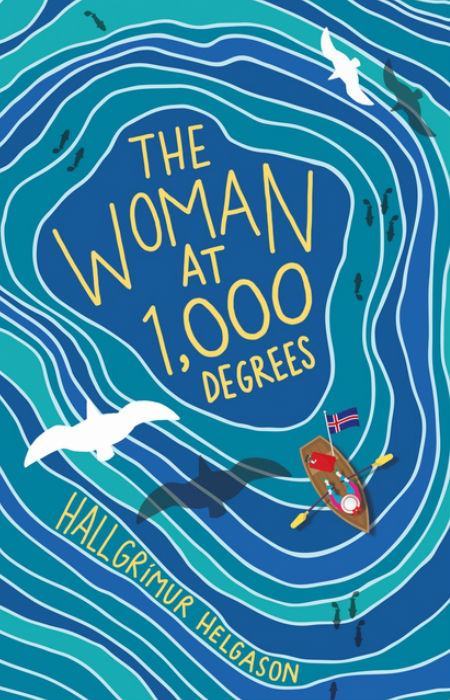 One of the most troubling aspects of getting older must be the way you suddenly become invisible to those around you as an actual person who has had a rich and varied life, or really, any kind of life at all.
You don't have to be old yourself to watch this dynamic in action.
Time and again, whether you're talking to friends or watching footage on the news or reading troubling statistics about how it is hard for older people to secure employment, it becomes readily apparent that once you crossed a certain age threshold that you are no longer considered to be a full, well-rounded person anymore.
One character who can speak to that with great authority is is eighty-year-old Herra Björnsson, an Icelandic woman who at the time of the The Woman at 1,000 Degrees by Hallgrímur Helgason (translated by Brian Fitzgibbon) opening is lying in a garage she rents, propped up in a hospital room, effectively waiting to die from emphysema.
It's not that she necessarily wants to die but she's been battling the disease since her diagnosis in 1991, and while she has enough wit and deprecatory self-awareness to joke about the fact that she marked the diamond anniversary of her smoking habit in 2005, she has accepted that the battle, at long last, is over.
The battle, however, extends far beyond jousting with the disease running rampant in her lungs.
"What a dreadfully wicked thing for his mother to do, and above all, how inconsiderate. My son's peace of mind was gone, and my bitchy soul was to blame. Even on the cold summit of my old age, I hadn't managed to tame that ferocious beast. That's always been the way with me. The person that I am, Herbjörg María Björnsson, has never had full control over her voice and actions because there's a far greater power at the helm, which I choose to call 'Herra's life force' and which radiates inside, deciding on everything, taking control, and hurling bombs, causing flashes all around me, the only flowers in my garden." (P. 205)
For Herra, who holds an old World War Two grenade close to her at all times, may appear to be your typical, crotchety old person who fits the trope perfectly, but there is far more going on there that first meets the eye.
Throughout The Woman at 1,000 Degrees, Helgason systemically and with great humour, pathos and rich insight, dismantles Herra's trope-heavy facade to show us the woman who existed, and continues to exist, behind all the assumptions that people, from her carers to her own neglected children, make about her.
What emerges from this harrowing and humourous account of her life, which traverses the perilous years of the twentieth century with wit and understanding, is how many of the resulting issues in her current, admittedly tenuous hold on life, are the result of decisions made many years earlier, many of them precipitated by events far outside her control.
We are given insight, through Herra's ballsy, no holds-barred and often cheeky retelling of her life, into a life held hostage to the likes of capricious parents, Hitler and a one pivotal tragic event that proved to be one moment of grief too many for her to handle.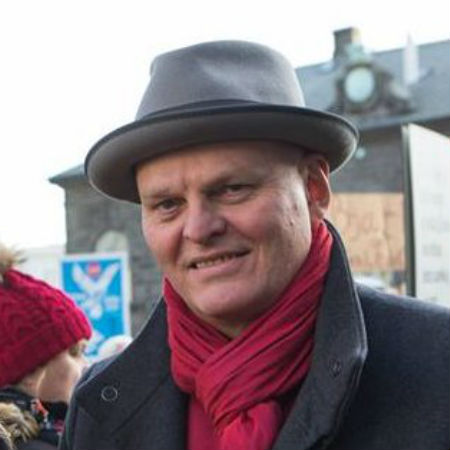 The illuminating part of this whole, utterly engaging and immersive walk back down through the years with Herra, is how the person you see now has so much more behind her that you might assume.
To make any kind of assumptions about this remarkable woman, whose dismissive attitude masks a lifetime of half-realised hopes and dreams and romantic relationships that never stood the test of time and always resulted in the calling of a taxi, would be to miss the rich tapestry of the person who emerged from one searing incident after another.
For instance, born into high wealth and social standing to a family whose paternal head held the prestigious main diplomatic position to Denmark prior to the war, and later the new nation's presidency, Herra initially looks to have all the very best cards on the table.
But then the lead-up to World War Two and the conflagration itself intervenes and Herra is forced into what feels like a series of impossible situations, all of which come with illusory safety and happiness, a sense that life is back under control until it spins, with vengeful carelessness, back out into the void, leaving a cataclysmic mess behind it.
"Looking back on it, those years of peace and isolation in the Djúpið fjord were among the best I ever had. First of all, I had discovered the virtues of frugality and then the inner peace, or at least some hint of the peace, that I had seen glittering in the eyes of a hermit whom we'd met years earlier. he was the only inhabitant of Skötufjörður, a man so free of us all that he wasn't even listed in the national register. The sad conclusion I had reached in life was that happiness doesn't come from other people., but by staying away from them. That's why I feel so darn good in this garage." (PP. 332-333)
On the surface, Herra rolls with these repeatedly dire punches, but the truth is, they can't help but take their toll, and for all her acerbic remarks and pointedly-funny observations, many of which deliver some tart societal, familial or historical truism – Helgason is nothing if not brilliantly observant and articulate about his insights into Icelandic society, Europe as a whole and humanity under existential duress, whether in wartime or otherwise – she is someone who has suffered greatly, tried to make the most of things and never come up smiling in quite the way she intended.
If you talk to the Herra of 2009, which is the year in which she lays dying in the garage, one scant year after the Global Financial Crisis left Iceland an economic basketcase, you could be forgiven for thinking she has always been cynical and lacking in semblance of staunch belief in life's ability to deliver good, or even simply decent, things.
But take a look back at her life, as Helgason does so beautifully with prose that is expansive and heartfelt, elegant and true, and you realise that there is much more to her than what resides in that musty garage.
That she was once someone's loved and loving daughter, that she expected to fall in love, dote on her children – she does for a time but then fate, once again, intervenes in ways too horrible for her to ever fully process or move on from – and end her life in the bosom of a life well-lived, well-loved and fulfilled in ways even she couldn't predict.
That it doesn't play out that way is sad in ways innumerable, but it makes for a riveting, well-told tale that challenges you in ways sobering and mirth-inducing to reconsider every single assumption about anyone you have ever known, and the life they have lived, because we can never ever really know their full story.
Unless, like we are, you are lucky enough to have someone like Herbjörg María Björnsson tell the tale.