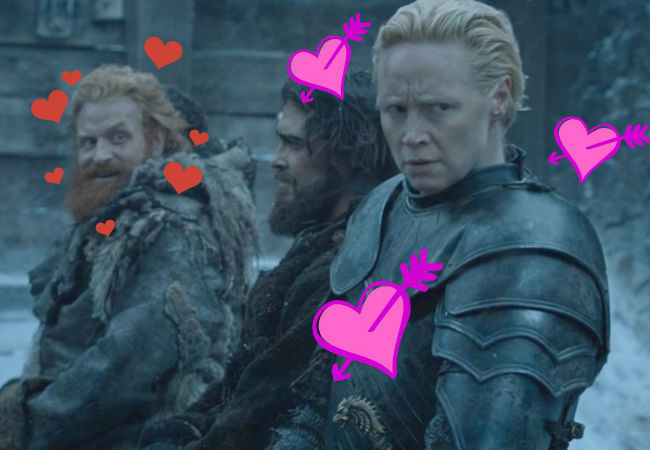 Even in Game of Thrones, a show not exactly noted for its love stories or the longevity of those that somehow manage to fall in love in between scheming and plotting, death and explosive moments, it is possible for Cupid to get a look in.
He may not get to do much true but at least just once in a while, love, or the suggestion or possibility of love gets its moment in the romantic sun and we can all ooh and aah … well at least until the next shocking, grisly death or unexpected Machiavellian maneuvre.
In this instance the happy couple du jour are the super-honourable Brienne of Tarth, who has never met a vow she wouldn't uphold to her dying day, and the defacto leader of the Wildings Tormund, a man who has realised that not all south of The Wall dwellers are evil, ne'er-do-wells.
Collectively they are known as #Briemund (yes they are quite the hit on social media as you'd expect) the two lovebirds – to be fair it's possible, OK true, that Tormund may be considerably keener on the piercing joy of Cupid's love-inducing arrow that good old, no-nonsense Brienne who has yet to wallow in warm, outward displays of affection to her own page, Podrick – are yet to fully consummate any kind of love true love, despite the countless pages of fanfic devoted to just such a thing happening.
(By the by, according to Hello Giggles, the actress who plays Brienne is totally into this warrior pairing, which can only be a good thing.)
But #GoT fans can dream can't they? Of course they can, and when they do, they sould dream '90s romantic comedy style just like this brilliant video from Nerdist who dares to believe that even amongst crooked priests and priestesses, incest, death, mutilation and cooked vengeance, that a simple thing like love can bloom and make everything somewhat right again.
Hey, it may not solve that whole jockeying for the Iron Throne contest, which grows bloodier and more perilous by the day, but it's a start and good seven gods or the god of light or the old gods (take your pick), if there's one thing Westeros needs right now it's a good news love story.