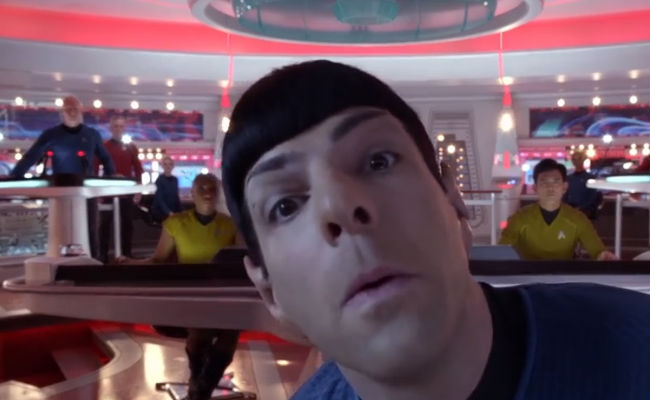 SNAPSHOT
Director J.J. Abrams' global sensations Star Trek and Star Trek Into Darkness set a course for the ultimate home entertainment package in STAR TREK: THE COMPENDIUM, arriving September 9, 2014 from Paramount Home Media Distribution. The set includes four Blu-ray Discs with both films in sparkling high definition and the IMAX version of Star Trek Into Darkness, Digital HD copies of both films, plus previously released bonus material, including the Star Trek Into Darkness director's commentary. STAR TREK: THE COMPENDIUM also boasts never-before-released footage from Star Trek Into Darkness including a gag reel and new behind-the-scenes featurettes. (official synopsis via Blastr)
Star Trek is, as franchises go, a pretty serious affair.
Sure there is some banter and the odd quip here and there – Scotty from Star Trek: The Original Series was renowned for it and there was that matter of a hilarious surplus of Tribbles – but by and large there are diplomatic fracas to settle, wars to fight, murderous enemies such as the humourless assimilating Borg to combat and much philosophising on the nature of existence, civilisation and whether a perfect future is even possible (Trekkies, of which I am one, like to believe there is).
That doesn't leave a whole lot of room for galactic mirth, merriment and general gallivanting.
Unless of course you happen to be one of the actors or the director, J J Abrams, on Star Trek: Into Darkness and someone decided to gather together all your missteps, misspeaks and sundry gags and moments of joviality for say a Blu-ray and Digital HD release, Star Trek: The Compendium, which contains re-releases of both Star Trek: Into Darkness (2013) and its rebooted predecessor Star Trek (2009).
And then, well then, it's open the floodgates of hilarity, Borg or no Borg, and let loose the quips of Star Trek-iness and just hope to god that the Romulans don't choose to drop in for a skirmish while you're bent over double on the floor laughing.
(source: Laughing Squid via IGN, Blastr)