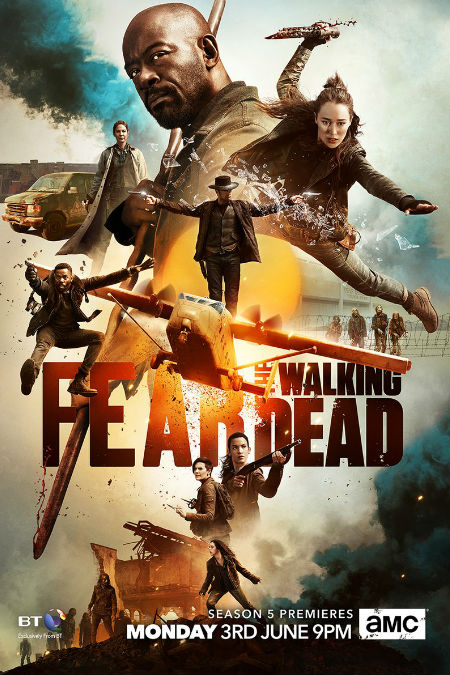 SNAPSHOT
Heading into season 5 of Fear the Walking Dead, the group's mission is clear: locate survivors and help make what's left of the world a slightly better place. With dogged determination, Morgan Jones leads the group with a philosophy rooted in benevolence, community and hope. Each character believes that helping others will allow them to make up for the wrongs of their pasts.

But trust won't be easily earned. Their mission of helping others will be put to the ultimate test when our group finds themselves in unchartered territory, one which will force them to face not just their pasts but also their fears. It is only through facing those fears that the group will discover an entirely new way to live, one that will leave them forever changed. (synopsis via Bleeding Cool)
Is it possible to be both committed to your own survival and do good to others in the midst of something so ruinously-cataclysmic as the zombie apocalypse?
It's been a constant theme since The Walking Dead first ambled onto our screens, but really came to the decision-making pointy end at the end of season 4 of Fear the Walking Dead when Morgan (Lennie James) persauded the group that they should commit themselves to the humanitarian work of the Polar bear, using the erx-denim factory they now call home to create a new network that will help those tossed asunder by the end of the world to find a new, welcoming home.
It's a mighty fine, mighty lofty ideal but you got the feeling, after the near-death experiences everone experienced in the final episode that it could just work.
Ah, but will it?
The trailer and poster for season 5 suggest it might but not without lots of bumps in the road – mostly zombie since they are pretty squishy to drive over – and obstacles on the way which makes sense given the derelict state of civilisation and the fact that all good stuff isn't meant to be easy.
How not easy it becomes for our intrepid gang will become clear when season 5 of Fear the Walking Dead debuts on Monday 3 June on AMC.